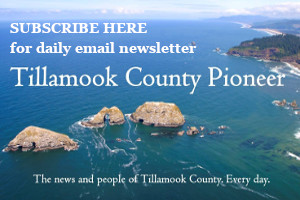 Oregon Coast Visitors Association and Visit Tillamook Coast
bring internationally accredited hospitality training to Tillamook County tourism businesses.
Tillamook County, Oregon, August 2, 2018— Thanks to a grant from the Oregon Coast Visitors Association and onsite training provided by Visit Tillamook Coast, the entire staff of the Big Wave Café in Manzanita became the first business in Tillamook County to have its staff achieve 100% certification in the Guest Service Gold Professional program. The internationally recognized certification, known as Certified Guest Service Professional (CGSP®) was developed by the Oregon Restaurant and Lodging Association and the American Hotel and Lodging Educational Institute.
"Our business is up considerably this year, and even with a long wait for a table, our reviews are still solid," said Brian Williams, chef/owner of Big Wave Café. "My crew's tip percentages are all up and I believe it is a reflection of their training. The crew is rocking it this summer and they actually have seen the personal financial benefit from outstanding customer service."
Meghan Burdick of Visit Tillamook Coast is a certified Guest Service Gold trainer, and conducted the three-hour Guest Service Gold course at the café. The training is part of a hospitality training program Visit Tillamook Coast launched in December 2017, working with the guest service staff at the new Headlands Coastal Lodge and Spa in Pacific City. That program included working with improvisational experts who focused on likely service situations and team building activities, a familiarization tour of the county, and the Guest Service Gold training.
"The reason customers return to your business isn't just about the product you offer, it's about the service you provide," said Nan Devlin, executive director of Visit Tillamook Coast. "All it takes is whether one person in the organization provides them with great service. And it only takes one person with a poor attitude or lack of training to lose that customer."
If your business is interested in hospitality training, call the Visit Tillamook Coast office at 503 842-2672 or email meghan@tillamookcoast.com.