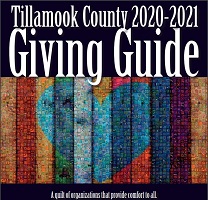 By Ellis Conklin, for the Tillamook County Pioneer
Barring a miracle or a dramatic change of heart, funding for Oregon's rural special districts from the American Rescue Plan is dead.
Time will run out when the state legislative session ends on Friday and Frank Stratton, executive director of the Special Districts Association of Oregon, told the Tillamook County Pioneer today that Gov. Kate Brown's office has signaled to the Association that she will not lift a hand to help.
The financial impact will be severe in much of rural Oregon, where, unlike in urban communities, special districts play an important and outsized role in paying for and providing basic municipal services.
The Port of Tillamook Bay will be particularly hard hit, along with many other port districts, who have lost an average of 20 percent of their annual operating budget during the Covid-19 pandemic.
Nehalem Bay Fire and Rescue District estimates the current financial impact will be about $300,000, or more than 20 percent of its yearly budget.
The American Rescue Plan Act (ARPA), which President Biden managed to steer through Congress in mid-March of 2021 despite universal opposition by Republicans in the U.S. Senate, is expected to provide Oregon with about $2.6 billion in discretionary federal recovery funds for state needs.
After passage of the ARPA, rural districts, dissatisfied with the $25 million allocated in the first round of budgetary wrangling, joined forces to ask for a 5 percent share of the $2.6 billion, or about $130 million.
Asked why he thought Gov. Brown and the Legislature was refusing to commit to rural areas the state's share of federal recovery funds, Stratton said, "It's just not a priority . . . The majority party in the Legislature (Democrats) is dominated by the Portland area."
There are just two special districts in the entire Portland metropolitan area. Tillamook County has 42 special districts and Curry County has 38, and are set to receive nothing in ARPA funds.
Michele Bradley, general manager of the Port of Tillamook Bay told The Pioneer that the pandemic caused a 5 percent budget setback. "It could have been a lot worse," Bradley said today. "And that's because the Tillamook Air Museum was only closed for two months."
Still, the Port was forced to furlough six museum employees. Bradley added that another six employees were also impacted at the county's industrial park maintenance facility, meaning their hours were reduced from five days to three days.
"I don't want to make this an urban-rural divide thing, but that's what it is," said Bradley.
Said Stratton: "A lot of lip service has been paid to rural Oregon by the governor and so on, but when it comes right down to it, nothing happens, and these are funds that could have been used to help communities upgrade their infrastructure."
Data from the Special Districts Association show these special districts in Oregon have projected $563.2 million in lost revenues due to the pandemic, which means more than half of the state's special districts have been forced to issue moratoriums on shutting off water, waste water, sanitation and other utility services.
Stratton told The Pioneer that there remains some hope, albeit faint, that the state's Emergency Board, a committee comprised of state lawmakers empowered to make budgetary decisions the full Legislature chose, for whatever reason, to avoid, could step in to help rural Oregon's special districts.
"It's possible," said Stratton, "that's all I can tell you."
Nehalem Bay Fire and Rescue Chief Chris Beswick said he is hopeful that he will be able to recoup at least half of the $300,000 lost to the pandemic.
"The feds and the state have said no to us, but we are hoping that the county will come through, Beswick said. He added that he has recently had some email correspondence with Tillamook County Commissioner Mary Faith Bell, who indicated the county may grant the Nehalem Bay Fire and Rescue as much as $150,000.