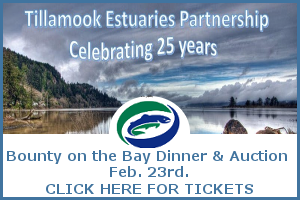 The Oregon State University Extension Service is presenting the Spring Home & Garden Classes, which will be held on April 28th from 9:00 am to 2:30 pm. The public is encouraged to sign up for one or more of the 90-minute classes. There is limited spaces available; register online at http://bit.ly/TillamookOUSMasterGardener. There is a nominal fee of $5.00 per class.

If you are interested in new gardening and vegetable production methods you won't want to miss experienced gardener Harry Olson's classes. He is a Marion County Master Gardener who has done research and personal experimentation with creating and growing grafted vegetables and in getting the most out of your space by producing vegetables with vertical gardening.
Gardening with Grafted Vegetables: Learn about the development of vegetable grafting; grafting trial outcomes; the entire grafted vegetable line up; the pro's and con's of growing grafted vegetables; and the speaker's favorites. You will be taught how to graft tomatoes with reference materials to help you succeed.
Vertical Vegetable Gardening: Modern gardeners face challenges of space limitations and growing conditions, which require new techniques. Learn how to optimize your garden to maximize space utilization, production and plant presentation. Gardening doesn't have to be "hard" if we garden "smart". You will learn how to grow fruits and vegetables you didn't think you had room for or were too difficult in our climate. You will be inspired to get started early in your garden and put these techniques to use.
Hayden Bush, the local TBCC Agriculture and Natural Resources Instructor is teaching Homemade Soil Amendments. A healthy crop or garden starts with healthy soil. Work to improve the structure, pH and nutrient content of your soil, and you'll have fewer problems with your plants and with pests. This workshop will share some easy ways to do these things.
Sarah Ostermiller, a Tillamook Master Gardener is teaching about Home Greenhouses. Gardening on the Oregon Coast is challenging and many gardeners decide that they need some help. Learn about basic greenhouses and we will take a look at what you want to grow and then help determine the best type of greenhouse for your gardening needs. We will also take a tour of the hoop house at the learning garden, it's structure and mechanics.
Three cooking classes are offered:
Cooking with Herbs, which will be taught by Cris Roberts, who will teach about using the herb you grow. If you smile at mixing wonderful smells from your kitchen with wonderful smells from your garden, then this may be a fun class for you. Learn about some of the most useful cooking herbs to grow and how to use them in baking and cooking.
Bread Making the Easy Way, taught by John Tenny, the Pacific City Renegade Baker, who will show how to bake wonderful, healthy bread using the no-knead method. No special ingredients, no special equipment and very little time is needed to make Artisan bread with a chewy crust and hearty interior. Come to this session and you'll have fresh bread in the morning.
Cooking with an Instant Pot, taught by Amy Schmid, OSU Extension Program Assistant. Learn the basics of cooking with the small kitchen appliance that has taken the country by storm. Try samples of quick and easy meals made with the magic pot.
Local wildlife specialist and OSU Master Gardener, John Casteel, will be teaching Backyard Birdwatching. John Casteel, Introduction to birds, types of birds, bird adaptations. Learn how to attract birds to your yard, feeders, and plantings. Throughout the presentation birds common to the Tillamook area will be featured.
OSU Extension Spring Classes will be held Saturday, April 28th, for the nominal cost of $5 per class. Register online at http://bit.ly/TillamookOUSMasterGardener. For information and forms visit our website at http://extension.oregonstate.edu/tillamook; call 503-842-3433 or visit us at 4506 3rd St, Tillamook.

Oregon State University Extension Service offers educational programs, activities, and materials without discrimination based on age, color, disability, gender identity or expression, marital status, national origin, race, religion, sex, sexual orientation, or veteran's status. Oregon State University Extension Service is an Equal Opportunity Employer.
If you have a disability that requires special considerations in order for you to attend this event contact the OSU Extension Service in Tillamook at 503.842.3433 two weeks prior to the program start date.