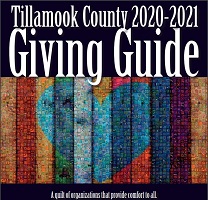 I am very concerned about the wrong-headed messages that are coming out of Mayor Mike Scott's let's-make-Manzanita Another-Seaside campaign.
I've recently read some of these newspaper letters to the editor, and it's beginning to rub me the wrong way. I mean, to call Scott Galvin a quitter is not only laughable, but it's so groundless and blatantly unfair.
Galvin left the Manzanita Council in the late winter of 2019 because he felt so passionately that the public – yes, you, the voters of Manzanita – should have the right to weigh in on whether we need a City Hall tantamount to the Taj Mahal or build one that preserves our city's simpler, less-is-better sensibilities.
What do we want to become? Come on, folks, that's what this election is really about. Where are we heading, this beautiful village of people who have laid down roots here and care deeply about our future?
When you have nothing to run on, you seek out distractions. Quitters don't leave the Council and then run a race for the first time in 22 years against an incumbent mayor. That's because Galvin and the council candidates running with him – Randy Kugler and Jerry Spegman – believe that voters deserve a choice. That's what a democracy is all about.
No, quitters don't leave the Council and then help lead the battle to defeat – and by an overwhelming margin – last year's new City Hall bond initiative.
Galvin bid a reluctant farewell to the Council, not only because of his mounting frustrations that having public input was either thwarted or not foremost on the minds among his Council colleagues, but also because of an unspeakable personal family tragedy that he should be not be expected to belabor or elaborate on.
Asking questions is not dissent. It is the lifeblood of a fully functioning democracy. It is our obligation and our right as citizens.
As a longtime political reporter for the some of the biggest newspapers in California and Washington – and who moved here with my wife permanently a year ago after decades of renting and second homeownership – I am all too familiar with candidates who hope to win the day with needless distraction.
It is a hallmark of desperation.
All Galvin, along with Kugler and Spegman, are asking is that residents be permitted to discuss and debate a range of options for a new City Hall and that there be a process to gather that input by mail from all citizens of Manzanita.
I believe that Scott Galvin has clearly laid a process and a detailed workable plan for the Underhill Plaza development. You know, real leaders listen to the people they hope to serve.
To argue, as one letter-writer did earlier this month, that, as she wrote, "I'd rather have the crusty naval commander's hand on the tiller than the guy who jumped ship at the first big wave," does not hold water. It is simply not true. Again, distraction.
I was bemused to peruse the candidate's statement penned by Hans Tonjes, who seeks a fourth term on Manzanita's City Council.
For the most part, Hans' comments were both elegant and persuasive. And then he went off the rails. Hans claimed, inexplicably, that the Galvin-led change coalition was an "effort from the far right to take over our government" and that their efforts amounted to a "new order."
How very Trumpian!
And how very wrong he is.
Scott Galvin, Randy Kugler and Jerry Spegman will serve our little city well. They have all run positive campaigns, from the very beginning, focusing on issues important to the people of Manzanita.
They will listen before they act. They will not quit when the going gets tough, but rather re-examine the current rules governing city council meetings to make certain that they provide a real chance for public input as well as healthy, meaningful debate among our councilors.
I do have one suggestion for them, though: How about changing your campaign slogan from "Vote for Change" to something even more accurate – "Your Voice, For a Change."
Ellis Conklin
Manzanita, Oregon