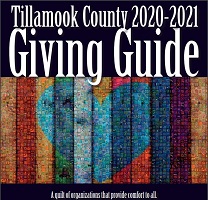 EDITOR'S NOTE: Here is the second part of Ellis Conklin's two-part series about the housing crisis in Tillamook County. See below for a link to Part 1.
By Ellis Conklin, for the Tillamook County Pioneer
OVER THE PAST QUARTER of a century, Tillamook County — and most certainly, Manzanita – has seen a massive surge in the number of part-time seasonal residents. Indeed, we've been discovered. It's easy to quantify. Just take a stroll down bustling Laneda Avenue, almost any day of the week.
Just look how this village of almost 645 residents, according to 2019 Census data, has filled in. It seems like only yesterday when just a smattering of homes adorned the southerly slopes of Neahkahnie Mountain.
There are lines outside of Manzanita Coffee now, even on weekdays. On summer weekends, you're lucky to get a parking spot on Laneda.
Granted, the pandemic has drastically altered the dynamic of our village, but still, things are getting mighty crowded. It used to be that a couple a days after Labor Day we had Manzanita to ourselves. No longer.
"What's evolved in the last few decades is that the county's blue-collar workers in logging and dairy farming and fishing are becoming more and more at odds with second-home owners, a lot of them wealthy, who are pouring in," reflected Peter Starkey, executive director of CARE, Inc., an anti-poverty agency that was founded in 1991.
"Now you have a kind of battle of the classes going on," added Starkey, who moved to the county from New Hampshire in December and struggled to find a place to live, finally settling in Netarts."
The transition began in the early 1990s, when you had people from Portland and Seattle and California coming here and getting hold of land that was cheap for them.
"Workforce housing," said Manzanita Mayor Mike Scott in an interview in mid-February, "is a more of a Tillamook County story. The new phenomenon of Airbnb has sucked the life out of everyone here.
"Look, we're a small little town," Scott continued. "We are fully supportive of workforce housing, but we can't do it on our own."
The rental housing market in Manzanita and countywide has dried up, Mayor Scott said.
"Right now, there is a total of one house for sale in all of Manzanita, the little house next to the San Dune Pub. [It's priced at $750,000, two bedrooms and no closets.] You're not going to get a developer to build [workforce housing] without massive subsidies," Scott said.
They are currently about 1,250 housing units in Manzanita and 258 of them – or roughly 17.5 percent, as is the rule – are short-term rentals.
[Tillamook County has more than 1,000 short-term rentals, and there is no cap and no waiting list, as there is in Manzanita, where presently 15 homeowners are on the waiting list and can expect to wait close to a year to begin cashing in on their investment.]
Almost two-thirds of the village's housing stock is not occupied for weeks or even months at a time, said Manzanita's newly-elected Councilor Jerry Spegman. The 2019 Census shows that 87 percent of the village's homes are either seasonal or vacant for most of the year.
To illustrate just how reliant the town is on short-term rental taxes, consider, said Spegman, Manzanita's general fund revenues for fiscal year 2019-2020: Some $210,000 was collected in property taxes, while $540,000 was generated from short-term rentals. About 55 percent of the city's general revenues are derived from short-term rental taxes.
"A second home owner who comes here now and then, of course, is contributing [from the property taxes he or she pays] to the county as far as fire, schools, the NCRD and so on, but contributes very little to the city of Manzanita."
. . .
ERIN SKAAR, THE NEWLY-ELECTED Tillamook County Commissioner, is considered an affordable housing guru by almost everyone this reporter spoke with for this two-part series.
Before her landslide election last November, she served as executive director of CARE.
"There is a sense that by adding density, meaning workforce housing, it is not a good thing," Skaar said. "You know, apartments are bad. Houses are good."
Marc Johnson, of the Nehalem Bay Health District, offered this sobering assessment: "There is a certain cultural stigma attached to workforce housing. It's, 'Not in My Backyard.'"
New housing production has not kept pace with the demand propelled by full-time and part-time home owners, which means, falling vacancy rates and spiraling home prices.
Tillamook County has built up a vast, flourishing tourist industry, and, as a result, is increasingly dependent on low-wage workers to staff coffee shops, restaurants, shops, hotels and the like.
"Where it breaks down is there has not been an equal investment in housing for these workers," said Skaar.
Skaar acknowledged that the cost to developers in building workforce housing is formidable, what with the money needed to buy property, pay permit fees, and then a sundry of service development charges, such as fees to sewer and water hookup.
Then, there is the scarcity of available and buildable land, problems that are exacerbated by environmental flood zone regulations and agricultural land use constraints.
In Manzanita, for example, there are only 96 acres of land for residential development, according to the "Manzanita UGB (Urban Growth Boundary) Buildable Lands Inventory," published October 19, 2019.
Of that, about 94 percent of the land available falls under the category of high-density residential zoning, which allows more than eight units per acre, given a minimum lot size of 5,000 square feet per unit.
Said City Planning Commission member Hiltenbrand: "There is nothing in the city's zoning laws that precludes building workforce housing."
So, why doesn't someone do it?
"My opinion," Hiltenbrand replied, "is that builders can make a hell of lot more money building higher end single family residences than workforce housing."
Asked why the city doesn't allow residents to add "Accessory Dwelling Units (ADU's) to their homes, such as, say, building a small apartment above their garage and renting it out to a low-wage earner, Hiltenbrand said, "The topic has been broached."
Said Jim Pentz: "Oh yeah, it has been broached for years and years."
. . .
HERE'S THE DEAL: How much housing does Manzanita need to enable pizza and coffee and hotel and shop workers to be able to live here?
The answer, according to the Tillamook County Housing Task Force report, is 649 units are needed in Manzanita, but that includes all types of housing, not just workforce dwellings. The only city close to Manzanita is Rockway, which, the report stated, needs 456 housing units.
"Manzanita is relying on other communities. It has never built workforce housing, unlike Garibaldi and Pacific City, so it could be the leader in North County," Skaar said.
Without question, Manzanita's options to prevent housing shortages are limited. But there are important steps being taken by state and county governments to encourage the construction of workforce housing.
Last December, for example, the county adopted Ordinance #86, which imposes a license fee on transient lodging licenses in which 75 percent of the money raised will be dedicated to housing. The county hopes to generate as much as $500,000 to incentivize landowners and developers to build affordable housing.
At the same time, people like Dan Carroll are coming to the rescue.
For him and his wife, the dire need for workforce housing hit hard that holiday weekend 2016 when he saw that Marzano's indoor dining room was closed.
Dan grew up in Woodland Hills, California, then spent many years in Spokane, before moving to Portland and then Hillsboro, Oregon, in 2000 and not long later, to a nice house east of Nehalem.
Today, he owns 17 houses in Tillamook County.
It was the closure of Marzano's dining room that propelled him into this home-buying venture.
"I came home that night and I told my wife, 'I'm going to change this,'" recounted Carroll, who spent most of his career in the high-tech industry. "I said, 'Why don't we buy some inexpensive housing, renovate it, and then rent it out at a nominal amount.'"
It helps that Carroll, 56, possesses basic carpentry skills, an ability to paint well and lay floors. The rest he contracts out to electricians, plumbers and others. He rents out his homes to working-class families. There's a two-bedroom Rockway home he bought, three blocks from the roiling Pacific, for which he charges $600 a month.
To a man and his wife, and their three children, he rents a three-bedroom, two-bath house for $1,100 a month, also in Rockway, where he owns six homes.
To a single mom, who works in retail, he charges $1,550 a month for an 1,800 square-foot home on Miami-Foley Road.
It is not unusual for Carroll, who posts his housing ads on Zillow, to get 40 requests over a 24-hour period, so feverish is the demand for long-term and modestly-priced rentals.
Carroll has spent the past five years as a substitute teacher in the Neahkahnie School District. His former students still affectionately call him "Dan The Man."
"The vast majority of houses we bought were weekend homes. So, we are reversing the trend," Carroll said.
During a recent interview at Nehalem Elementary School, where Carroll was learning the basics of online learning, he said, "We can solve these problems as a community. We don't need government to do it for us."
PART 1 – https://www.tillamookcountypioneer.net/workforce-housing-crisis-whats-worse-than-a-crisis-lack-of-housing-reaches-catastrophe-levels-in-tillamook-county-two-part-series/