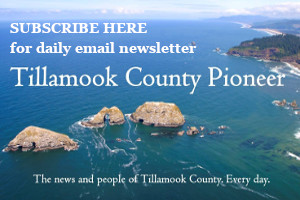 By Ellis Conklin
On a sunny, windswept Memorial Day in 2016, the quaint little village of Manzanita took a gut punch which for many residents still lingers as a painful and emblematic reminder that the lack of workforce housing has real consequences.
It was the day Marzano's shuttered its indoor dining room. No longer would daylong visitors, weeklong renters, or the town's lifelong homeowners be able to grab one of the eight tables and enjoy a steaming pizza mounted on a stainless-silver stand.
"We couldn't staff it any longer. It took four people to run it, and we couldn't find the workers," explained Natalie Nelson, who along with her husband Kris have run the legendary pizza parlor for the past 20 years.
"We barely had enough at the time. One of them had to move and the weed store took another one."
Sitting on black foldout chairs inside the empty restaurant on a rainy morning last month, the Nelsons elaborated on what the scarcity of housing has meant for their business and its young minimum-wage workers.
Marzano's staff, which, during busy summer months, can catapult to 12 to 15 workers, each starting at a training salary of $12 an hour – Oregon's minimum wage as of January 1, 2021, then the Nelsons typically boost wages to between $15 and $22, in addition to the pizza staff splitting up tips left in the tip jar.
"In the past, we've hired people living out of their cars," recalled Kris. "We had one kid from somewhere in the Midwest who worked a deal at a motel so he could shower there, and then he'd sleep in his car."
Brian Williams, who last fall, beset by the pandemic and constant labor shortages, decided to sell his beloved Big Wave restaurant, told this reporter several years ago that he'd resorted to placing ads on eBay to solicit cooks, dishwashers, and waitstaff. One arrived all the way from North Dakota.
Said Natalie Nelson: "Housing is the culprit, no doubt about it. So now we only hire high-school kids, but the trouble with that is that a lot of them can only work on weekends."
Dan Haag, manager of the Manzanita Visitor's Center, had few other options but to sling pizzas at Marzano's when he moved here in 2001.
"It was a big deal, closing that dining room. It really brought the issue to the forefront. Now, it's on everyone's mind," Haag said. "With the lack of workforce housing, we are going to see the squeezing, not only of restaurants, and motel and hotel cleaners, but it will squeeze every business.
"Minimum-wage workers," Haag stressed, "are the lifeblood of this community."
As one worker, manning the cash register last month at Salt & Paper on Laneda Avenue, groused, "You can work in Manzanita. You just can't live there."
. . .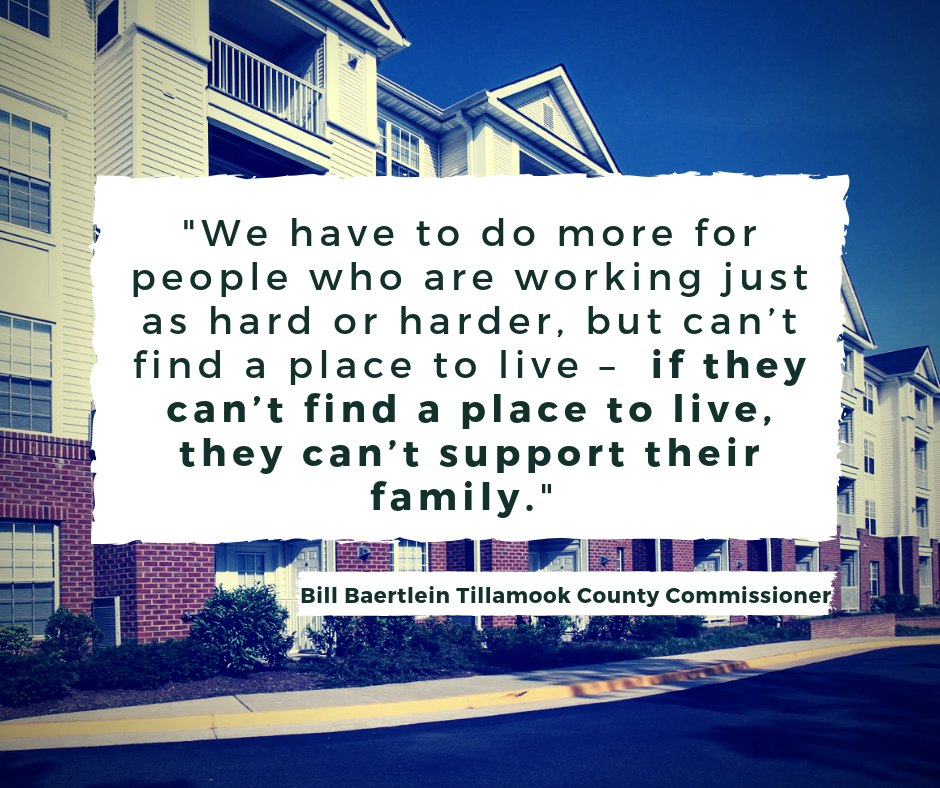 THE LACK OF AFFORDABLE workforce housing is having a measurable impact on the quality of life for everyone in Tillamook County, according to the findings of the Tillamook County Housing Task Force, which, in December 2019, published a 47-page report titled "Housing Needs Analysis."
The report, widely heralded by affordable housing advocates in the county, stated that many businesses cannot find or retain employees due to a paucity of housing that workers can afford.
Vacancy rates have plunged to near zero, while rental and housing prices have rocketed 40 percent between 2014 and 2019, the report found. During the same time frame, median household income went up by only 21 percent.
Schools, meanwhile, cannot fill jobs for teachers, the report also revealed. "We have huge problems recruiting or keeping teachers here," agreed Neah-Kah-Nie School District Superintendent Paul Erlebach.
The hospital in the city of Tillamook, not to mention medical facilities throughout the county, also have had difficulty recruiting help and keeping employees from leaving.
"I had a recent vacancy at the care center in Wheeler and was able to recruit a guy from Montana," recalled Marc Johnson, board president of the Nehalem Bay Health District. "He spent several days looking for a place, and he couldn't find one for his family – and so he left."
Meanwhile, many service-oriented establishments have had to cut back on the hours they are open because they don't have enough employees, the report also discovered.
"Every industry in the county is impacted by a lack of workforce housing," said Nan Devlin, executive director of the Tillamook Coast Visitor's Association.
"What's sad," Devlin added, "is that some areas of the county (and she clearly meant touristy coastal enclaves like Rockaway Beach, Netarts, Neskowin, Pacific City, and Manzanita) don't want that kind of housing in their backyard."
As Jon Welsh, owner of Manzanita Fresh Foods – which today employs 28 workers, who are paid an average of nearly $19 an hour – put it: "It's a fool's game, completely insane for a wage worker to even want to live in Manzanita. Most of our employees come here from Rockaway and south of there."
. . .
ACCORDING TO THE 2010 U.S. CENSUS, almost one in four of the 9,476 workers in Tillamook County commute more than 50 miles (100 miles roundtrip), which is double the average work-drive in Oregon. The Census also found that one in three local workers live outside the county.
At the center of the crisis are low wages and an almost non-existent stock of affordable housing.
As the Tillamook County Pioneer has reported that, "While those at the bottom and middle are most affected, the housing crunch hits every demographic. Land scarcity and other factors such as permitting processes encumbered by environmental regulations means an inadequate housing stock for the area."
The county has two housing markets, the coastal market, which includes the wealthier Manzanita, rich with retirees and second-home owners. Then there is the interior market that is concentrated around Tillamook, and consists primarily of older, less expensive housing.
To put this in real terms, there were 2,266 workers engaged in retail and food services in Tillamook County, earning an average of approximately $20,000 per year in 2014.
However, the number of rental units "that can be reasonably afforded" by a worker at that wage level ($500 per month) is nearly ten times smaller than the number of workers – with only 239 such units in 2014, according to the county's housing task force report.
"Among households that earn up to $20,000, 92 percent pay more than 30 percent of their income on rent or mortgage payments," the report stated. "The same is true for 70 percent of those earning between $20,000 and $34,999 – up from just 25 percent in 2000."
Jake Davis was hired by Tillamook County last year as its Housing Coordinator. Since 2019, Davis, a recent graduate from Portland State University, said, "We need to enable more housing options across a bigger range of incomes to ensure people have a choice and mobility when it comes to where they live.'
Jake Davis returned to Portland last month. Why? He couldn't find a place to live in the county.
In hopes of putting a more human face on the problem, Tillamook County Commissioner Erin Skaar said the absence of a sufficient supply of workforce housing often means that "service workers in Manzanita are forced to live with roommates.
"There are a lot of cases that we see six people living in a two-bedroom apartment," Skaar continued in a recent interview. "It also means maybe driving a car without insurance, or having to sacrifice childcare – you know, leaving their child with a friend – or going to food banks, or living in RV's and having to move frequently from park to park."
Or, as Marc Johnson observed, "It is ultimately a public health issue, and the cold, hard reality is that this is a borderline crisis."
. . .
ON THE EVENING of June 5, 2017, a standing-room-only crowd at the Pine Grove Community House in Manzanita– more than 50 people had to be turned away – came to listen to a planned development proposal for the "Village at Manzanita."
The crowd was almost universally comprised of full-timers and second-home owners – most of them baby boomers and professionals from Portland and Seattle – who were drawn to Manzanita and its remote, rugged environs by cobalt skies, the ever-dancing Pacific, and startlingly gorgeous views from the mountain. God's green earth on a perfect platter of .82 square miles.
Encore Investment developers Jim Pentz and Rick Hinkes spoke glowingly of the proposal – 300-plus homes on 70 acres, bordered by Necarney City Road and Classic Street, that was originally intended to be the "back-nine" for the Manzanita Golf Course.
They imagined a 9,000 square foot commercial "village center" with a mix of restaurants, a spa and fitness center, various shops, a "grab-n-go" store, and a rental office for short term rentals.
In an interview last month, Pentz said he also envisioned building some workforce housing within the new village complex.
"All along, we knew that we'd need a lot of employees for this project once it was completed, so of course, we would need workforce housing. We proposed partnering with the city and county to do it."
The project died. The workforce housing partnership never got off the ground, and then there was Pentz's insistence that no cap be placed on the number of short-term rentals. "We needed that zero cap for things to pencil out," he said in an interview.
"The whole project was just dropped because the city wanted the developer to do everything. The city was saying, 'We don't want more short-term rentals. We don't want more tourism.'"
Pentz, who he and his partner Rick Hinkes have since replaced the Village at Manzanita with Manzanita Highlands – a far more modest-sized development with no city money involved – went on, "To do this (build workforce housing), it has to be part city (funding), part county, part developer, all working together."
Pentz admitted, however, that the real reason the Village at Manzanita project was a non-starter was the ambitious scope of the proposal. "No one," he went on, "wanted the size of Manzanita to nearly double."
Said City Planning Commission member Lee Hiltenbrand: "I think the magnitude was shocking to the community."
"For some reason, the people of Manzanita want to keep their community small," Pentz said. "They want to move here and then lock the safe.
"I've had people who say, 'We don't want to end up like Cannon Beach.' And these are residents who have only been here two years!"