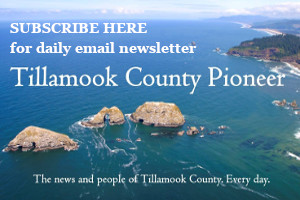 It brings a museum to the people.
For 15 years, the Old Iron Show allows members to display their old equipment and gives the public the opportunity to see a bit of history. Old timers bring grandchildren and talk about the days when this equipment was used. Some members have rare or unique items to display – Friday August 17th from Noon to 5 pm, Saturday August 18th from 9 am to 5 pm with a "cruise-in" from 10 am to 2 pm, and Sunday August 19th from 9 am to 3 pm.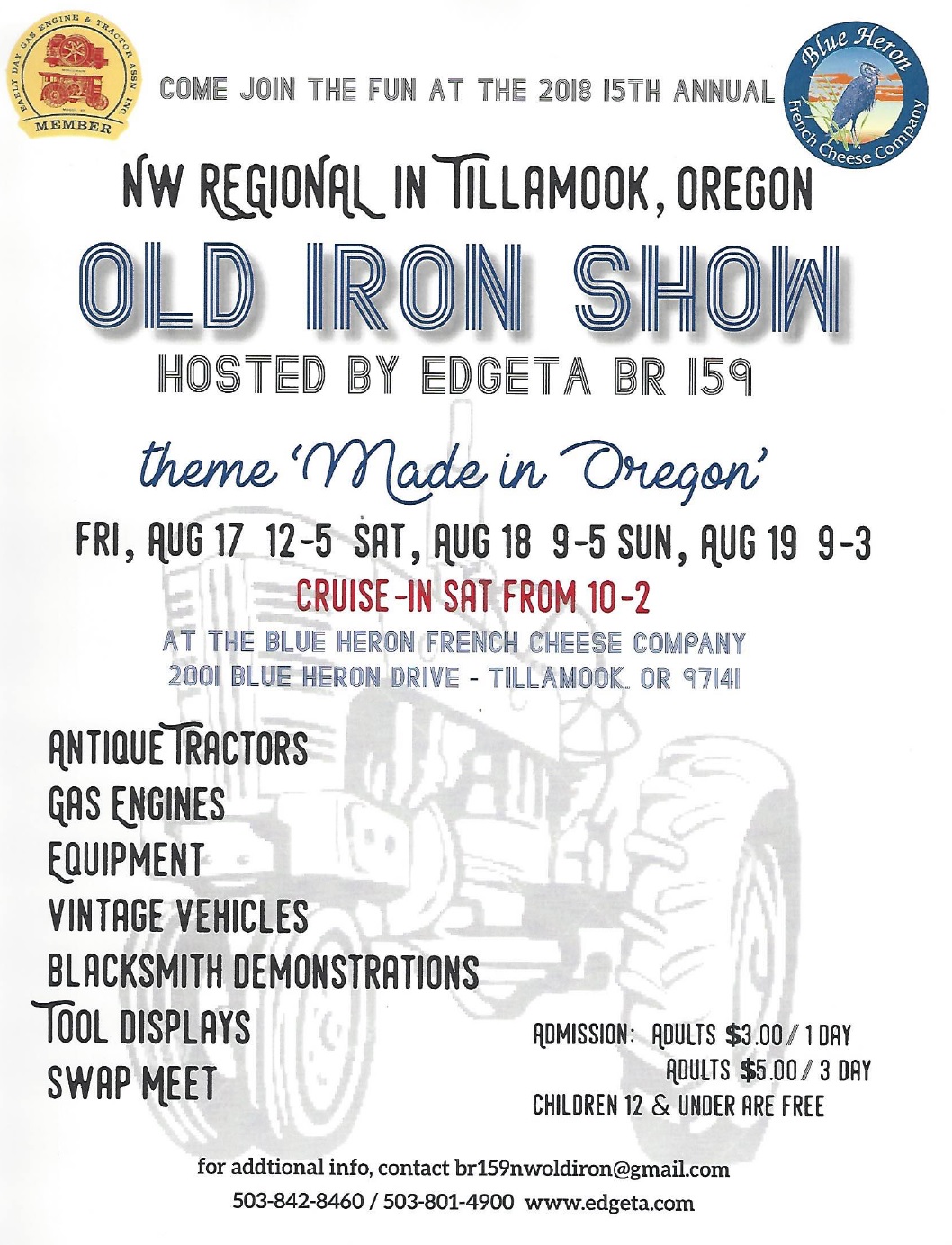 The public has an opportunity to ask exhibitors about early day living and the equipment displayed which was used years ago. Much of the equipment displayed was used before electricity was available. Sometimes the exhibitors learn from the public who have knowledge about the equipment as well.
Focus is not just on tractors and farm equipment – the show has had logging equipment, a display of hand operated grinders, old cars and trucks, antique tools, engines, a collection of surveying equipment, even a mini-hay baler. We are hoping to have a fishing dory or two brought up from Pacific City this year.
EQUIPMENT MADE IN OREGON is this year's theme – This will even include things made right here in Tillamook. For instance, Steinbach Mfg. Co. & Iron Works manufactured equipment used at dairy farms, they made fire hydrants, cheese presses, and even made 3 tugboats during WWII for the US Navy which were sent to England. Paul Strait owned the Coastal Machine Works and in 1965 he made the CLIMAX KEY MILL, later moving his company to Newberg OR. A key mill on loan will be on display. Expect to learn more about items manufactured right here in Oregon.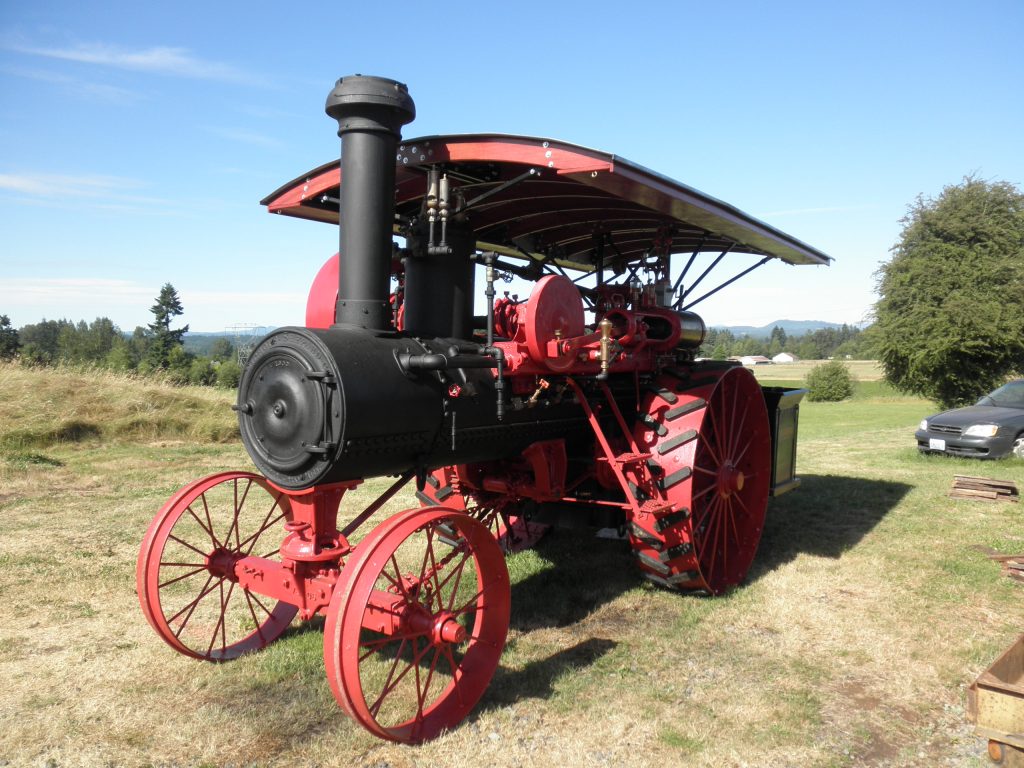 SPECIAL EXHIBITS – 1921 NICHOLS & SHEPARD 16-50 STEAM TRACTION ENGINE. Thanks to sponsorship by Karl Zweifel, this steam tractor will be coming over from the valley.
CRUISE IN – Saturday 10 a.m. – 2 p.m. cars and trucks – unique cruise-in awards are custom made by members Bill Gogue & Doug Hendrickson.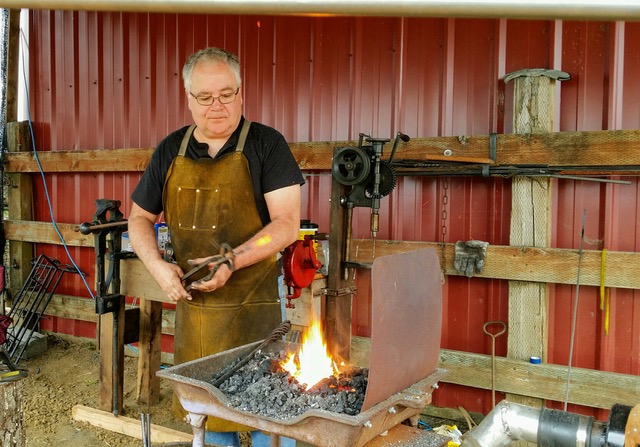 BLACKSMITH Herman Doty will demonstrate the art of blacksmithing and will likely have some hand-crafted items for sale.
NORTHWEST REGIONAL EDGETA SHOW – This year, as in 2007, our club is hosting the Northwest Regional show. The NW region includes Alaska, Washington, Oregon, Idaho, Montana, Wyoming. We look forward to more visitors (exhibitors and spectators) and encourage them to come early and stay late to tour our area and its businesses.
What classifies as old iron?
Old iron includes many things and varies depending on the community. Some places have threshing machines and combines. In our area we have early day farm and logging equipment, old tools, gasoline and oil engines, gas and diesel tractors as well as old cars and trucks.
Part of the old iron show is a swap meet. The swap meet has rusty iron, tools, replacement parts, household and "you name it". One vendor from Paso Robles CA has a wide array of tin signs and books.
On site food vendor is TWINS RANCH CATERING. Food also available at the Blue Heron.
Event sponsor: Denny Pastega & the Blue Heron French Cheese Co. has been generous with allowing us to use the Blue Heron property the past 14 years as well as providing other support such as sign banners & printed flyers to publicize the show.
CLUB/SHOW HISTORY:
Vince Bogard, club President, had been a member of the Early Day Gas Engine & Tractor Assn (EDGE&TA) club when he lived in the Medford area.
When we visited here prior to retirement and returning to live in Tillamook, we would see "old timers" like Rudy Fenk at the county fair and Vince would talk about the idea of a club and show activities. He thought there should be many barns or sheds in Tillamook County with old farm or other equipment that should be restored or preserved and wondered if people here would be interested.
The First show – August 2003 at Bogards' home site on Sollie Smith Rd.
Bogards returned to Tillamook mid-year 2003. In December, Vince invited a few fellows over to the house to talk about the idea of forming a club (Gary Hercher being one – he is chairing the county fair exhibit). By February 2004 we had 20 members, the number required to charter a branch of the Early Day Gas Engine & Tractor Assn (EDGE&TA). The club name chosen was Northwest Old Iron Club and we were assigned Branch No. 159. It is the only club in the NW part of Oregon.
Most clubs have an annual "show". Members share common interests & want to do more than just talk about what they have. A show gives members of EDGETA clubs and the public a chance to see things from the past.
It also is a way to connect with others who want to buy or sell such equipment or parts.
The first show (Aug 2004) was put on with the help of members from EDGETA Br 141 in So. Oregon. We had about 200 people attend that weekend and knew we needed more space. People camped in the Bogards' yard and the lot next door, engines and tractors were lined up along the road.
By chance, Vince met Denny Pastega at the Antique Powerland show in Brooks OR that first year. Denny has his own collection of "old iron" at the Blue Heron and thought a show would be a good fit for Tillamook. Vince told him about our club and the rest is history.
How many members are in your branch?
50 + many live outside of Tillamook County. Some have primary membership in another club and "associate" in ours.
Show attendance numbers?
Usually bout 700 adults. In addition we have 80-100 people involved in putting on the show. 12 & under are free.
Summer visitors to the Oregon Coast stop by too. Many have never seen such a display. Members answer questions and explain things.
Number of exhibitors – where are they from?
40+ exhibitors expected – from California & NW States
Several EDGE&TA branches are represented. Many bring more than one item to display.
Several drag & buzz saws were demonstrated and displayed some years. Some were powered by tractors.
Where can someone learn more about our EDGETA?
For information about the national organization, go to www.edgeta.com .
There are over 100 branches located in about 30 states. A calendar on the website gives information about shows across the United States as well as who to contact to inquire about membership, etc.
For information about our local club:
e-mail br159nwoldiron@gmail.com
or call Vince Bogard at 503-801-4900
or Show Chair Doug Hendrickson at 503-842-8460
Meetings are usually held the 2nd Tues. of the month.
EDITOR'S NOTE: This is likely the last Old Iron Show in Tillamook. As happens with organizations, Show Chair since 2013, Doug Hendrickson is looking forward to attending other events this time of year; Vince and Louise Bogard are stepping down after 15 years to pursue other interests too. To date, we have no one willing/able to put on future shows.