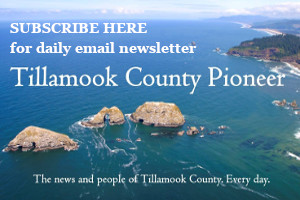 Garibaldi, Oregon – Have you ever wondered what happens to a raindrop on its incredible journey through the water cycle? How tough is life for a salmon and what in the world do they eat? Are beavers really just engineers in disguise? On Tuesday, March 20th, 2018, over 300 enthusiastic fourth graders from throughout Tillamook County found out the answers to these question and many more at the 17th annual Children's Clean Water Festival.
Hosted by the Tillamook Estuaries Partnership (TEP) at Twin Rocks Friend Camp, this day of experiential education was made possible through the efforts of 100 adult volunteers, high school students, teachers, chaperones, TEP staff, and many local natural resource agencies. Generous contributions by the Environmental Protection Agency and the Kiwanis Club of Tillamook helped fund this year's event.
Science and art were mixed together to produce a series of hands-on activities related to clean water and healthy ecosystems. This day of discovery ran the gamut from getting up close and personal with aquatic insects and baby oysters to creating fish murals and critter art using recycled bottle caps. Other learning adventures included responsible camping skits, recycle relays with plastic bottles and aluminum cans, salmon and tide pool animal observations, and sing-alongs about watersheds.

STEAM (Science, Technology, Engineering, Art and Math) was the theme of the day with participants donning life jackets while learning about water safety, testing water quality, taking the erosion "Runoff Challenge", marveling at the Great Pacific Garbage patch, understanding how sneaky waves can be, demonstrating the importance of plants in local ecosystems, and discovering nearby wonders such as Kilchis Point and Cape Falcon Marine Reserve. The Festival once again demonstrated that learning science is fun for all involved.
·