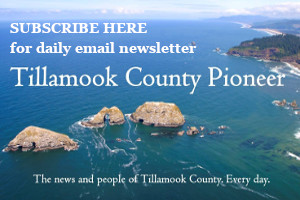 It is 2018 and the year for another of Tillamook County Master Gardeners Association's (TCMGA) Spade and Wade Garden Tours. From the foothills east of Tillamook to the shores of the Pacific, visitors have the opportunity to visit six spectacular and varied gardens in Tillamook County on Saturday July 21st from 10 am to 4 pm.
Visit a garden that includes a serene woodland alongside a vegetable garden worked the way a garden should be, with annual charts to insure crop rotation and pest control. A master of bonsai will show off her collection as well as give demonstrations on how to create these gems. A garden is created for birds and bees – and humans – with a wide variety of ornamental shrubs and perennials as well as vegetable crops. Take a river walk along a property with areas creating several different gardens: natural areas along the river, berry and vegetable gardens, areas for ornamentals, and a greenhouse to get the plants started.
Travel to the Coast. Set high on a hill overlooking the Pacific is a 'his' front area planted to survive the ubiquitous deer and elk in the area as well as withstand the salt air from the ocean. And in the back is 'her' garden with unusual plants for the area: hardy begonias, a prostrate coast redwood, winter hardy palms, a mature Mexican Palm. Nearby this garden, one can take a walk in a woodland through an old growth forest planted with a variety of ferns and with examples of nurse logs. This is only a short description of all you can see on TCMGA's educational and unique tour.
Tillamook County has lots to offer with the Cape Meares Lighthouse, Tillamook Creamery, Kilchis River Reserve, the Pioneer Museum, TCMGA's Learning Garden, Munson Falls, great fishing, and so much more. Come and make a weekend of your visit …
Tickets: $10.00 each available at Tillamook County Pioneer Museum, OSU Extension Office and Hidden Acres Greenhouse & Cafe.
Children 16 and under are free. Check the TCMGA Facebook page for more information: https://www.facebook.com/tillamookmastergardeners/