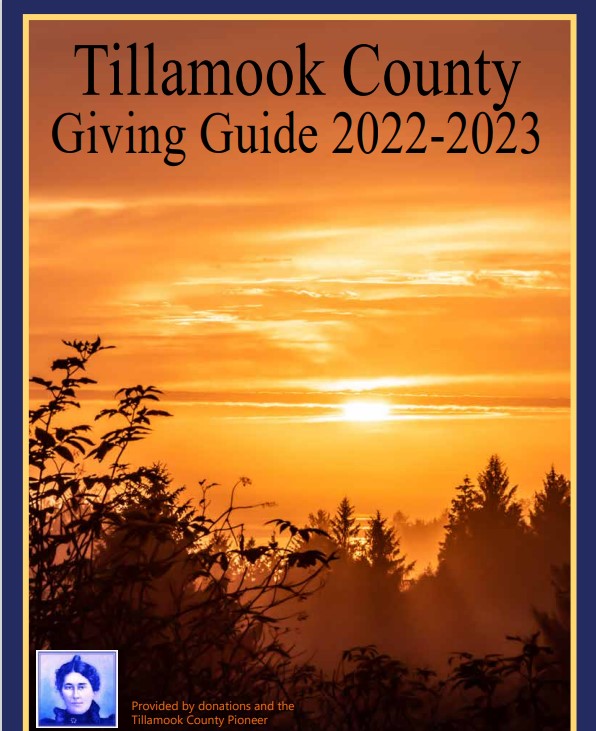 EDITOR'S NOTE: With a blustery week forecast, it's appropriate for us to share our final 2020 garden tour. Enjoy this tour of John and Barbara Casteel's Tillamook garden that is "a work in process" — as every garden is. There is so much to see in the Casteel garden that we have two-parts for you, and Barbara has provided an extensive plant list guide as well. Thank to Tillamook County Master Gardeners for sharing your gardens this year. It was a pleasure to record these beautiful and unique gardens from north to south in Tillamook County. You can check out all the gardens on the Tillamook County Pioneer's YouTube Channel.
The TCMGA Garden Tour is held every other year, and usually features self-guided tours through a variety of local gardens, and proceeds benefit the TCMGA's Scholarship fund. With 2020 limits on gathering, the Pioneer has been able to bring the gardens to you … we hope you enjoy these tours and if you would like to donate to the TCMGA's Scholarship fund, please send checks to 4506 3rd Street, Tillamook, OR 97141, or go to https://tillamookmastergardeners.com/home/.
By Barbara Casteel
We moved to this site almost 32 years ago when our children were small. There was landscaping in place, but we have changed much of it. The rhododendrons in front are original to the property. They are a little too close to the house and take significant pruning to keep under control. The bed under the front window is deep shade and requires plants that can handle that. The bed along the front fence is always a work in progress as we have not found exactly what we like there. Grass never grew in the front yard very well so we eliminated it and replaced it with hellebores and heuchera next to the sidewalk and moved the excavated dirt from an addition to the center of the yard and planted it with perennials. The east side of the yard is an experiment with spiral stones and groundcovers.
The beds and pots in the back of the house are roughly divided into two sections. The first part is the pond, lawn, and flowers, behind that is the vegetable garden. We like to re-use whenever possible, so the strawberry bed was formerly our bathtub, the herbs are in half barrels from the Farm Store, some of the raised beds are built from boards reclaimed from a boat slide. There are bits of copper pipe, fence posts, fencing, PVC piping in various uses and marbles in the wood fence.
We have a number of different dahlias. We got started 13 years ago when our daughter-in-law-to-be wanted dahlias for her wedding. After that, we were hooked and have dedicated a lot of space to the multitude of varieties available. Most of the tubers were purchased locally from Old House Dahlias.
We like to have a lot of variety to attract birds and pollinators and have something blooming nearly year around. We don't save a lot of money growing vegetables, but we enjoy produce in season and have a little more to preserve and/or share with others. Sometimes it is enough just to watch things grow.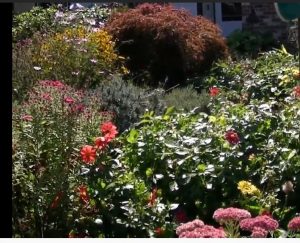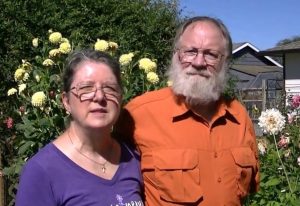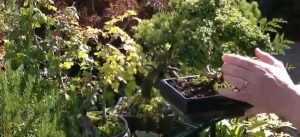 Here is Part #1 – see below for plant list:

Casteel landscape plants
Front yard
Bonsai:
Bonsai are little trees grown in a tray. There are some classic forms, but one can miniaturize most plants. Bonsai can live for hundreds of years so they are often passed from generation to generation. I have inherited several of mine, so I do not know all the species.
Lace leaf maple
Western larch
Sitka spruce
Trident maple
Sycamore maple (from the Learning garden)
Red oak
Cork oak
Juniper
Atlas cedar
Native hawthorn
Cotoneaster
Pine( several varieties)
Lonceria
Alberta spruce
Boxwood
Azalea
Western red cedar
Filbert
Window garden
Fuchsia microphylla
Hosta
Piggyback
Columbine
Jack in the pulpit
Heuchera
Hardy Cyclamen
Sidewalk garden
Chinese ground orchid
Cinnamon pink
Heuchera (various)
Hellebore (various)
Rosemary
Zinnia
Begonia
Lace-leaf maple
Chrysanthemum
Fence-line gardens
Autumn Joy sedum
Crocosmia
Cinnamon pink
Bedding dahlias
Azalea
Coreopsis
Speedwell
Dahlia
Miniature fuchsia
Lace-cape hydrangea
Miniature Pieris japonica
Clematis
Lilac
Oak-leaf hydrangea
Rhododendron
Hosta
Blueberries
Wild lily of the valley
Trillium
Pink Asters
Tiger lilies
Lithodora
Groundcovers
Creeping Thyme
Wooly thyme
Lemon thyme
Blue star creeper
Corsican mint
Maybe some others?
Center Garden
Coral bark maple
Oriental poppy
Jelly-bean poppy
Lewisia
Black-eyed Susan
Echinacea
Gaillardia
Bearded iris
Variegated ice plant
Oregon iris
Blue-eyed grass
Hardy cyclamen
Caryopteris
Marigold
Lupin
Peony
Carnation
Lavender (several varieties)
English
Spanish
French
Variety: Blondie
English thyme
Pink potentilla
Native monkeyflower
viola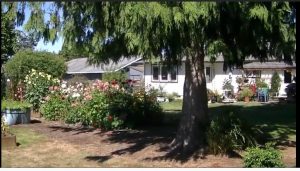 Part #2: The backyard, pond, vegetable garden and more …
Back yard
Roses
Pansies
anemone
Passionflower vine
Geraniums
Lilies
Ornamental ginger
Avocado
Hot lips salvia
Succulents
Hanging fuchsia
Yucca
Summer blooming daphne
African daisy
Snapdragon
Sweet William
rudbeckia
four-o'clock
sweet alyssum
Espalier Apple (one tree, six varieties)
Honeycrisp gala
Gravenstein yellow transparent
Braeburn Jonagold
Blueberries –planted when we didn't know what to plant
Duke jersey others?
Mophead hydrangea
Miniature rhododendron
Mock orange
Red huckleberry
Cape fuchsia
Indian plum
Oregon grape
Variegated jasmine
Rosey spirea
Evergreen huckleberry
Phlox
Peach flowering quince
Herbs
Peppermint spearmint
Lemon balm parsley
Oregano golden oregano
Red-veined sorrel winter savory
Blue hyssop dill
Strawberries
Bedding dahlias
Pink panda strawberries (ornamental)
Honeysuckle
French iris
Rhubarb
Nasturtiums
Love in a mist
Cosmos
Batchelor buttons
Vegetable garden
Bush beans
Zucchini
Cucumbers
Carrots
Raspberries
Popcorn
Sunflowers
Pole beans
Scarlet runner beans
Cabbage
Broccoli
Peas (shelling and snap)
Potatoes
Grape
Onion
Garlic
Asparagus