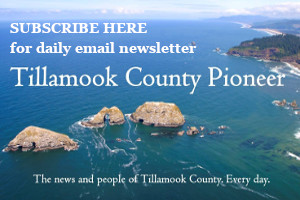 EDITOR'S NOTE: Let's celebrate Easter again! Better late than never … My apologies to Rockaway Beach for not getting these wonderful photos and video of the Easter Egg hunt and the winners of the Scavenger Hunt posted earlier. No excuses, but so you know, we don't have a large staff (mostly just me) and there simply is not enough time in the day to get to everything. The news has been non-stop, and I know how much everyone likes seeing these photos and enjoying the holiday. Thanks Rockaway Beach for a wonderful celebration.
Story & Photos By Robin Swain, for the Pioneer
Easter weekend in Rockaway Beach, was a basket full of family fun!
Starting with the Easter Egg Hunt at Phyllis Baker City Park, sponsored by the City of Rockaway Beach, Rockaway Beach Fire-Rescue and the Rockaway Beach Merchants Association. Each age group had their own section to hunt for eggs and treats that had been hidden by the Easter Bunny and helpers. The Golden eggs being the big surprise with money inside.
The parents and grandparents cheered the kids on from the sidelines. Many running along the rope lines, trying to direct the littlest kids to their next Easter egg. After the hunt was over, families lined up to have photos with the Easter Bunny and RB Volunteers and Merchants made sure everyone had a Scavenger Hunt Map.
The Rockaway Beach Merchants Association (RBMA), sponsored the Easter Scavenger Hunt with sixteen merchants providing clues. Some families even broke into teams to add a competitive edge to their Easter weekend fun. The trail of clues led to a stamp on their map from each participating Merchant. Upon collecting all sixteen stamps the race was on to Keller Williams to turn in the maps for a ticket. Participants could then choose which Easter Basket drawing they wished to enter. Adults were delightfully surprised to find out there were three baskets for grown-ups to choose from filled with gift certificates and many wonderful items from businesses in town.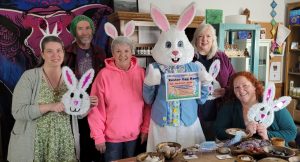 THE WINNERS
[Note: per parent's request children are listed by first name only]
Girls Orbit Scooter: Favine Boys Orbit Scooter: Levi
Beach Basket #1: Jackson Basketball Basket: Jill
Beach Basket #2: Arden Soccer Basket: Keira
Activity Fun Basket #1: Michala
Beach Chair/Kite: Alayna
Activity Fun Basket #2: Athena
"Big Kids" Gift Baskets: Lacy Wood, Andrea Hopkins, Julie and Benjamin
Mayor Sue Wilson stated, "I just want to thank everyone who participated in the Easter Egg Hunt and the Scavenger Hunt. It was a great first event after two years of the covid shutdown. I'm so pleased that both events were well attended. I couldn't have asked for a better day.
Here's the video:

PHOTO GALLERY – Rockaway Beach Easter Egg Hunt 2022