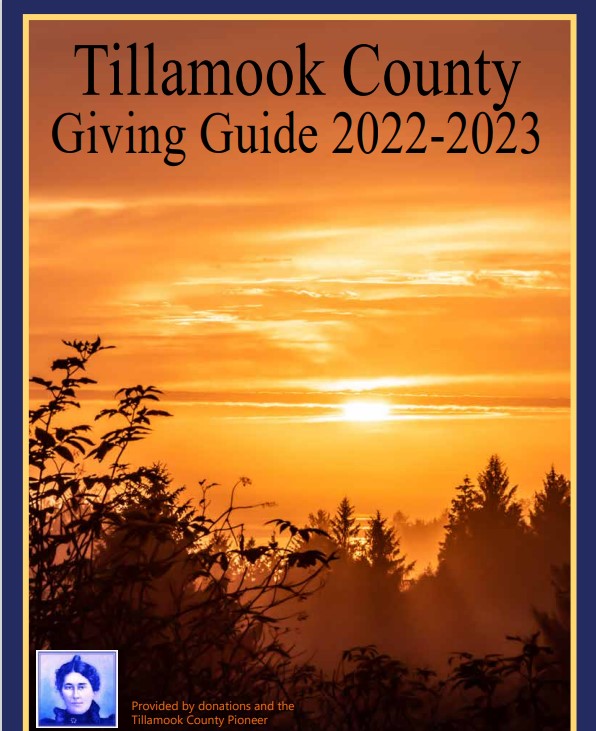 What's so special about this election? The May 2023 election is all about "special districts" – school boards, transportation district, recreation district, fire boards, health districts and more. And for Tillamook County this is a historic election. Never before have there been so many candidates on the ballot. Usually the ballot for this election has one name (or a blank) for the position. The May 2023 ballot will have eight races with multiple candidates for each position. So Tillamook County, it's time to do your homework, and get to know who these people are that will be in charge of our schools, transportation, health, fire departments, water systems and more. It's election time – and in Tillamook County there has been an increase in participation in our government process with many races having multiple choices. The Pioneer is proud to provide this opportunity for our community to make informed voting choices and learn about the candidates. We will post the candidate's answers (that we received) in the contested races with multiple candidates. These questions were gathered from a diverse array of Tillamook County citizens, and provides an opportunity for constituents to compare candidates answers directly.
Here we go – Tillamook County Transportation District
Tillamook County Transportation District
Position #1 – 2 year/unexpired term
Jim Heffernan
Why are you running for this position? To be of service to the community.

If elected, what will be your priorities? Listening to community and working for ways to provide more bus shelters. 

What particular experiences or skills have prepared you to serve?  I have a lifetime's experience of working with others to solve problems..  

What issues do you believe the board needs to address? Please list 3 and your solutions/ideas.  1.  More shelters, perhaps partnering with school districts for combination school bus/wave shelters.  2.  Perhaps more busses running outside city of Tillamook.  Economics might  this make unfeasible.  3.  Perhaps extending hours for night workers.  

If you could make one improvement to the work this board does, what would it be?  This one stumps me.  I've seen the board at work and I'm impressed. 

In your opinion, what attributes must a good board member have?  A board member should be a good listener and should make the welfare of the entire community their prime concern.

What is your vision for our community?   I want a  community where all residents of the county have access to public transportation.  We have that now and I would like to see only improvements with time.
Teah Laviolette
Why are you running for these positions? I am running for the Tillamook Bay Community College Board of Directors, Position 5 / Zone 5, the Tillamook County Transportation District Board of Directors, Position 1, the North County Recreation District (NCRD) Board of Directors, Position 1, and the Nehalem Bay Health District Board of Directors, Position 1 because I feel there is a need for someone like me to help give input, guidance, and bring fresh perspectives to these boards that seem to be missing. I am an average tax paying citizen, community member, and Mother of three school age children. I have a direct interest and am completely invested in the success and future of each one of these vital community resources and believe by encouraging additional opportunities for involvement and creating access for all in our community to have an open forum for ideas and suggestions on how to improve on the operations, services offered, how best to meet the needs of our community, helping determine financing options with fiscally responsible solutions, and how we as the community being affected by such decisions will determine the standards of success or what changes need to be made and how best to enact them. I can help improve upon each of these distinct community assets by utilizing my administrative skills and insights, my ability to navigate difficulties with positive outcomes, and keeping clearly in the forefront of my mind the purpose each of these entities serve within our community and county and the responsibility of ensuring every decision I make will be in the best interest of the community in which I serve and the people my decisions will ultimately affect.
2. If elected, what will be your priorities? Successfully meeting the needs of the community in a fiscally responsible way.
3. What particular experiences or skills have prepared you to serve? I have served in one capacity or another most of my life. As a high schooler, l waitressed in a couple of the local restaurants, babysat neighbors and summer tourists' kids, cleaned rooms at the local hotels, and cashiered at a local grocery. Then I graduated, joined the Army, got married and worked for the Army, Army National Guard, and several federal agencies throughout the US and overseas. I also, worked for ODOT and DHS in Salem, as well as TSA at the Salem Municipal Airport. Almost all of my federal career was administrative and logistical work which enabled me to work with widely diverse communities with multiple conflicting agendas and goals, often involving tense negotiations and volatile situations. I and several family members, friends, and neighbors utilize these community services, I engage others in the community to express their opinions about services they utilize, how their experiences have been, what their recommendations are and what they think could be improved. I believe engagement is key. Having open and honest conversations – keep the dialogue open and we all learn something. We all have our own opinions and beliefs and we all live here for our own reasons, be it generations of families carrying on traditions of farming, fishing, natural resources, retired, newly wed, growing families, recently graduated, changing jobs, starting a business, to be closer to family, to enjoy the spectacular scenery – beaches, hiking trails, rivers and lakes…we all want to have the safest, best, affordable, accessible, convenient, and caring community services available and the only way to make it so is to get involved, work together, and get it done. If you don't like the way things are or how they're done then use your voice – send emails, call and speak to the source directly, go in and set up a time to chat, submit your opinion to local newspapers. We have so many ways to connect  there is no reason to not communicate what your needs are, what you would like to have available, what you think could be done better, more efficiently or economically. And most importantly, you can also get involved by running as a candidate in these local elections. And you can vote!
4.  What issues do you believe the board needs to address? Please list 3 and your solutions/ideas. Community involvement – allow for more public input in a more conducive way that is accessible for all. 
Fiscal responsibility and I would tie into this with being transparent about what the standards are, how they are determined and by whom, and what each resources ultimate goals are. In these financially difficult times we need to know exactly what our money is being used for, what services will be provided – available and to whom. What is being done now to plan and budget for future continued operations and sustainability of these resources to ensure a high standard of care, service, and commitment to our communities' needs. How are their operations currently being assessed, who is doing the assessments, setting the standards, what are the requirements and how much community involvement in this process is currently being utilized?  What will our community's return on investments be for each of these resources? These are my concerns and questions and I will work hard to find the answers and solutions to each one 
5. If you could make one improvement to the work this board does, what would it be?  Again, more transparency and community involvement. You have to understand the needs and problems before you can find and enact solutions. I don't believe a small group of like minded folks can meet the needs of our rural, expansive and diverse communities. You can't fix problems inside a bubble or box, you have to expand and reach out for help in sufficiently solving very complex issues. You can't successfully accomplish this, especially when you don't engage with or allow all members of our community an equal voice and representation.
6.  In your opinion, what attributes must a good board member have? Listening, being empathetic of others needs and situations, ability to find solutions that can be mutually beneficial, and being able to diffuse difficult situations in order to meet common goals that will be acceptable to all parties involved. Each one of the positions I am running for is ultimately about helping fellow citizens, neighbors, community members, and families in every day situations from getting to and from locations in our community and around our local metro areas to availability of providers and scheduling appointments in a timely manner, meeting health and safety concerns and needs, providing classes, training and certifications to enable successful careers and advancement, and create an excellent measure of community livability. 
7. What is your vision for our community? We should all want and deserve safety, security, and accessibility, as well as quality and affordability in the services provided by our local communities. I envision our county services and community resources to be available for generations to come, with highly dedicated citizen involvement and community support making ours a desirable place to live, work, and recreate. 
Postion #4 – 4 year term
Thomas J. Forelli
Why are you running for this position? Rural communities have a greater reliance on public transportation than urban communities but have less service availability due to higher costs, longer distances, and limited ridership. I am running for Position 4 Director because I have the training, skills, and motivation to support the work of the Transportation District. As Tillamook County grows, I want to focus on development-oriented transit, targeting enhanced current and future capacity where communities exist and are planned.
If elected, what will be your priorities?  My priorities will be to guide sound and strategic investments in our system planning, collaborate with stakeholders to find innovative solutions, and prioritize the needs of our community.
What particular experiences or skills have prepared you to serve? I have a bachelor's in science in planning with a focus on housing and multimodal transportation and a master's in public administration with skills in program and budget development. Additionally, I have over five years' experience as a nonprofit strategist and land use professional.
What issues do you believe the board needs to address? Please list 3 and your solutions/ideas. First, transportation planning for all Tillamook County residents, including prioritizing unincorporated areas and communities that are underrepresented compared to their ridership potential. Second, optimizing systems for seasonal rider patterns. Third, the use of intelligent transportation system technologies to improve tracking, streamline operations, and enhance customer experience.
If you could make one improvement to the work this board does, what would it be? One possible improvement to the work of the TCTD board is board training and preparation, including plan updates to align with state policy changes.
In your opinion, what attributes must a good board member have? A good board member must demonstrate effective communication, be accessible and responsible to the community, and serve with a commitment to diversity, equity, and inclusion.
What is your vision for our community? In my vision for our rural community, economic development and ecosystem stewardship are in balance with smart growth and community prosperity. A well-planned transportation district capitalizes on seasonal ridership for our ecological resources and tourism while remaining responsive to vibrant residential pockets and community hubs.
Mary Leverette
WHY ARE YOU RUNNING FOR THIS POSITION? I am committed to serving my community. I am retired and have the time, energy and experience to serve the Tillamook County Transportation District Board (Board). The Board has a good foundation, has made significant gains by reducing fares and adding an additional trip to Portland each day. However, now is the time for the Board to get creative and, with the General Manager, review ride connections and the frequency of buses, especially in more rural areas of our County. We need connections that are frequent enough so that commuters, school staff and students may take greater advantage of these. I have the time to work with current and incoming Board members to make sure our services are the very best possible.
If elected, what will be your priorities? My first priority is to review ridership data for South Tillamook County, the most populated area of our County. Are there sufficient services — routes and frequency of buses — for the number of residents who live and work in the area? My second priority is to talk with schools and businesses to learn what their transportation needs are and to learn if the TCTD services meet these needs. If there are service gaps, I will work with Board members to refine the current service offerings. My third priority is to work with Board members and the General Manager to make the new "ride app" more widely known. Once riders start using it to learn arrival times and connections, they will find that their travel needs are clearer and that they have fewer ride surprises.
WHAT PARTICULAR EXPERIENCES OR SKILLS HAVE PREPARED YOU TO SERVE? I have had an almost 30-year career in government service, both for the State of Oregon and the City of Portland. I was a middle manager and supervised both projects and staff. I have a Master's degree in Psychology. I was appointed to a one-year term on the State Plumbing Board. I am a dedicated volunteer: for a second year, I am organizing the Wheeler Clean-up Day; I write a column on birds for the Lower Nehalem Community Trust and, most importantly, I was a Hospice volunteer for 14-plus years. I am organized, positive and practical. I am ready to serve.
WHAT ISSUES DO YOU BELIEVE THE BOARD NEEDS TO ADDRESS? LIST 3 + SOLUTIONS One. The Board needs to review rural service needs. This could be done by written survey and by talking with residents, businesses and schools. Two. The Board needs to give greater attention to combining or coordinating routes between different service areas and providers, such as other County or State organizations. Increased sharing of resources, as needed, could boost ridership in positive ways in a relatively short period of time. Three. I believe that the Board needs a greater understanding of the connections between designated low-income areas and healthcare service locations.  A lack of transportation options can result in residents becoming isolated from family and friends; having potentially compromised health as they may not get their important needs met if transportation is limited; and, these factors may lead to an increased need for mental health services on top of any physical health needs residents may have.
IF YOU COULD MAKE ONE IMPROVEMENT TO THE WORK OF THIS BOARD DOES, WHAT WOULD IT BE? I would wave a magic wand and have all Board positions filled with individuals who are committed to being creative about services and who know how to get challenging ideas accomplished.
IN YOUR OPINION, WHAT ATTRIBUTES MUST A GOOD BOARD MEMBER HAVE? I believe a good Board member must do his or her homework before meetings by studying current, critical issues and by being prepared for each meeting. I believe that Board members must be good listeners, compassionate, be skilled at negotiations, and willing to compromise.
WHAT IS YOUR VISION FOR OUR COMMUNITY? My vision for Tillamook County is one of coordination between cities to share resources to maximize services for the area. I see a County that has robust transportation, healthcare and school programs. I believe we all benefit by sharing in events, such as parades, fairs and school activities; that we use our library system to advantage; we are well prepared for emergencies, whether these are natural or man-made; and, that we capitalize on the beauty and opportunities our County offers for work, play and enjoyment. We are so fortunate to live in this remarkable area!