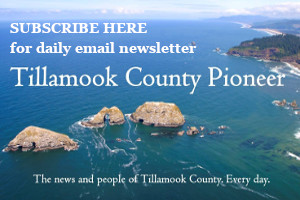 The Tillamook Bay Watershed Council (TBWC) is turning 20 years old, and it's inviting the public to help celebrate at the Annual Watershed Social and Picnic on August 28th. Tillamook's Board of County Commissioners created the TBWC in September of 1998 to be the locally-based vehicle for implementing the state's salmon recovery strategy. At that time the TBWC was chartered to foster communication and cooperation among all interests within the watershed and for developing and implementing a watershed action plan to set goals and prioritize actions to protect and enhance fish habitat and watershed health. Since then the TBWC has raised over two million dollars from grants and donations and implemented dozens of on-the-ground projects with private and public landowners throughout the basin. Over that same period, the North Coast's salmon populations appear to have made a modest recovery.
County Commissioner Tim Josi was one the drafters of the legislation allowing for the creation of Watershed Councils in Oregon, serving as the District 2 State Representative from 1991 through 1998.
"I am pleased to see that watershed councils have flourished throughout Oregon and have accomplished all that we legislators had hoped for," said Josi. "My first year as a Tillamook County Commissioner, the Tillamook County Commission authorized the creation of the TBWC. Because of the efforts of Watershed Councils such as TBWC, our watersheds are healthier, our citizens have a fuller understanding of what constitutes a healthy watershed and why they are so important."
Dave Wells, a career forester with the Oregon Department of Forestry, is the current Chair of the TBWC Board of Directors and a devoted public servant. "What I value in the Council's work is its sense of purpose. It's where Tillamook, the 'Land of Many Waters,' meets the community and its many stakeholders to build cooperative understanding and watershed health."
This year's Annual Watershed Social and Picnic will be held at Old House Dahlias from 6:00PM to 8:00PM on August 28th, and will feature a classic barbeque with hamburgers, hot dogs, and all the fixings. Council Coordinator Rob Russell will share a brief history of the Council, give a report on the Council's future initiatives, and lead a leisurely hike along the Tillamook River where the Council is working to develop a new habitat enhancement project.
What: TBWC's 20th Birthday and Annual Watershed Picnic
Where: Old House Dahlias, 11600 South Highway 101
When: Tuesday, August 28th from 6:00PM to 8:00PM
Why: Because we love the Tillamook Bay Watershed!
As with all TBWC events, the Annual Watershed Social and Picnic is free and open to the public.
Photo of the Tillamook Bay watershed used with permission of Don Best. Check out his images at donbestphotography.com.