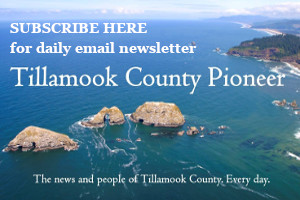 Starting this coming Saturday, September 15th there will be a number of reading and signing events planned for local author Brian Cameron's new guidebook entitled "25 Family Adventures on Oregon's Tillamook Coast."
Learn from a local where some of the best places to bring the kids are throughout the Tillamook Coast! Hear some of the triumphs, tribulations and treasured moments that came out of the writing process directly from the author himself. Learn about all the sites you may know, or not know, about within the Tillamook Coast that are specifically family friendly such as trails, activities, tours and more.
"25 Family Adventures on Oregon's Tillamook Coast" takes readers, and their families, out to the far reaches of the Tillamook area, from trails that guide you through coastal conifers and epic viewpoints, to family friendly adventures like the Oregon Coast Scenic Railroad, Kayaking the many waterways and sampling some of the area's finest foods.
Brian is a Tillamook Coast native who has spent the majority of his life in and around the County, after spending five years in cities like Seattle and Portland he moved back and saw the home he grew up in under a new light. In the past he has held the Managing Editor position with the North Coast Citizen newspaper and is a regular contributor to the Tillamook Coast's online blog section.
Reading and signing events are subject to change but currently there are events planned for:
●Tillamook County Public Library – Main Branch – Copeland Room: Saturday, Sept. 15 from 3 p.m. to 5 p.m
●Cloud & Leaf Bookstore – Manzanita: Friday, Sept. 20 from 3 p.m. to 5 p.m.
IMAGES:
Book Cover – "25 Family Adventures on Oregon's Tillamook Coast." by Brian Cameron
Brian with Kids – Brian with his twin children Josephine and Jackson, both of whom took a large role in the overall inspiration and creation of the book.