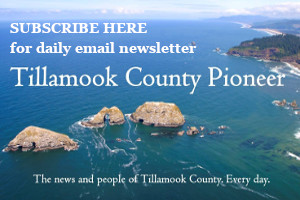 "4-H members planning to enter 4-H exhibits or participate in 4-H contests at the Tillamook County Fair this year must pre-enter by 5:00 p.m. Thursday, July 12," according to Nancy Kershaw and Joy Jones, OSU Extension Service agents in Tillamook County. 4-H leaders and members were mailed fair entry forms and entry information in early June. If you did not receive this information, you may pick up fair registration forms, premium books, exhibit tags, and award nomination forms at the OSU Extension Service office. Official entries should be returned to the OSU Extension Service office, 4506 Third Street in Tillamook.
When completing the entry form, members should make sure they sign up for all areas they plan to enter, including exhibits, showmanship, judging contests, record books, educational displays, etc. Refer to the 2018 Tillamook County Fair 4-H Premium Book for the appropriate class numbers. Instructions for online registration are on the Tillamook 4-H fair webpage.
In addition, members from North and South County should submit their application for lodging in the 4-H dorm during Fair by July 12 and 4-H members and families planning to eat in the 4-H kitchen should also pre-register and pay for meals by July 12.
July 12 is also the due date for all 4-H records to be judged. Records will be judged for ribbons, cash awards, and county medals. Members who will be seniors in high school next fall and who are planning to apply for the Tillamook County 4-H college scholarships must submit a record book for judging. The county fair record book score is one of the scores used to determine scholarship winners.
All award nominations are also due on July 12. Nomination forms for the Tillamook County 4-H Leader of the Year award, the Sid & Lillian Johnson 4-H Inspirational award, the Joan Powell Memorial Outstanding Home Economics Leader award, Jersey Calf award, and Elbow Grease award are available at the OSU Extension Service office.

Oregon State University Extension Service prohibits discrimination in all its programs, services, activities, and materials on the basis of race, color, national origin, religion, sex, gender identity (including gender expression), sexual orientation, disability, age, marital status, familial/parental status, income derived from a public assistance program, political beliefs, genetic information, veteran's status, reprisal or retaliation for prior civil rights activity.
If you have a disability that requires special considerations in order for you to attend this event, contact the OSU Extension Service in Tillamook at 503.842.3433.