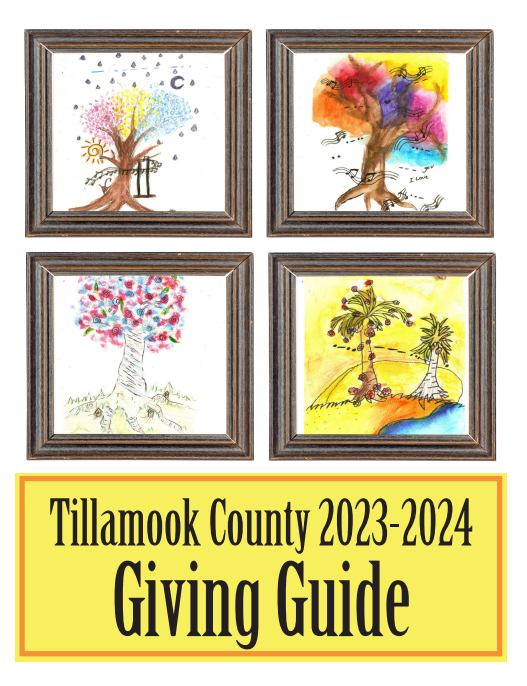 This morning, June 18, 2022 US Coast Guard crews responded to a 42-foot commercial fishing vessel on fire off the coast of Manzanita Beach, Oregon. The one person on board was rescued from the water by a Good Samaritan. Their current condition is unknown. The initial distress call to the #USCG came in at 6:30 a.m. The fire continues to burn. The Coast Guard response crew from Tillamook remains on scene to enforce a 1000-yard safety zone around the boat. At about 3 pm, the vessel has burned down to the waterline and continues to smolder. It is currently 1 mile west of Nehalem Bay State Park. USCG incident responders continue to monitor the situation.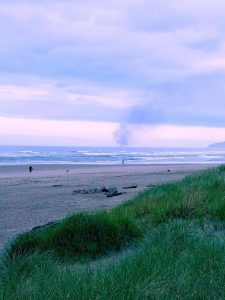 The boat fire was very visible from Manzanita Beach which prompted social media alerts such as this: *INFORMATION* According to United States Coast Guard officials, there is an unoccupied vessel that is on fire west of Manzanita Beach, approximately 2 miles offshore. United States Coast Guard resources are on on scene and assure that all souls are off of the vessel and the situation is being monitored. Please refrain from calling 911 about this emergency, as lines are being overloaded.
US Coast Guard photos: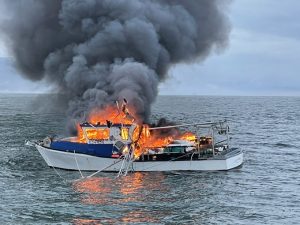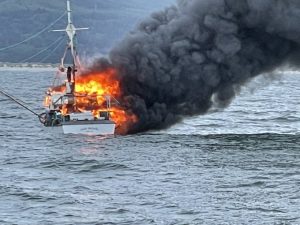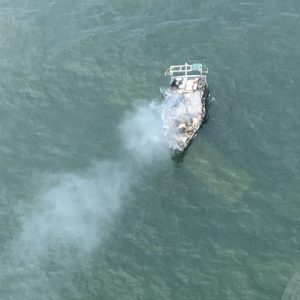 Photos by Don Backman – Pioneer photographer Don Backman got these images from Neah-Kah-Nie Mtn. and Nehalem Bay State Park. He noted that the boat is drifting in the direction of the Nehalem spit and will likely come ashore there.