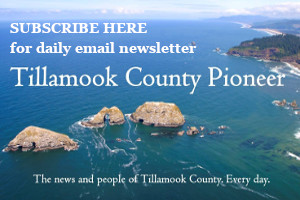 By Don Backman
"There are 35 vendors and 26 Kite Fliers," Kristine Hayes of the Rockaway Beach Chamber of Commerce explained between having to dart away and take care of necessary chores helping out the vendors and participants.
The 47th Rockaway Beach Kite Festival filled the Rockaway Beach wayside with vendors selling everything from tie-dye to elephant ears. Craftspeople sold their creations. Tantalizing aromas from the food vendors made the stomach rumble. Henna tattoos were being drawn. Locals and tourists walked the wayside and the beach below where the kites were on display.
Local photographer Rick Hampton, of Ricks Pics, stood by his space where he was selling his creations. "I tried to get some cool photos this morning in the fog," he explained. A steady flow of people perused through his displays. Out on the beach, the fog had burned off and the kites were flying.
On the beach below, a big orange Garfield the Cat anchored a long line of cat shaped kites. Various whales were rigged in another series of kites. Farther down the beach, a dragon was being raised into the air with Twin Rocks in the backdrop. Music played as stunt kites were flown to the music.
Judging from the number of people and the smiles, the kite festival was off to a great start.
The Kite Festival runs from 10 AM to 2:00 PM on Sunday, September 17. If you haven't been to the Kite Festival, it's well worth attending to see these amazing acrobatic wizards at work.