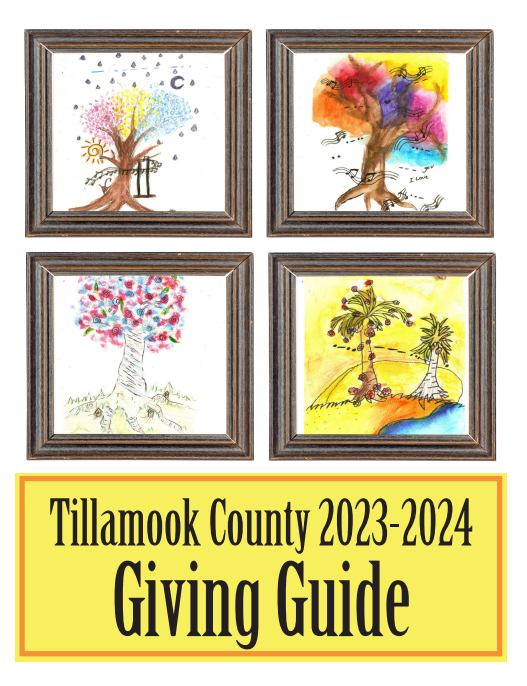 The Bay City Arts Center (BCAC) is honoring Moms with a special weekend of artful events May 6th, 7th, and 8th. The fun starts Friday, May 6th with a First Friday Art Reception featuring two new art shows from 5:00PM to 7:00PM. In the main gallery is C-O-N-N-E-C-T-I-O-N by local multi-media powerhouse Tam Hulbert. Tam is a master of color and texture, expressing emotion and riffing on playful observations of people and nature. In the upstairs gallery is another new mixed-media show by Andy Kennedy, a longtime friend and contributor to the BCAC who knows no boundaries in his artistic explorations. Local guitarist and generally amazing guy Clyde Zeller will be providing music. First Fridays are open to all ages, and there is no charge.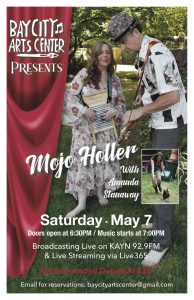 Saturday night, May 7th, the BCAC continues its Performing Arts program with a concert by Mojo Holler with Amanda Stanaway opening. John and Missy (Mojo Holler), are nationally-known musicians who have earned a devoted following in the Tillamook Bay area with their soulful offerings of blues and Americana. Their longtime friend and local luminary Amanda Stanaway will open with a set of her heart-tugging original songs. Doors open at 6:30, and the music starts at 7:00PM. All ages. Tickets are $20 at the door—no reservations required.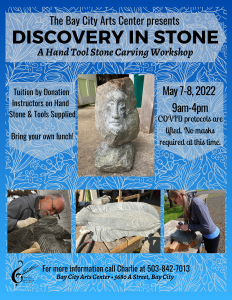 As if that wasn't already a great weekend, the daytime hours of Saturday and Sunday, May 7th & 8th, will be devoted to stone carving, with the return of our Discovery in Stone workshops. The BCAC provides stone, tools and instruction from 9:00AM to 4:00PM both days. Tuition is by donation, and participants are asked to bring a lunch, or plan on visiting one of Bay City's local restaurants for a snack. To register for Discovery in Stone, call Charlie at 503-842-7013.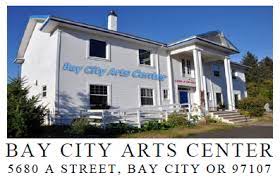 The Bay City Arts Center is a community gathering space featuring galleries, an art school, an auditorium, a dining hall, a recording studio, and a radio station, all wrapped up in one historic building in downtown Bay City. It's also a collection of volunteers and friends who come together in the name of community, art, expression, and reverence for the beauty of the coast. Please join us!
For more information on any of the above, email the BCAC gang at: baycityartcenter@gmail.com
503-523-8387
https://baycityartscenter.weebly.com/
On the corner of 5th & A Streets in downtown Bay City.
Help support the BCAC while you shop:  www.fredmeyer.com/communityrewards
Bay City Arts Center NPO #82531