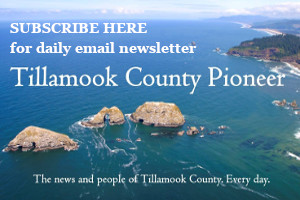 For 10 years, friends and supporters of North Coast Land Conservancy have gathered annually in the Memorial Grove at Circle Creek Conservation Center in Seaside to read aloud the names of all those honored with memorial gifts to the Conservancy over the past year and throughout its history. This year COVID-19 precautions resulted in cancellation of the public side of this gathering.
But these loved ones were still remembered. On April 25 at 11:30 a.m., NCLC volunteer Kit Ketcham sat in a chair in her neighbors' backyard near the east end of the RiverWalk in Astoria and read the reflection she wrote and reads every year to open the gathering that NCLC calls The Forest Remembers. She was joined by five neighbors, who sat a safe distance away, listening and taking part in the Litany of Remembrance. Kit set the scene for her neighbors, describing the forest at Circle Creek where the ceremony is normally held, and when she finished, the six of them shared favorite forest experiences, leavened with lots of laughter. "It was a wonderful moment in time," Kit said.
At the same time, a few miles to the south, NCLC board member Vianne Patterson and volunteer Pat Johns each stepped outside their Gearhart homes and read aloud a selection of the names of those remembered this year. Pat stood by the stump of a tree felled by the gale of 2007, repeating the refrain "The Forest Remembers" after every 10 names, while a Steller's jay chimed in. In Seaside, board member Tom Horning ventured to the edge of the forest at Neawanna Point across the Necanicum Estuary from his house and to read his group of names, some of them people he'd known for many years.
In Cannon Beach, board member Betsy Ayres stood on her back porch next to a massive Sitka spruce to read names. In Arch Cape, board president John Mersereau read names at the foot of the Spirit Tree, a living memorial to a friend who was among those remembered by NCLC this year. In Manzanita, volunteer Julianne Johnson stood on the shore and read names to the Pacific Ocean.
Meanwhile NCLC Development Director Lorraine Ortiz stepped outside her home above the Nehalem River and read aloud more names of those remembered by NCLC, to no one but her partner and the dairy cattle grazing across the road. "I was surprised that, for me, it was just as moving to read the names in my front yard as it was in the memorial grove," she later said.
The Forest Remembers will return to the grove at Circle Creek Conservation Center on Saturday, April 24, 2021.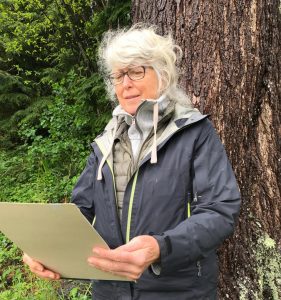 NCLC Development Director Lorraine Ortiz reading names for The Forest Remembers in front of her home in the Nehalem Valley.