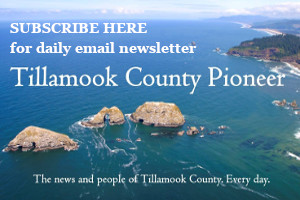 Story, Photos & Video by Don Backman
Have you driven by Fairview Grange – at the intersection of Trask River Road and 3rd Street in Tillamook – and noticed the new mural coming to life on the wall? Eric Sappington, a local noted artist and teacher, is working with the Fairview Grange and community volunteers to create a mural that represents the many views of Tillamook. "I started August 21st," he explained while showing key pieces of the mural. "We have about 16 hours on this so far."
Sappington gestured toward Abigail Gingrich and Simone Ferguson, local students, who were busy painting black paint into the silhouettes outlined on the wall. "We have local high school students working," he said. "And community members helping out."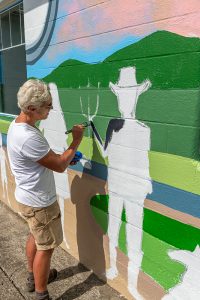 "The mural is for the community, for this neighborhood, as well as to bring the grange into more of a cultural center," Sappington explained, pointing out areas of the mural. One end has a painting of the lighthouse representing Cape Meares Lighthouse, and the other misty sunrise over the hills in a brilliant splash of color. "I have painted aspects of our community, with it being the lighthouse, the ocean, the trees, as well as the hillsides, the figures of our community: the loggers, musicians, the artists, the children, the farmers, as well as some wildlife. I envisioned this as if we were standing here looking through the grange."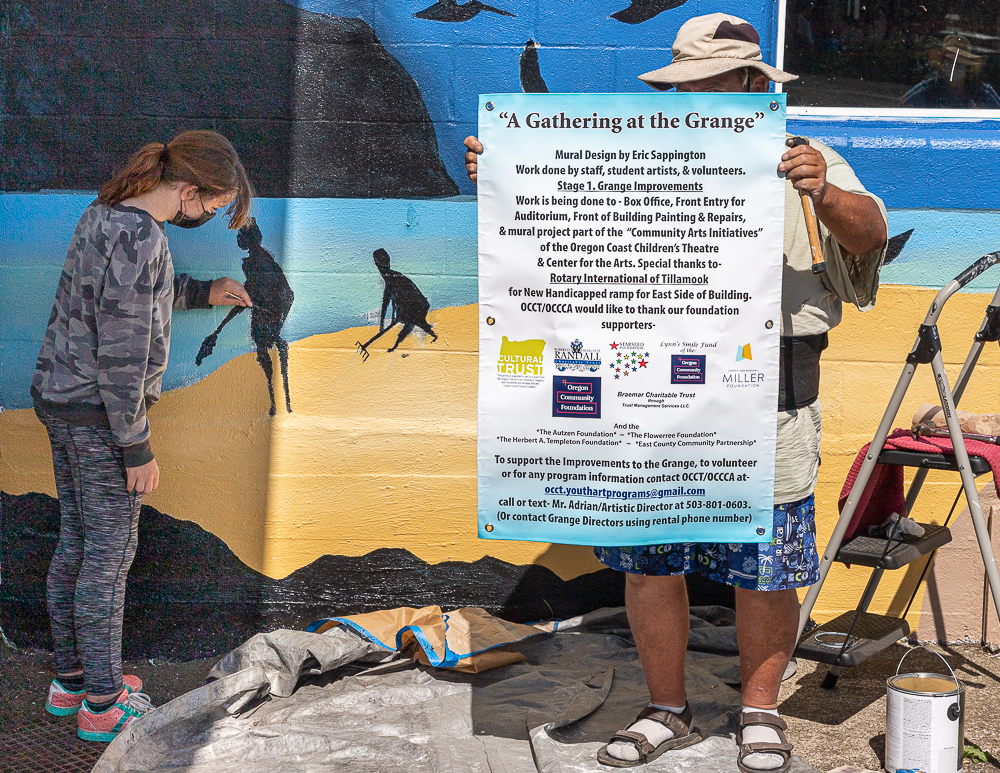 While Larry Adrian, Artistic Director, was busy working on the outside, Dina Kirk, Educational Director for the Oregon Coast Children's Theater, showed off the renovation work. "This part of the Grange dates back to 1916," she explained, opening the door to the planned office area, which was now empty except for paint cans and drop cloths on the floor. "This will be our office."
Kirk then led the way into the large main room. "We will be holding artists showcases, open mic events, and theater," she added. "The building will be open for events such as birthday parties and weddings. No alcohol is allowed per Grange policies." She went on to mention that the Tillamook Rotary is paying for a handicapped ramp. Also, during COVID the group donated 2,000 art bags for the libraries and the families displaced by the Echo fire in Lincoln City. "Each bag contains about $20 in art supplies," she said.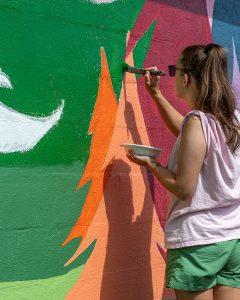 Rio Russell, a graduate of Tillamook High School, arrived and began working on the mural. "I've been helping out here at the grange for about seven years," she explained.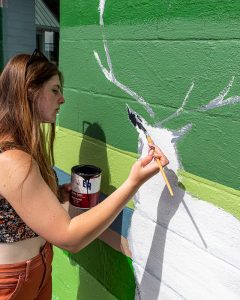 Sappington will be working on the mural Tuesday (September 7th) and Thursday (September 9th) this week, from 5:00 PM – 7:00 PM, and hopes to complete it next week. Look for more photos from the Tillamook County Pioneer as this project progresses.
For more information and to support improvements to the grange, to volunteer for any program, contact Larry Adrian at OCCT/OCCA email to occt.youthartprograms@gmail.com or call 503-801-0603, or contact the Grange at 503-741-9520 or email fairviewgrange@gmail.com.
Watch for more photos and videos as the mural is completed.