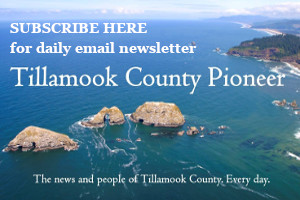 Nehalem, OR – Bite into the fall season with "Dracula! The Radio Play," which is based on the classic Bram Stoker novel and adapted for stage by Philip Grecian. Riverbend Players will present three blood-curdling performances at 7 p.m. on October 21 and 22 and at 2 p.m. on October 23 at the North County Recreation District's Performing Arts Center in Nehalem.
Come back to the 1940s Golden Age of Radio, when families gathered in the evenings to listen to "The Adventures of Sherlock Holmes" and "The Shadow." Close your eyes and pretend you are listening to the radio as the 11-person cast brings to life the fiendish count and those who hunt him. Hear thunder clap, wind howl, and doors rattle as on-stage foley artists produce the bone-chilling sound effects that bring this haunting story to life.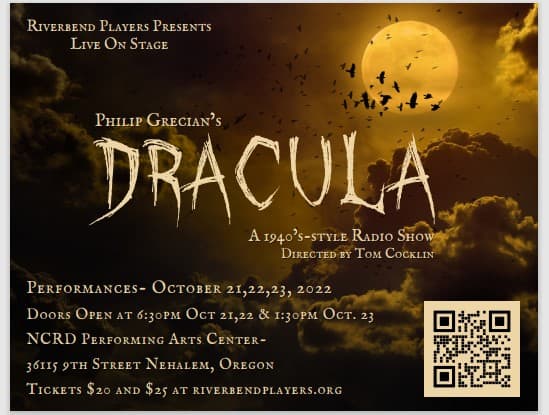 "I love the radio play format. Radio theater makes acting more accessible to everyone and working with live foley artists adds to the fun," says director Tom Cocklin. "For this show, we're also excited to work with local professional song writer, Chris Moncrieffe, who composed original music and commercial jingles to add even more to the spooky radio play feel." Mark Bartrom is the assistant director for this production.
Purchase reserved seating tickets at riverbendplayers.org for $20 and $25. Tickets will also be available at the door, along with special $5 tickets for K-12 students.
"Dracula! The Radio Play" is produced by special arrangement with The Dramatic Publishing Company of Woodstock, Illinois.