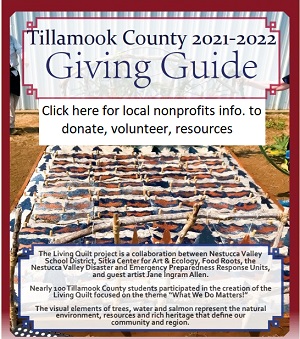 (Tillamook County, Oregon) A Just Right, the unique multi-partisan political action committee that formed less than two months ago, has delivered on its promise of a wide-spread awareness campaign throughout Tillamook County. The messaging focuses on the group's effort to defeat Measure 29-161 that appears on the current ballot.
The PAC met their initial fundraising goal and continues to seek donations to keep the campaign going through Election Day. They have used funds to spread the word in print advertising, digital ads, social media, press, text messaging, two web sites, and a post card in every single mailbox in the county. They estimate that over 1.5 million impressions have been served up through the various channels. They have also made their voices heard at speaking engagements and in every candidate's forum that has been accessible to them. These efforts have effected how people and candidates are talking about the measure. In every piece of messaging, even within a question, the measure is only referred to by its number and never by the title. "Second Amendment Sanctuary Ordinance," or "SASO," as measures such as these are commonly referred to throughout the country.
"We refuse to call this measure by its completely false title." said a representative for the PAC. "Every other measure on the ballot has a title that accurately describes its impact. Measure 29-161 is a false promise, a wolf in sheep's clothing, a bait and switch, and the title is a lie." The actual ordinance has no effect on the Second Amendment, but rather would prevent local law enforcement from taking action on most firearm regulations. The question on the ballot will read "Should Tillamook County officials be prevented from enforcing most state, federal, and local firearm regulations?" It seems unlikely that people would say yes to such a proposition. The county is already plagued by lack of protection due to staffing and inadequate funding. Recent polling showed that nearly 50% of voters across party lines were considering a yes. "Propaganda in the form of this false title along with people not reading the entire ordinance is what leads to this kind of voting" said the representative. "Our mission is not to convince, but to educate. If voters have all of the information and perspectives and still choose to support this we would be very surprised."
The measure is not limited to law enforcement. It would prevent any county official (judges, the District Attorney, law enforcement, park rangers, all the way to administrative staff and everyone in between) from doing any portion of enforcing most state, local, and federal laws regarding firearms. The details go on to explain that individuals, not the entities that they work for, would be personally fined up to $2,000 per violation of the ordinance.
"This leaves each county employee faced with deciding whether they wish to adhere to federal, state, and local laws or avoid being fined" explained the representative. "Imagine a clerk just entering some information on a computer being fined for simply doing their job. This is very possible under the terms of this ordinance."
"The safety issue and the potential for attracting and harboring extremists is our main concern." said the representative. "It would change the atmosphere that we live in. It would affect tourism and property values. Tillamook County could become the safe haven for extremism in Oregon." Similar ordinances have failed in neighboring counties. Their sheriffs have come out publicly against the measures. To date Sheriff Josh Brown has not taken an official stand on the measure but has cautioned voters to "…read the entirety of any proposed legislation… It's not usually as simple as it sounds."
You can review the entire ordinance, hear a podcast on a similar measure that failed in Clatsop County, and read some articles at a www.ajustright.org.
A Just Right wants their mission to be made clear: "Yes to the Constitution. Yes to the Second Amendment. Yes to the Right to Bear Arms. Yes to protecting all of these things. And, NO! to the dangerous and irresponsible Measure 29-161."