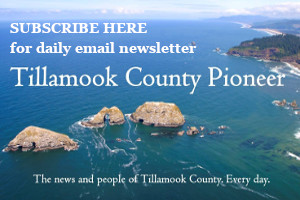 Tillamook County's Planning Commission and Board of Commissioners will soon consider adopting a new land use ordinance to allow accessory dwelling units (ADUs) on residential properties in unincorporated communities. Ordinance Section 5.110 establishes standards for ADUs and has been in the works for several months. Passage of this ordinance could help provide a near-immediate response to our current housing crisis. The public is invited to attend hearings for the ordinance.
Public Hearings of ADU Ordinance
Members of the public are invited to attend hearings to be held for the ADU ordinance. At least two public hearings are required for a legislative text amendment process, one with the Tillamook County Planning Commission and one with the Board of County Commissioners. Hearing dates and times below are also available on the public notice, as is the text of the ordinance itself: https://www.co.tillamook.or.us/sites/default/files/fileattachments/community_development/project/78392/adu_notice.pdf
December 8, 6:30pm. Planning Commission meeting held at the Port of Tillamook Bay.
Planning Commission will recommend action to the BOCC to approve or deny the ordinance adoption request.
January 30th, 9:00am. Board of County Commissioners meeting held at the BOCC Meeting Room in the Tillamook County Courthouse.
BOCC will take action to approve or deny the ordinance adoption request.
The proposed ordinance would allow an ADU on a property in residential zones located in unincorporated communities in Tillamook County (see map).
Construction of ADUs in Tillamook County will not in itself solve all our housing shortages. But they may help to improve housing affordability and diversify a community's housing stock without changing the physical character of a neighborhood. ADUs will become part of a growing arsenal of adopted solutions that together expand the availability of diverse housing options to long-term residents.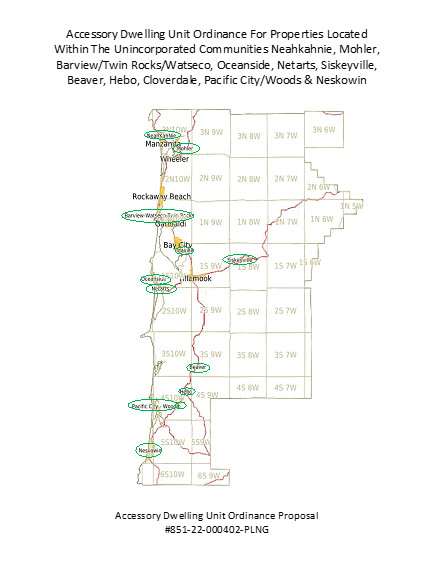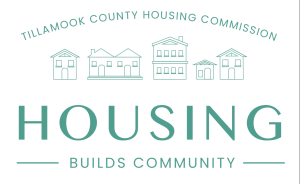 Tillamook County Housing Commission meetings are open to the public both in-person and online. Check notifications on the Housing Commission website https://www.co.tillamook.or.us/bc-hc and Facebook page https://www.facebook.com/profile.php?id=100068795516992.