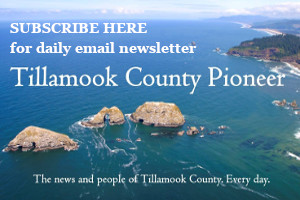 EDITOR'S NOTE: Today, Sunday June 4th is Cancer Survivor Day, so it seems fitting to share this "Tillamook Medical Minute" story that celebrates the birthday of Adventist Health's well-known "cancer doc" Dr. Gibbs. In Dr. Gibbs treatment rooms, they are celebrating cancer survivors every day. It's only fitting to celebrate the doctor himself on his birthday.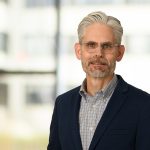 By Dr. Paul Welch, Adventist Health Chief Medical Officer
For this month's medical minute editorial, I'm sharing a lovely story written by our oncology care manager, Karen Layzell, RN. She details the work of Dr. Gerald Gibbs in treating our patients needing chemotherapy and blood disorder care while also taking a moment to appreciate him on his birthday!
While her story is fun and personal, it details the role that oncologists like Dr. Gibbs play in rural healthcare, serving patients with steadfast dedication in moments of great need and compassion. I appreciate this wonderful testimonial of Dr. Gibbs from Karen and the story of the difficult role oncologists play in rural healthcare to provide specialized, needed care.
Dr. Gibbs is a beloved hematologist-oncologist here at Adventist Health Tillamook. He has worked at the hospital for 36 years, and during that time, he has touched the lives of countless patients and staff members.
Dr. Gibbs is known for his dedication to his patients, sense of humor, and love of life. He is always willing to go the extra mile for his patients, and always has a smile on his face.
Dr. Gibbs started seeing patients once a week in 1987. He would carry in a big Tupperware bin full of patient charts and chemotherapy drugs and, at that time, he administered them himself.
Three and a half decades later, Dr. Gibbs always leaves his patients' rooms by saying, "Keep smiling." He is very accommodating in scheduling patients in early on a Wednesday — which means he will have to rush here earlier from his home in Hillsboro and staying till 8 p.m. some nights when he has several new consultations to see.
We all love and admire his energy, humor and commitment to his patients — we are very honored to have Dr. Gibbs as our hematologist-oncologist.
When asked, Dr. Gibbs shares this about retirement, "You mean so I can go golfing? This is my golf. I enjoy doing what I do. I guess I can do my pottery and hope someone will buy it to live off of, but I'm not that good," as he chuckles.
On Dr. Gibbs' birthday, we all gathered in the break room to celebrate. We brought in cake, ice cream and balloons. We also gave Dr. Gibbs a card signed by all of us.
Dr. Gibbs was so touched by our recognition. He said, "I'm so grateful to have such a wonderful team of colleagues and friends. I love coming to work every day, and I'm so lucky to be able to do what I do."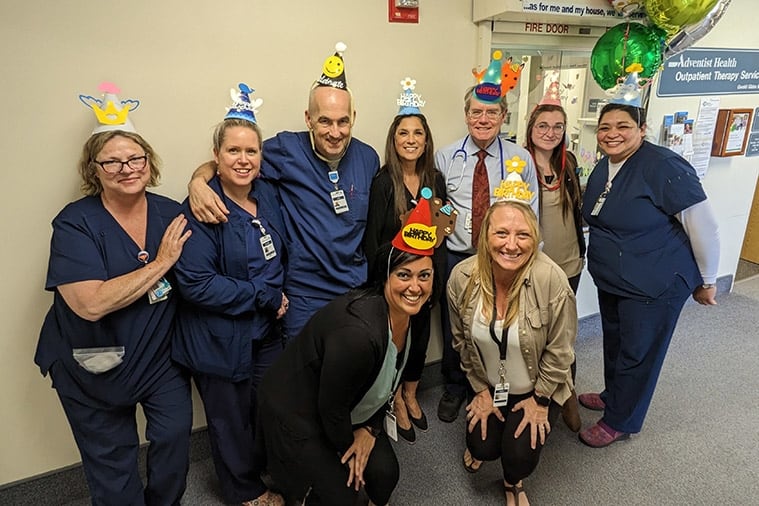 According to the National Cancer Institute, death rates for the leading causes of cancer death — lung, colorectal, pancreatic and breast cancers — are all higher in rural areas. Nationally, rural residents face challenges in accessing healthcare services and often have fewer primary and specialty care physicians and fewer home- and community-based service providers compared to urban areas. Although an estimated 17–20% of the U.S. population resides in rural areas, only 3% of medical oncologists practice in rural communities, and over 70% of counties in the U.S. do not have medical oncologists.
These statistics underscore the importance of Dr. Gibbs in our community. He plays a wide variety of roles as the only oncologist-hematologist in our area, which means he is responsible for providing care to our patients but also collaborates with several other healthcare providers, such as primary care doctors, nurses and pharmacists — all to provide comprehensive, accessible care for their patients in need.
While Dr. Gibbs is available to treat cancers if needed, please remember that the best thing you can do to prevent cancer is eating healthy with plenty of fruits and vegetables, avoiding tobacco, protecting your skin, regular exercise and early detection. Schedule an appointment with your primary care provider to discuss what you can do for an early cancer detection test today.
In good health.