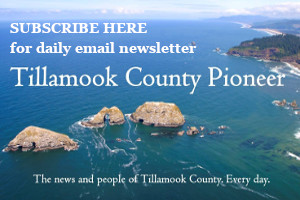 At 12:32 am Alaskan Time (1:31am PST) a 7.9 magnitude earthquake struck 175 miles SE of Kodiak in the Gulf of Alaska, prompting a tsunami warning for Alaska's southern coast and a tsunami watch for the West Coast and the Hawaii coast.
At 1:40 am PST the National Tsunami Warning Center in Palmer, Alaska issued the first round of tsunami watches and warnings for the event. With text alerts from local authorities and NOAA Weather Radios waking many coastal residents from California to Alaska.  In Kodiak, residents were awaken by the wale of tsunami sirens and police officers on loud speakers telling them to head for higher ground. In Seaside, despite only being under a tsunami watch some resident headed for the hills taking refuge at Camp 18 on Highway 26 according to KGW. In Tillamook County, Local authorities activated the county's Emergency Operations Center (EOC) to begin preparing for an evacuation if it was need.
At 4:20 am PST National Tsunami Warning Center canceled the tsunami watch for the West Coast and downgraded the tsunami warning to an advisory for the Alaskan Coast. At 5:13 am PST the tsunami advisory for the Alaskan Coast was cancelled. The alarms were raised after a quake hit about 160 miles southeast of Chiniak, Alaska at a depth of 25 km at 9.31am GMT (12:32 am Alaska time, 1:32 am PST) the US Geological Survey said. A red tsunami alert was in place for a large part of coastal Alaska and Canada's British Columbia, but was later downgraded to an advisory after it was confirmed the wave heading for the coast was less than a foot high.
The remainder of the US west coast had been placed under a tsunami watch, but this was cancelled at 4:20 am.
Authorities expected the tsunami to hit the small fishing center of Kodiak, Alaska, first. Kodiak has an estimated population of around 6,000 people. Tsunami sirens sounded and residents were evacuated in the middle of the night. In a warning for Alaska and British Columbia, Anchorage Office of Emergency Management said: "If you are located in this coastal area, move inland to higher ground. Tsunami warnings mean that a tsunami with significant inundation is possible or is already occurring."
The NWS Pacific Tsunami Warning Centre said "widespread hazardous tsunami waves were possible". Warnings from the NWS sent to mobile phones in Alaska said: "Emergency Alert. Tsunami danger on the coast. Go to high ground or move inland." People took to social media to say they had been told to evacuate. People said they felt the quake hundreds of miles away in Anchorage.
A number of government tsunami-monitoring websites were not working on Tuesday morning, adding to confusion. It was not immediately clear whether this was associated with a federal government shutdown over the weekend.
A tsunami watch was also initially issued for Hawaii, but was later cancelled, according to NWS Honolulu.
There are no reports of damage from the earthquake or the tsunami in Kodiak and local officials are praising the residents of Kodiak for their orderly evacuation this morning.