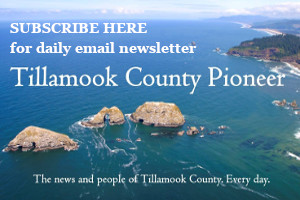 EDITOR'S NOTE:  Several weeks ago, local fire departments reached out to the Pioneer with their concerns about ambulance services in Tillamook County — staffing shortages and call level increases that caused delayed response times.  These issues have been brought to the County's attention before the pandemic and have only worsened without any changes in the last two years.  The Tillamook Fire Defense Board sent the press release below, which is followed by a statement from the Tillamook Board of Commissioners.  The County Emergency Medical Services Advisory Council tasked with reviewing and updating Ordinance #41 is having preliminary meetings to address these concerns.  The Fire Defense Board, which includes Nehalem Bay Fire & Rescue, Rockaway Beach Fire Department, Garibaldi Fire Department, Bay City Fire Department, Tillamook Fire District, Netarts Oceanside Fire District and Nestucca Fire District, wanted to make the community aware of the situation regarding ambulance services, especially in North Tillamook County. This puts more demands on local fire departments EMTs, and volunteers.  The fire departments are also short-handed.  Please consider volunteering for your local fire departments.  For more information about volunteering see this brochure, and more information below.
The Tillamook County Fire Defense Board feels that the current level of staffing for ambulances has reached a critical stage, with a shortage of ambulances becoming the norm instead of the exception. The Fire Defense Board chiefs have been active in identifying the problem and being advocates for County citizens and visitors; however, despite working with County officials and Adventist Health representatives, conditions are worsening.
According to the Tillamook County Ambulance Service Agreement (Ordinance 41), there will be one ambulance within each of four designated response sectors, plus a backup unit available, so that 80% of the population in each sector can be served in seven minutes or less. The agreement further states that the ambulance response time will be less than 20 minutes to 95% of all calls.
At the writing of this letter, in 12 of the last 30 days it has been reported that staffing levels were below the required minimum, which necessitated shutting down at least one ambulance. Fire Chief Chris Beswick of the Nehalem Bay Fire & Rescue District reports that out of 35 calls in September (as of September 28) where an ambulance responded to the scene, 18 (51%) were over the 20-minute response threshold. Many of these were for time-critical emergencies such as for citizens suffering from chest pain or for others possibly suffering strokes. In two instances no ambulance was available in the county, and units had to respond from Seaside. The average response time for all calls in September was 17 minutes and 45 seconds; nearly 2 ½ times longer than the seven-minute standard. Garibaldi Fire Department Fire Chief Jay Marugg expressed similar concerns for his area, citing one instance where his crews waited more than 40 minutes for an ambulance to respond. Every fire agency can cite similar examples.
Although the past month has been decidedly worse than usual due to many factors, this has been a recurring trend for the past several years. Ordinance 41, which establishes the number of ambulances required in the county, was enacted in 1988. Since that time Tillamook County has seen a steady increase in the amount of emergency calls, with some fire agencies averaging increases as much as 10% per year. In the past year, most agencies have seen a much more dramatic increase in calls, with one fire agency experience more than a 25% increase. Of these emergency calls, nearly 20% were for visitors or non-residents of Tillamook County. Weekends and holidays, specifically, are seeing an increase in visitors that, at times, push emergency response capabilities to the limit. With no increase in the required number of ambulances since 1988, and the inability to even meet the current standard, the
An update from Nehalem Bay Fire & Rescue- Oct. 13, 2021
Our county is facing a crisis when it comes to ambulance service!
In October (12 days), the average response time for an ambulance in NBFR district is over 24 minutes! Per County Ordinance 41, there should be an ambulance on scene in 7 minutes or less on 80% of calls, and 20 minutes or less on 90% of all calls. So far this month, Adventist Health ambulances have met the 20-minute goal only 27% of the time.
These calls are for serious medical emergencies – heart attacks, strokes, traumas – when minutes can mean the difference between life or death. According to Chief Beswick, , "This is unacceptable! Although this has been a problem for years, it is now reaching a crisis level that may result in someone's preventable death."
If these statistics alarm you, please let Adventist Health and the Tillamook County Board of Commissioners know of your concerns. This problem can be solved! If you want more information regarding this issue, please call Chief Beswick at 503.368.7590.
Beswick continued, "In the meantime, Nehalem Bay Fire & Rescue staff and volunteers will continue to provide the best care possible. We are committed to serving our residents and visitors as best we can."
Tillamook County fire chiefs are extremely concerned that there is no foreseeable solution to the issue of ambulance shortages in the county.
Statement from Tillamook County Board of Commissioners regarding Ambulance Service Issues:
Ambulance services within Tillamook County are governed and administered by Tillamook County Ordinance #41. This ordinance also establishes and sets forth the responsibilities of the Emergency Medical Services Advisory Council.
Currently, council members are actively engaged in reviewing and revising the ordinance. Once the council has finalized the proposed revised ordinance, public hearings will be scheduled before the Tillamook County Board of Commissioners followed by the Board's deliberation on adopting the revised ordinance.
The county greatly appreciates the services that all our first responders provide and their continued collaboration to seek and implement solutions to ensure efficient and effective ambulance services are provided for our citizens and visitors.
EMS Advisory Council will be meeting in November to continue working to revise Ordinance #41 to address these issues and working towards solutions to ensure that ambulance services are available in a timely manner throughout the county.
Tillamook County Board of Commissioners emails – Mary Faith Bell mfbell@co.tillamook.or.us, Erin Skaar – eskaar@co.tillamook.or.us; David Yamamoto – dyamamoto@co.tillamook.or.us.  Or to Rachel Hagerty, chief of staff to Tillamook BOC, Quality Improvement Coordinator for Ordinance #41 – rhagerty@co.tillamook.or.us
Volunteer for your Local Fire Department