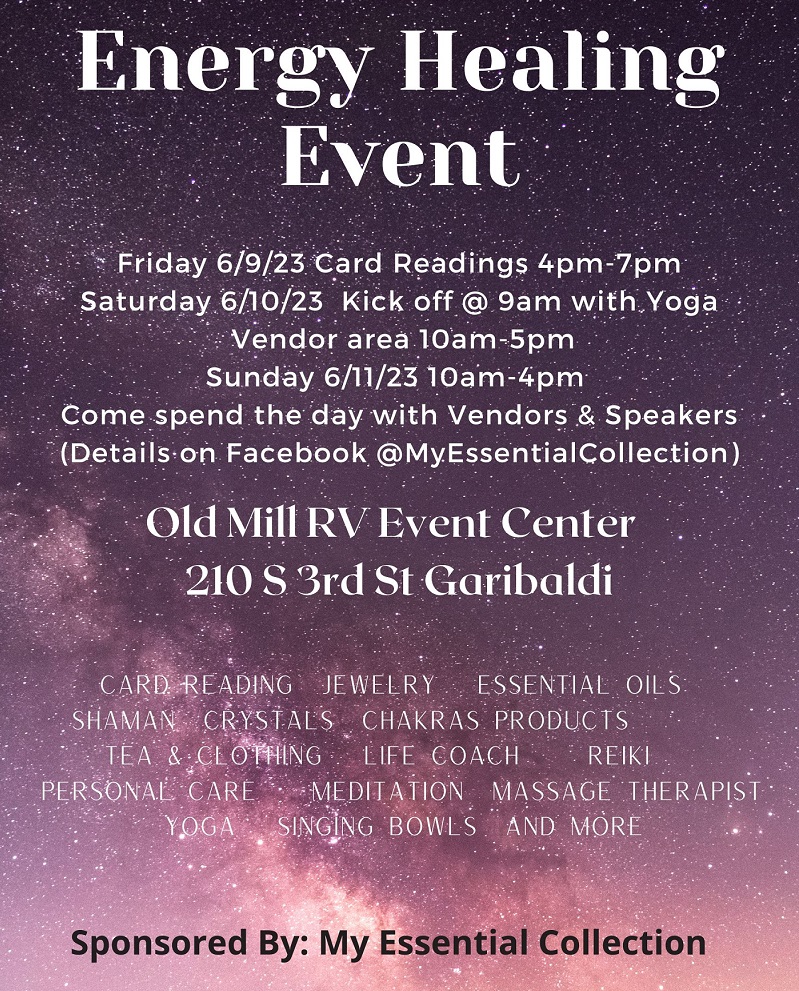 By David & Susan Greenberg
Greek myth tells of giants who tried to attack Zeus and his posse of amorous, adulterous, jealous, double-dealing, dissolute, vengeful, gluttonous, scheming, feuding, petty, murderous, vainglorious gods who lived atop Mt. Olympus (like a mashup of Real Housewives of New Jersey and The Bachelor, with superpowers). In order to reach them these foolhardy giants piled Mt. Pelion on top of Mt. Ossa, as a kind of ladder. The mountains collapsed and their attempt failed. And so comes the term, "Heaping Pelion upon Ossa," which more or less means "piling on," or "an excess of excess," or, in Americanese, "holiday dinner." After all, a real holiday dinner is an excess of excess that necessarily ends with everyone collapsing.
Highly opinionated and devoted to culinary byways, the Ardent Gourmet does not follow the usual turkey-stuffing-pumpkin-pie pathway of most holiday dinners. As much as we respect this route, we go it our own way which we'd like to share with fellow food-obsessionists, as follows: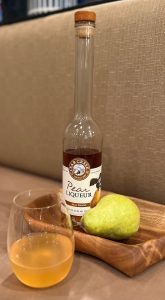 1/ Must-start Cocktail:  A Pear Sidecar, nothing else will do. Pears are ancient and regal, the kind of fruit a king would eat standing on his battlements surveying his domain. Drink this immensely elegant, startingly delicious cocktail standing on your battlements (or slumped in your La-Z-Boy). One is good. Too many will impear you.
Recipe (for a double): Put ½ cup pear liqueur, 4 tablespoons pear juice, 2 tablespoons simple syrup, 2 tablespoons fresh-squeezed lemon juice in a cocktail shaker with ice.  Shake, pour, drink.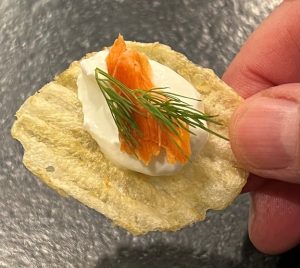 2/ Appetizers: We seek a high simplicity to scrumptiousness ratio.
A/ Potato chips with Smoked Salmon (good ones, e.g., Kettle Chips) with a dab of sour cream or whole milk Greek yogurt and a shard of smoked salmon. A sprig of fresh dill makes it luxe, and,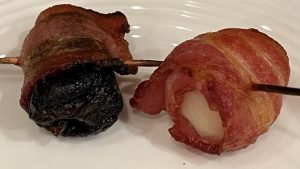 B/ Bacon wrapped stuff. The only reason your wife married you was to have free access to your famous dates stuffed with chunks of parmesan wrapped in bacon. Some may object to bacon on the grounds of health. But, good news, scientists have just discovered that bacon is a vegetable and good for you. We like bacon wrapped water chestnuts and prunes. Broil. Eat.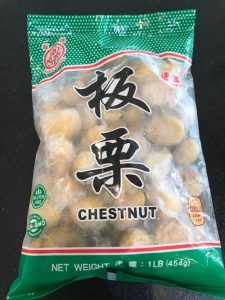 3/ Chestnut Soup. This is soup royal. Chestnuts were once the most common trees in America until they were wiped out by chestnut blight in the early 1900s. Perhaps this is why chestnuts (these days imported from Europe or Asia) are uncommon now (we buy ours shelled at Asian markets though we've noticed that Trader Joe's carries them vacuum-packed this time of year).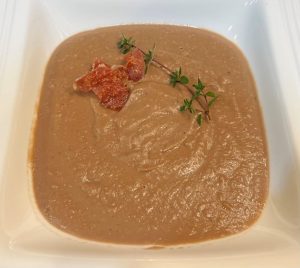 This soup is a revelation, like sipping an Autumn forest. We would bathe in it if we could. Here is a recipe we like, https://www.foodandwine.com/recipes/silky-chestnut-soup-puck. It calls for Port. We think Marsala is even better. We snip crisped prosciutto on top.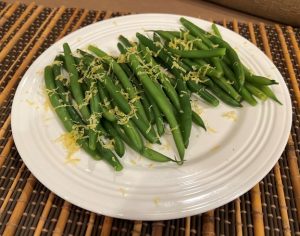 4/ Green Beans. If you had your druthers, you'd eat string bean casserole made with Campbell's mushroom soup concentrate and Durkee's Onions, a family tradition going back hundreds of generations. Your wife's druthers, however, forbid this. Somehow, you've compromised on baby string beans (haricot verts) poached and chilled, with lemon zest. Ah, marriage.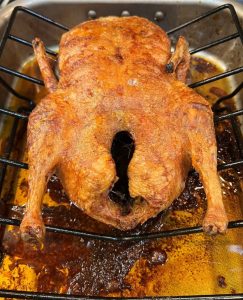 5/ Duck with Sour Cherry Sauce and Mashed Cauliflower. Americans don't much care for duck (domestic duck is much different from wild, and is what you're referring to). But you think its deep flavor is particularly suited to the fireside months. And there is no finer foil for a fruit sauce than duck's crisp skin, lightly salted. We use a recipe, Five Hour Duck, that first appeared years back in Esquire which was clearly intended to help seduce a romantic prospect. You're long married and your wife is still susceptible. You cook it low and slow, turning it, for four hours and in the fifth hour jack up the heat to crisp. Here is the recipe, https://www.esquire.com/food-drink/a3387/duck1007/ One duck serves two to three with holiday appetites.
The flavor of sour cherry in sour cherry sauce, bolstered by pan drippings, will make you sit perfectly still and close your eyes. This is the taste of cherries from heaven's orchards. We use part 3 of the following recipe, add pan drippings, and opt for balsamic vinegar over wine, https://www.maggiebeer.com.au/recipes/duck-breast-with-sour-cherries.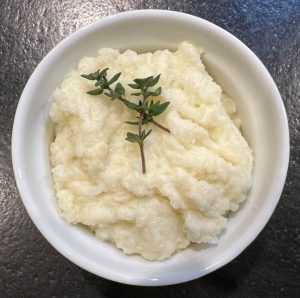 You make mashed cauliflower exactly the same way you make mashed potatoes. You cook the cauliflower, put it in a food processor with some butter, heavy cream, and salt, and zets. You'd place your money on mashed cauliflower if it got in a fistfight with mashed potatoes.
6/ Dessert. Every well-written story has an arc (suspense, drama, resolution) and so must every fine meal. You started with pear and it's only right to bring a satisfying resolution by ending with pear.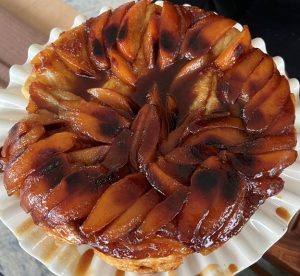 A/ Pear Tarte Tatin.  This is basically a caramelized pear upside-down pie with a crust of puff pastry.  Caramelization intensifies flavors. So this dessert is intensely peary. Use this recipe, substituting pear (we use D'Anjou) for apple, and being careful to cook extra long to boil off the extra liquid the pears exude, https://cooking.nytimes.com/recipes/1016883-foolproof-tarte-tatin, and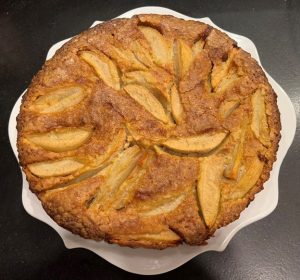 B/ A Pear Cardamom Tart with a Hazelnut Frangipane.  A frangipane is an almond (or, in this case, hazelnut) custard. This is delicious to make you speak in tongues. https://cooking.nytimes.com/recipes/1020611-hazelnut-pear-and-cardamom-tart
And now, having climbed to dizzying heights, you two plump ducks collapse on a couch. The Ardent Gourmet wishes you a warm, holiday adieu.
___________________________________
You can see many restaurant reviews by the Ardent Gourmet at www.ardentgourmet.com
If you have comments or questions or would like to be on The Ardent Gourmet's mailing list, contact us at authilus@teleport.com