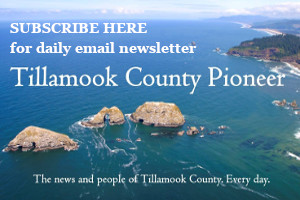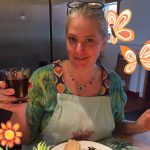 By Dana Zia, The Golightly Gourmet
"I am grateful for what I am and have. My thanksgiving is perpetual." Henry David Thoreau
Every once in a while it is time to make something extraordinary. This year has been abundant with trials and tribulations and they have not stopped coming either! Now it looks like our plans for a small and cozy thanksgiving are justified with the Governor's 2 week freeze in place. Limitations are something we all have been exploring this year but that doesn't stop us from baking up a storm. (Even if we have to freeze a few things since we will be in small groups) I'm a big fan of baking therapy.
One of the amazing fruits that Oregon and Washington are known for is its pears. In fact, the Northwest is the only geographical area in the United States that produces perfect pears. They are the #1 tree fruit crop in Oregon, rated 10th producer in the nation. What a unique distinction. I love that. What isn't there to love about pears? I love their buttery texture and how juicy sweet they are even if they are perfectly ripe for about 10 minutes. So when I decided to do something special for a special occasion, pears stepped forward into the starring role. Yes, pears it is.
This cake is simply amazing. I knew it was going to be good but no, this cake is outstanding! It is moist, not too sweet, beautiful and very fragrant. All of my favorite things wrapped up into one lovely package. Please do not be put off by the long ingredient list on this recipe. It is really easy to make but it just takes a long time to bake. (The baking time is an hour and 30 minutes so make sure and work that into your time management scheme.) You can bake this cake one to two days ahead time, like most cakes, it gets better with age.
I highly recommend this cake to be added to your table for Thanksgiving for the extraordinary people in your life you that you are thankful for. It is a dense, rich cake that can easily serve 12 people (or two for days). Serve warm with gingered whip cream for a very special cake to give thanks for. My gift of gratitude to you dear readers, thanks for reading. Stay safe, stay home and BAKE!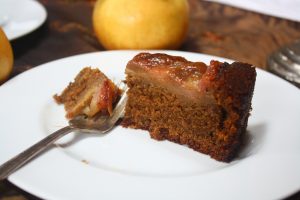 Gingered pear upside-down cake
For the gooey topping;
3 tablespoons of unsalted butter
1/2 cup of brown sugar
3 teaspoons of cinnamon
4-5 medium juicy, firm pears (I used Bartletts)
For the batter;
1 cup of butter (2 sticks) at room temperature
3/4 cup of brown sugar
2 tablespoons of fresh ginger, grated
3 large farm eggs
2/3 cups of unsulphured molasses
3 cups of unbleached flour
1 1/2 teaspoons of baking powder
1 1/2 teaspoons of baking soda
1/2 teaspoon of salt
1 1/2 cups of buttermilk
Preheat the oven to 325 degrees and lightly butter a 9 inch springform pan. Cut out a piece of parchment paper the size of the bottom of the pan and line the inside of it. Now you can get busy making magic. To make the topping, melt the butter in a sauce pan and add the sugar and cinnamon and mix well. Pour into the lined pan and carefully spread evenly. Next, quarter your pears, core them and then slice them in 1/4 inch slices, length ways. I do not peel my pears as I like the flavor and look of the peels on. (If you cut a slice and keep it connected at the top of the pear to the other slices, it makes it easy to fan them all purdy like) Place the fanned pears in a circle in the middle of the pan in the caramel stuff, then artfully arrange the rest of the pear slices on the outside edge. Keep layering the pears till you have at least four pears in there.
Time to make the batter. Toss the butter and brown sugar in the mixer and cream on a medium speed for 3-5 minutes till the mixture takes on a silky smooth texture. (yes, blend that long, it makes a difference) Add in the grated ginger and mix a little longer. With the mixer still going, add one egg at a time till it is incorporated then repeat with the other eggs. Slowly add the molasses and beat till it's very fluffy. The mix may look like it is "breaking" and granulated but no worries. It will all work out.
In a mediumish mixing bowl, whisk together the flour, baking powder, soda and salt till well combined. Turn the mixture back on slow and add a cup of the flour mix, then a 1/2 cup of the butter milk and let mix a bit, then repeat till all mixed together. Do not over mix, as soon it is all incorporated turn off that blender! Pour carefully into the cake pan over the pears and smooth out. The pan will be almost full, amazingly enough. Tuck the cake in the oven on the center rack to bake for.. drum roll… 1 hour and 30 minutes. (Yes, you will have time to clean up the kitchen and organize out your cupboards.) Every half hour, turn the cake a ¼ of a turn so it bakes evenly. The cake will be done when the center does not jiggle and a long pick comes out mostly clean. I start to watch to check for doneness when it has been in there an hour as I've had it be done in an hour, depending on the oven you use.
Cool for 10-15 minutes on a wire rack before taking off the cake ring. Place a plate on the exposed bottom of the cake and carefully flip upside down onto the plate. Remove the cake pan bottom and tenderly peel off the parchment paper and voila! A beautiful, yummy, delicious cake that is a wonder to all. Serve warm or at room temperature with gingered whip cream. (One teaspoon of ground ginger and 2 tablespoons of sugar per pint of whipped cream) Happy Thanksgiving!