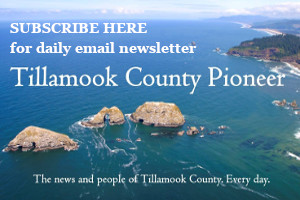 Reports from Seaside Aquarium
While preforming the necropsy on the baby gray whale the Coast Guard reported a third whale floating about a mile offshore. Saturday afternoon the whale washed ashore on Crescent Beach (which is a secluded beach that you have to hike down to), which is located in Cannon Beach. While all these whale strandings may seem concerning, there is no connection between them. It is purely a coincidence. When we experience weather patterns like we have in the past few weeks, coupled with strong westerly winds, dead marine mammals that have been floating offshore get pushed onto the beach.
The most recent whale is a gray whale that has been dead for at least a month, maybe two. For those of you wondering if this was the baby gray whale's mom, it is not. This whale has been dead for far too long. The whale's location is going to make a full necropsy nearly impossible. This morning a crew went down to take a closer look at the whale and take some external measurements. Its state of decomposition makes it difficult to determine the cause of death. We did notice a sizable shark bite which occurred after the whale died.
We just wanted to give everyone a quick update on the two whales that washed ashore this week. The necropsy on the male sperm whale did confirm that a ship strike was the cause of death. Other than that, the whale appeared healthy and had a stomach full of various species of squid beaks. The baby gray whale's necropsy was performed yesterday. The cause of death was not determined but various samples including tissue, blood, and fluids will be further analyzed for clues into why this whale died. We did learn that the whale died shortly after birth.
No plastics were found in either of the whale's stomachs.
So, what happens to the whales now? State Parks are waiting until this series of King Tides are over to see what the tides and surf do to the whale carcasses before determining what to do. It is likely that the extreme high tides and large surf will either move the gray whale to a more secluded part of the beach or pull it back out to sea. Looking at the sperm whale during today's high tide it is likely that it will probably stay put or get pushed up next to the dunes.
The last series of King Tides for the season started today and will go through Monday. Remember to be very vigilant of the surf and tides when out on the beach for the next few days.
Photos/video by Tiffany Boothe, Seaside Aquarium