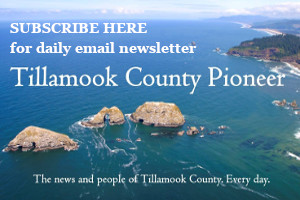 EDITOR'S NOTE:
The Tillamook County Pioneer is excited to introduce Judith Yamada, the "Kitchen Maven" an experienced food writer, professional cook and Master Gardener. According to Judith, "A love of garden fresh delicious food, and the desire to share and teach are the components of Kitchen Maven's culinary world. I enjoy creating recipes, reading cookbooks, writing about food, entering food contests, facilitating culinary team-building parties and teaching kids to cook. A lifetime love of gardening and entertaining brings me here to share my culinary ideas and recipes." Like the Kitchen Maven on Facebook, and let us know what kind of recipes and cooking tips you'd like to see.
By Judith Yamada, Kitchen Maven
What's the difference? They're definitely a happy hour hit, we love them, but which is which? The hors d'oeuvre is obviously of French origin and has changed over time, but was originally created to use up stale bread. Slather something meaty or cheesy on the crusty piece and viola, it's complex and delicious. The name for this particular pre dinner treat means just that, "outside the meal" and is a one-or two bite rich little item that either sits on a table or is passed from guest to guest.
The canapé (pronounced CAN a PAY) became a food trend, in America, during the 50s. It always balanced unique items atop small, beautifully cut slices of bread. Everything from canned oysters and sardines to, peanut butter and bacon, to pimiento cream cheese and pickles was elevated to beauty on these hand-layered tidbits. A perfect partner to that punch or cocktail in your other hand, the one bite canapé saved partiers from juggling those messy hors d'oeuvres. Nowadays, the canapé often has a blini (small pancake), cracker or small pastry shell as its base, instead of the fancy cut bread.
The appetizer is usually a small plate of a few bites, typically served at the dining table prior to the main course. It's meant to whet the appetite for the feast to come and is the first course of the meal.
Now that we're all clear on the minute differences among the three, don't hesitate to refer to them as you please and serve them when you will. A good rule to follow when preparing any appetizing savory snacks, for your party, is to plan on three different types. Prepare one ahead of time and refrigerate or freeze. Prepare one the day before the party and refrigerate or contain, and get one ready, fresh, the day of the party. It will make your party day so much easier. Following are two easy ones to share with your guests this holiday season. Both of the following "snacks" are best when served slightly warm.

Olive Cheddar Pastry Bites
40 – 50 medium stuffed green olives (or medium ripe black olives or half of each)
2 cups shredded sharp Tillamook Cheddar
1 cup unbleached white flour
1/3 cup butter, melted and cooled
¼ teaspoon ground cayenne pepper
1 Tablespoon milk or buttermilk, if needed
When ready to bake, preheat oven to 400 degrees F.
Thoroughly drain and pat dry the olives with paper towels. Set aside
Work cheese and flour together until crumbly; stir in the cooled butter and the cayenne pepper. Add the milk if dough is too dry. Knead the dough, lightly, two or three times. Wrap about 1 teaspoon of dough neatly around each olive. Place on parchment lined cookie sheets about ½ inch apart. Chill filled pastries for at least 30 minutes or until ready to bake in preheated oven (same day) on middle rack. Bake 15-20 minutes. Makes about 40 – 50 pastries.
Hearty Mediterranean Spinach Nibbles

Olive oil cooking spray or olive oil for greasing pan
1 – 10 ounce package frozen chopped spinach, thawed
1-cup whole-wheat pastry flour
1-teaspoon baking powder
3- tablespoons extra virgin olive oil
1-large onion
½ cup diced red bell pepper
2 – large cloves garlic
1 ½ teaspoons dried oregano
1-teaspoon dried mint
1 -teaspoon salt
½ teaspoon granulated sugar
½ -teaspoon freshly ground black pepper
3- large eggs
1-cup buttermilk
3 cups pepper jack cheese, shredded
Squeezed as much liquid out of the thawed chopped spinach as possible; set aside.
Preheat oven to 350º F. Spray bottom of an 11" x 13" baking pan with olive oil cooking spray with olive oil.
Combine flour and baking powder; set aside.
Finely chop onion in food processor. Heat 3 tablespoons extra virgin olive oil in 12-inch heavy bottomed frying pan until oil begins to ripple slightly in pan. Sauté onion and diced red bell pepper in the olive oil until translucent; mince garlic and add to onion in pan. Continue cooking on medium–low to medium heat until all is lightly golden brown and moisture has evaporated from vegetables. Don't let garlic burn or it will be bitter.
Add the chopped spinach that's been squeezed dry.
Mix in oregano, mint, salt, sugar and pepper. Cool slightly.
Beat together eggs with electric mixer until creamy (about 2-3 minutes). Add to cooled spinach mixture.
Add half of flour/baking powder combination to spinach mixture; mix just to combine.
Stir in the buttermilk. Toss the cheese into the remaining flour mixture to coat with the flour. Combine the cheese and flour mixture with the batter, folding in to distribute well .
Scrape batter into prepared pan, spreading evenly. Bake on middle rack of preheated oven for 30 minutes. Test for doneness with a small knife (baked batter should barely cling to the knife).
Remove from oven and cool on rack at least five minutes. Cut into 1" or 2" squares. Place in small tartlet/cupcake paper for easy pick-up by guests, if desired.
Serve, warm or at room temperature, as finger food.
May be made one day ahead and refrigerated.
May be frozen, well wrapped, in baking pan up to one month.
Reheat, if desired, covered with foil, for 20 minutes at 350º F.
Stands up well in a warm chafing dish, for entertaining.
Follow "Kitchen Maven" on Facebook.