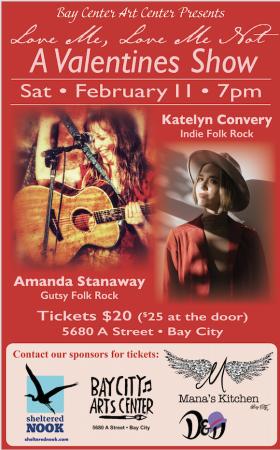 EDITOR'S NOTE:  Keeping with the "best of" theme, here's the Pioneer's intrepid restaurant reviewers "top 6" picks for 2022.  Watch for more tasty travails throughout Tillamook County (and beyond!) from the Ardent Gourmet in 2023.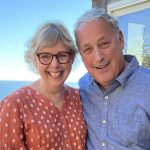 By David & Susan Greenberg, The Ardent Gourmet
It is a heavy task reviewing Oregon restaurants. But we martyr ourselves to the cause and try not to complain. In the course of our duties, certain dishes stand above the rest. And we feel it is our obligation to give them extra notice. So, choosing only one dish per restaurant, here follows our list of best Oregon eats, 2022. All are scrumptious but, even so, they count down to the very best.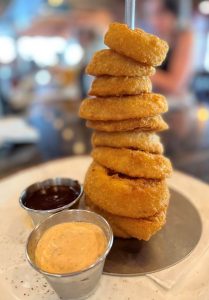 6/ The Pelican Brewery, Pacific City. Onion Rings
They're noisy. They're crowded. Their burgers are gloppy by your lights. But they redeem themselves with onion rings, stacked vertically to delight the eye, that are crunchificent.  Accompany with a brewski for the ultimate possible satisfaction from empty calories.
5/ The Schooner. General Tso's Wings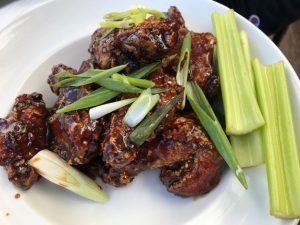 General Tso could not have known that he would join the elite circle including Augustus Caesar, John D. Rockefeller, and Reuben Kulakofsky who would be known best by the dishes named after them. No one now knows for sure if General Tso was good at leading a cavalry charge but boy did he inspire good eats. The Schooner's rendition of this dish is crunchy from the deep-fryer, sweet, salty, spicy, gingery, garlicy. In other words, it's a Roman Candle and you love it.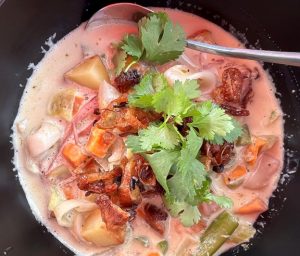 4/ Buttercup Ice Creams & Chowders. Green Curry Chowder
Making a curry from scratch is like making a Rolex from scratch, there are innumerable parts and all must fit precisely. Buttercup Ice Creams & Chowders does just this with their Green Curry Chowder. Plump with with potatoes, leeks, peas, yam, and squid, coiffed with caramelized shallot, it was as good as the curries from street-market maestros in Thailand itself.
3/ Taste of Sichuan. Smoked Pork with Leeks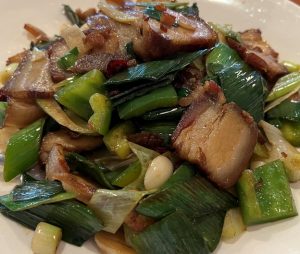 They use pork belly, the stuff from which bacon is made. This by itself recommends the dish. It's smoked and tossed with enough garlic to set off radiation sensors. Celery, green pepper, fermented black beans, and exothermic peppers add amperage. This ain't chicken chow mein. This is serious Chinese food as you'd get it in Hong Kong and you have vowed to return to this restaurant for all your future birthdays. May they be many.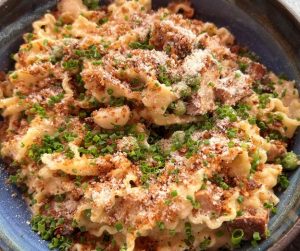 2/ The Salmonberry, Hyper Local Food. Mafaldine with Pork Belly and Quinoa
You have eaten enough pasta in your lifetime that, medically speaking, you are pasta. MRIs have confirmed this. So for a pasta dish to be among the best, or possibly the best, you've ever eaten, it must be spun from platinum by a genius. This dish qualifies. The Mafaldine, a ruffled pasta ribbon, is housemade with flecks of dulse, local seaweed. It is masterful. The sauce is cream, poached garlic cloves, fresh peas, sprinkled with parmesan, strewn with chive. There is one more ingredient that blasts this pasta beyond the orbits of almost all others: Quinoa. It is deep-fried and scattered into the dish bringing an unexpected, unprecedented, ecstasy-inducing crunch. A long journey is worthwhile for this dish alone. They're always changing up their menu so check first to be sure it's available.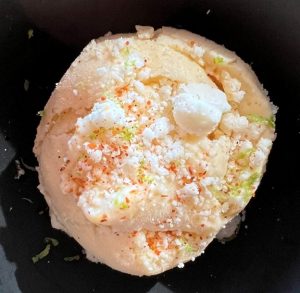 1/ Local Ocean Seafoods. Elote Corn Ice-Cream
Elote corn is Mexican street corn, cooked over charcoal and anointed with crumbled cojita cheese, lime juice, chili powder and salt. Chef Enrique Sanchez pulps grilled corn, strains it, adds custard and elote spices and transforms it into an ice cream that punches you in the kisser with amazingness. It was the best dish you ate in 2022. Well worth the trip for just this dish, it's seasonal, so check to see if they have it before you launch.
Wishing everyone a Happy New Year and a delicious 2023!