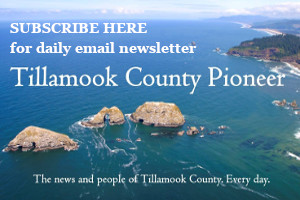 By David & Susan Greenberg
The room fizzed with happy folks swaying to the beat, lifting pork ribs, lifting crab claws, slurping oysters, spooning chowder, tilting glasses, conversing, hugging, laughing. Children scampered between legs. Not unlike an old-fashioned country dance at a grange hall, it was a warm Tillamook joyfest in comforting contrast to the cold grey rain outside.
On the last Friday of every month, JAndy Oyster Co – which harvests oysters, shucks oysters, sells oysters, serves oysters, and doubles as a plant nursery — lets loose with a food extravaganza. The night we went it was all-you-can-eat ribs and crab. The pork ribs in barbecue sauce were tender, smoky, with lovely char. You wish the barbecue sauce had been sharper but that's a quibble.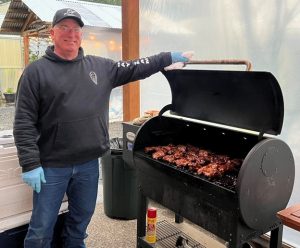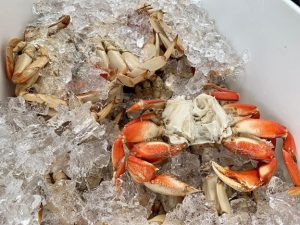 The crab was caught and cooked the day before, gutted, chilled on ice, served with melted butter, sweet, with a purity and intensity of flavor, that made you look heavenward. There was good coleslaw with satisfying nubs of dried cranberry. In addition to the ribs and slaw, you ate two whole crabs and by your calculations broke even on the $50 meal. But for your wife's certain rebuke, and the fact that it would have killed you, you would have eaten two more.
Your wife, who calls out for clam chowder in her sleep, loved their rendition that was plump with clams sourced from Willapa Bay which she happily anointed with oyster crackers. She drank a red blend of some sort that she liked very much. You drank a Buoy beer that was mild, refreshing, ideal for rich food. It was one of the best craft beers you've had in a long time because it was drinkable. You're getting tired of these weirdly intense craft beers, each vying for a stranger flavor like coffee or cork boot or hummingbird tongue, wildly jacked with hops, that you're morally certain people pretend to like but not really.
The night was a fund raiser for a family with an ill child and large medical bills which speaks to JAndy Oyster Co's ample heart.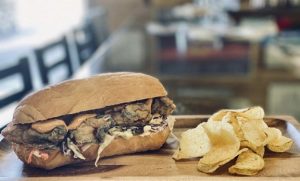 You ate here midweek on an earlier occasion and had their fried oyster po'boy.
The oysters were spanking fresh and flavorful though ultimately indescribable because there's no other foodstuff you know of to compare them to. Some use adjectives to describe the flavor of oysters, but that strikes you as a stretch: algal, fungal, musky, grainlike, melon, copper, smokey, sweet, briny. Huh? Perhaps it's best to say that oysters taste like the ocean, almost. Regardless, few restaurants anywhere could equal these, harvested early morning by the same folks who serve them early evening.
You do wish they'd put one or two veggie items on the regular-night menu to balance against all its protein-centric items. A salad optioned with smoked oysters on top would be crazy great.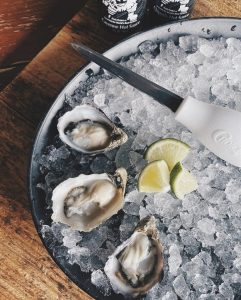 JAndy Oyster Co is not slinging the clichéd foods so common in the area, burgers, beef tacos and the like, as good as some may be. Though they also serve shrimp, clams, and rockfish, their mainstay is oysters. They pluck these gems from our sacred waters and wisely prepare them very simply – mainly raw — with reverence and skill.
In contrast to other excellent restaurants that depend on kitchen wizardry to elevate themselves, JAndy Oyster Co's wisdom to serve their incomparable primary product unobscured is what elevates them to greatness. Their other seafoods come from other providers, but the same principle applies.
JAndy Oyster Co is itself a gem. Simple though it may be, their food has the superb quality that we yearn to see more of in Tillamook (and on the Northwest coast altogether) where so many restaurants seem stuck in the past – with predictable menus of middling food – apparently unaware that exciting, thoughtful, innovative, carefully sourced cuisine is bubbling elsewhere.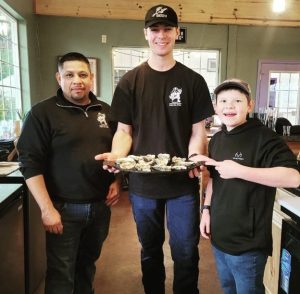 We highly recommend JAndy Oyster Co.
Located at 6760 S. Prairie Road, Tillamook
Hours – Wednesday – Saturday –  11:00 AM – 7:00 PM