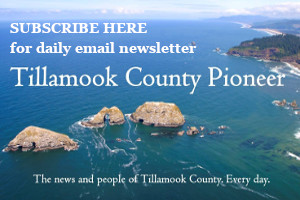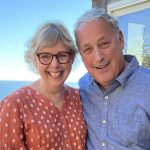 By The Ardent Gourmet, David & Susan Greenberg
Nehalem is a rosy-cheeked town that — flowers in bloom and ghosted in river mist — Monet would have loved painting. Judging from the shops selling herbal remedies, tea, incense, quirky ceramics, and artisanal soap, the town has drawn gentle souls. You only wish that all the drivers on Highway 101, bisecting Nehalem, were equally gentle. You were rattled by one whose salty tongue would have benefited from artisanal soap.
Unlikely to be mistaken for a Christian Science Reading-Room, North Coast Pinball is the town's rascal-pie. The moment you saw it you wanted a slice. Within is an armada of pinball machines that might have been time-warped from a NYC 1960s Time's Square arcade. Luridly aglow, their graphics are culled from the sediments of the human imagination: monsters, robots, dinosaurs, muscle-men, and women a la Jessica Rabbit. The music of the machines is like the inside of your brain if only you could hear it: flippers flipping, bumpers popping, plungers springing, counters snapping, balls rolling, bouncing, boinging, electronic clicks, whoops, shrieks, gnomic words at strange intervals. You alternately played and sipped a brewski. Your gentle wife, who'd never played pinball in her life, donned her Valkyrie helmet and went full berserker.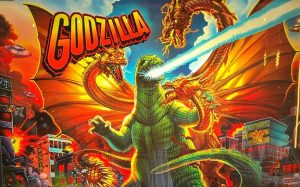 One door down, you were startled to discover that Buttercup Ice Creams & Chowders, which had the genial look of a salt-water taffy store, was actually a culinary mixed martial-arts master, kick-ass at multiple cuisines. The green curry paste in their green curry chowder (which you opted with squid) was, like everything else they serve, scratch-made. Even in Thailand you've rarely had curry scratch-made since curry pastes are available for purchase in most markets. Plump with potatoes, leeks, peas, and yam, you paused between slurps to contemplate its ineffable depths. It was topped with caramelized shallots, a scrumptious hallmark of the most authentic Thai cuisine.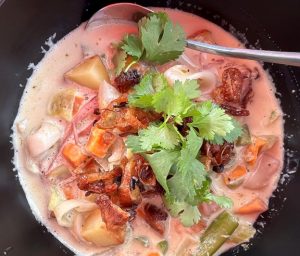 Their Provencal Chowder was based on housemade fish stock. Only serious kitchens would take the trouble to make such an elixir. It was flavored with white wine, saffron, orange, garlic, potatoes, and celery. You love saffron but couldn't catch its flavor at all nor the orange. Fresh fennel in the mix was great. You wonder if a teaspoon of Pastis might not have lofted this even higher. Quibbles aside, it was better than the fish soup you had at a Michelin one-star in Hong Kong not long ago.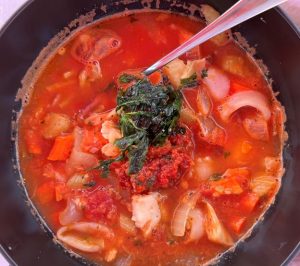 Their clam chowder was replete with clams. It was flavored, unexpectedly, with a good deal of fresh dill which you now feel is a prerequisite for all clam chowder.
If the devil is in the details, this restaurant is devilish. It grills the corn in their Mexican Corn Chowder to amplify its flavor. A jumble of Yukon golds, sweet potato, green chiles, onion was not overcooked (so easy to do inadvertently). Just the right amount of lime juice was added to sharpen it.
Most marshmallow ice-creams would be studded with marshmallows. Theirs was blended with marshmallow and served in a housemade graham-cracker cone with a plug of marshmallow and excellent chocolate at the bottom and a rim of the same chocolate topside.  Marshmallow does not run in your veins but you grasp this ice-cream's excellence. You liked their fresh Peach Cobbler ice-cream swirled with Bourbon-Caramel in a toasted pecan cone, understood the extraordinary care that went into its creation, but wished for vastly more peach. You also wished the cobbler chunks were larger, crisper, saltier to contrast with the custard.  Two other ice-creams – Nectarine White Chocolate with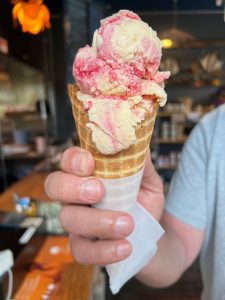 Raspberry Swirl and Sweet Corn with Blackberry Swirl – contained discernible ice-crystals. You suspect storage issues. You wished for much more corn flavor in the Corn-Blackberry ice-cream. Your wife wished for more pronounced blackberry. Each of their ice-creams was matched to a bespoke cone – like fitted luggage for a Bentley – a treat you've never encountered at any other ice-creamery.
Nearby is a distillery, Spirits of the West, that concocts, among other spirits, dark rum to beguile Hemingway, not to mention peach schnapps that made your wife take a deep breath and look at you with those eyes.
For the sake of your literary ambitions and amour, you bought a bottle of each.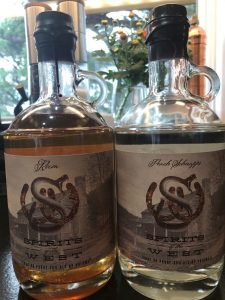 There's a ceramics studio-gallery, North Coast Mudworks, airy and bright and smelling of moist clay. Simply stepping in gave therapeutic uplift. It evoked happy memories of the blue-glazed bunny you made in first-grade ceramics class. (Funny, the moist clay smell of your first-grade arts-and-crafts room is distinctly with you still.) You and your wife discussed taking classes.
A flock of kayakers paddled by, exotic water birds, lifting your heart.
Wolfmoon Bakery uses wild yeast – aka sourdough — exclusively. You opened the bag holding their Wild Bread and its scent jolted you with pleasure. It was artisinally dense, moist, sour, whole-grain'ish yet springy with gluten. The Salmonberry restaurant in Wheeler serves it warm with herbed goat cheese. You think it soars toasted with avocado, a lemon squeeze, and homemade zaatar (which Wolfmoon should sell). You wish you could get it pre-sliced.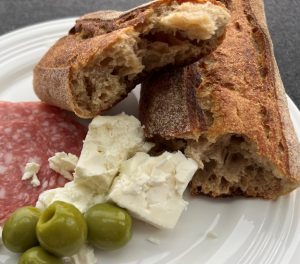 Based on hard white spring wheat and house-milled Kamut, an ancient-grain wheat, their baguette could be straight from a Paris bakery hypersonically delivered. The crust is crisp but somehow also chewy.  When you pull off a piece it resists like taffy and then suddenly parts. The crumb is ideally spongelike. It is sour. It is paradigmatic.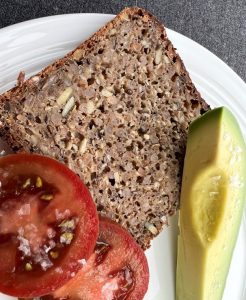 Their Rugbrod is "Inspired by classic Danish seeded rye bread." It's made from "Whole sprouted rye berries and spelt flour combined with yogurt, fresh brewed Wolfmoon coffee, and a blend of sunflower, sesame, pumpkin, and flax seeds." (It begs the question, Is spelt spelt spelt?) Toasted, its flavor blooms. Probably forged deep within a volcano, a distant relative of the One Ring to Rule Them All, it doesn't want to return to its master, it wants to be laminated with a slice of excellent cheese. Eat a piece, reel from the pleasure, and spontaneously start speaking Danish. Dette brød er lækkert.
Their rye bread has great crumb. It is not overly dense, a common fault with bakery ryes. But, raised in Jewish delicatessens, you can authoritatively state that it badly needs caraway seeds to sing.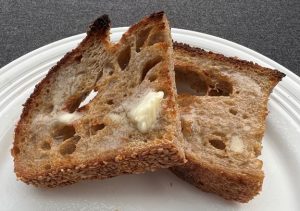 Their sesame bread has, like all their others, artisanal heft which is for some reason never to be found in a Safeway or Freddies. It's baffling. They sell what they call artisanal bread but it's ersatz. Wolfmoon's is solidly swaddled in sesame seeds not only on top but all around. Rarely do you get the luxurious full wrap. When toasted the flavor is an explosion of sesame. It's your, and your wife's,  favorite.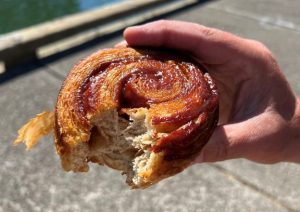 Their brioche-based honeybun tastes no-nonsense, as though it was made by an accountant who sits up straight and wears his slacks with a crease. It is tasty, no question. But, as double-stuffed Oreos are better than single, you feel it needed more. This is not sustenance after all, but a treat. Why not add raisins, why not toasted nuts, why not icing?  Why not glaze it with maple sugar? Why not take a crazy leap and wrap it in bacon? Doubtless, it reflects the bakers' judicious sensibilities. Probably yours are more extravagant.
Wolfmoon also roasts coffee. You ordered a bag of ground beans from Papua New Guinea. They state "it has notes of praline and cocoa" which is so.  Good joe, if pricey.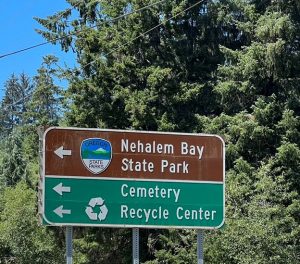 Finally, you saw a sign for a tripartite business, State Park-Cemetery-Recycling Center. You didn't have time to investigate it, but this is genius. Think how convenient: you can bring the family and roast s'mores, tuck away the in-laws, and recycle bottles all in one trip.  You'll be back to investigate, maybe with the in-laws.
Considered as a ratio of cool stuff to size, Nehalem is a prodigy. You've only reviewed a portion of its charms. Clearly you need to return for another core sample. You vow to do so.
The Ardent Gourmet highly recommends every restaurant and shop we visited in Nehalem.
North Coast Pinball                                                                                                                                              
35955 N Hwy 101, Nehalem, OR  97131
503-343-4783
Buttercup Ice Creams & Chowders*  (NOTE – Buttercup will be taking a break after a busy summer and be closed Sept. 17 – 29)     35915 N Hwy 101, Nehalem, OR  97131
503-368-2469
Spirits of the West                                                                                                                                                   
35915 N Hwy 101, Nehalem, 97131
503-781-4330
North Coast Mudworks                                                                                                                                               
35995 7th St., Nehalem, OR  97131
Wolfmoon Bakery                                                                                                                                                         
35915 8th St., Nehalem, OR 97131
503-457-7925
You can see this review and other reviews by The Ardent Gourmet at www.ardentgourmet.com
If you have comments, questions, or would like to be on The Ardent Gourmet's mailing list, contact us at authilus@teleport.com