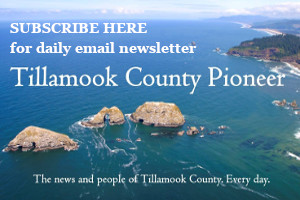 by the Ardent Gourmet
Unlike Fisherman's Wharf in San Francisco, Newport's Historic Bayfront harbor is the real thang, hosting a flotilla of brawny fishing vessels, the kind you'd want on your side in a bar fight (if you were in a bar for fishing vessels). Take Timmy Boy. Can you think of a better name for a bruiser?
Local Ocean Seafoods, a lovely space, bright and airy, overlooks it. There, you patiently explained to your wife that Panko, "the lazy man's breadcrumbs, made by some industrial process," was no equal to cracker-crumbs and therefore she shouldn't get her hopes too high for the halibut fish & chips she'd just ordered. Her response to this well-informed statement was alarming, a bland smile. Too well you know your wife's bland smiles.
The halibut arrived, plump, sizzling, fetching, laid out on the plate like a glamour shot.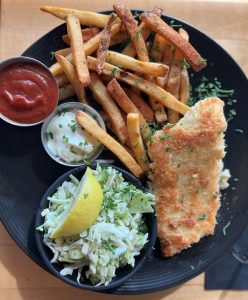 Another wife in the multiverse might have plugged you with a fork for your presumptuous mansplaining, now a Class A felony in many jurisdictions. But, cutting you a piece, as large as her extraordinary heart, she said, "it's the best fish and chips on the Oregon coast."  Fresh, flavorful, meaty, moist, crunchy, luscious, forklickable, you had to agree, although in your view it shares the honor with the cracker-crumb version at The Schooner in Netarts. And like The Schooner's, there's room for their fries to improve. Not crisp but crispish, they were a little bit dry and mealy.  Were the potatoes aged?  Where they double fried? You believe both are vital. Also, their Red Duck brand ketchup was bland, too sweet by your lights, detached from its chutney roots. (This restaurant has the chops to make its own ketchup. You wish they would.)
The fish & chips came with fennel slaw.  Fennel is one of the great vegetables in God's garden, with a beguiling licorice taste, and it's in few markets or restaurants. Kudos to this resto for not going the standard cabbage slaw route but pushing for novel tastes.  It's a little detail but a large tell.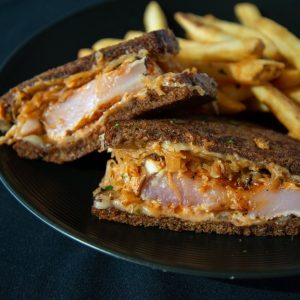 In the all-important Nobel Prize category of Reuben sandwiches, their Reuben sandwich, with house-pastramied albacore taking the place of beef, should surely be a contender. The tuna was an inspired substitution. Its spice rub, with prominent coriander seed, echoed Katz's Delicatessen's in NYC (center of the pastrami universe). Bravo on riffing this sandwich so extraordinarily well!  Insomuch as you grew up in Jewish NYC delis you feel you do have license though to respectfully suggest it would be better yet on a good Jewish caraway rye (not the supermarket-style rye they used). Then again, there's no aspect of life – from romance to gin rummy — that can't be improved by good Jewish caraway rye. You order yours online at hideous cost, but it's worth it.
Grilled Hoisin Black Cod was a master class in fish cookery. It was glazed with hoisin, cross-hatched with char, and moist within.  Perched atop a vegetable mélange with yakisoba noodles, it was cod taken to its peak. It is proof that there is a Cod in heaven.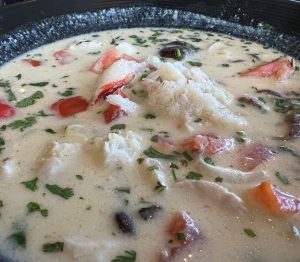 Moqueca de Peixe (Brazilian Stew) is a lyrical coconut broth with crab, prawns, rockfish and vegetables pointed with lime. It may be Brazilian but it sure tasted Thai. In fact, chatting with Chef Enrique Sanchez-Rodriguez, he revealed that they add Thai green curry paste. You think the delicate tastes of crab and rockfish might have gotten a little lost in the pungent broth though. More assertive proteins such as salmon or lobster or monkfish might have been better in your view. (Though, of course, neither lobster or monkfish is local.) Or just more of those fabulous chubby prawns.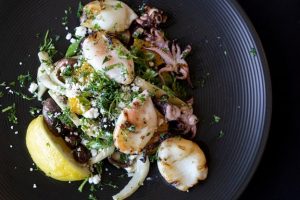 Their Grilled Calamari Salad was a welcome change from standard deep-fried calamari (as delicious as it may be). The sweet, delicate calamari flavor came through splendidly with bits of char. It too showcased fennel. Also, chunks of orange, a risky choice that worked. And kalamata olives, poblano pepper, queso fresco. A grand chord of flavor and textures. Is calamari local though?  You've never seen it sold locally.
(You wonder if Local Ocean Seafoods would be willing to try their hand at stuffed baby squid.  They could do it Vietnamese style with ground pork, glass noodles and fish sauce or Italian with breadcrumbs and such.  It's stark raving delicious and would seem appropriate to this piscine temple.)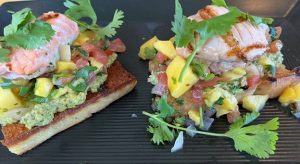 A late summer special was Chinook Salmon crostini.  It was grilled salmon, roasted poblano romesco, mango-tomato pico-salsa, white balsamic vinaigrette, grilled focaccia, cilantro. Yes, it was complex, but so is a Rolex. It was as delicious as it looks. You note that the fish here, and in all their other dishes, was cooked perfectly, to the equivalent of medium rare, what the French call à point. This takes serious kitchen prowess.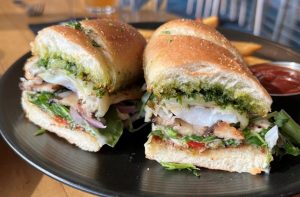 Their Rockfish Melt sandwich was tasty but fell short of glorious.  The pork belly, which was supposed to be crisp, had no textural contrast and little, if any, flavor contrast with the fish. In this setting, it came across more as an anonymous protein. Salty, crisped bacon would have been better. The Italian salsa verde was a canny choice but more was needed for zing. The bread was good enough but not great. This sandwich called out for an artisanal crumb such as Wolfmoon Bakery in Nehalem might provide. It's perplexing, but there are few, if any other, bakeries on the Oregon coast that can operate at this level.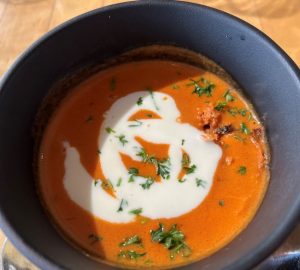 Their smoked salmon bisque was silky, on the verge of too salty though. Which didn't prevent you and your wife from spoon-fighting over every last drop.
You wanted to love their smoked tuna belly deviled egg, it was so pretty.  You did like the smoked tuna by itself very much but in total it felt heavy.  The mashed potato (a handsome purple) used to adhere the egg to the plate and the tuna to the egg may have been a factor.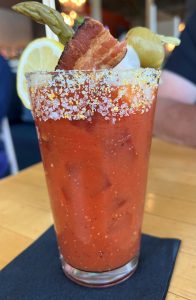 Their Bloody Mary was loaded with goodies as is the style these days, bacon, scallops, asparagus, olives.  The rim of the glass was elegantly speckled in salt and lemon zest. It was not bad at all, standard actually, but not the wow you'd hoped for.  They could up their game. You visited a bar recently that put tomatoes in a centrifuge to extract their plasma. You were gobsmacked by the flavor. Why not here?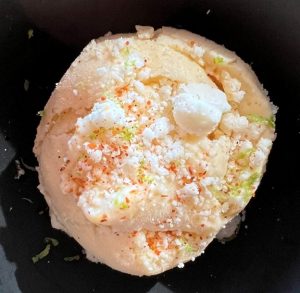 Elote corn is Mexican street corn, grilled and strewn with, among other items, cojita cheese. Local Ocean Seafoods does an ice-cream riffing this that slapped you silly with pleasure, one of the memorable ice-creams of your life. Chef Sanchez described how they grilled the corn, pureed it, put it through a fine china cap, reduced it. Then added cream, condensed milk, and egg to turn it into a custard. Then added fresh corn kernels.  Then anointed it with salty bits of cojita cheese, lime zest, and a soupçon of elote spice (salt and chile powder).  This was ice-cream to haunt your dreams, an ice-cream that only a top gun chef could have created. It's well worth a visit to this restaurant just for this.
As good as their ice cream was, their bread pudding wasn't.  A great bread pudding has wonderful texture from the bread that's used, particularly its crust which should have a satisfying chew.  It should be custardy. This pudding had no chew quality whatsoever and though there must have been egg in it to hold it together, there was no luscious custard feel.  It seemed just soggy. You think it needs to be taken down to the studs and rebuilt.
Prices are fair. Service is warm, courteous, prompt.  You do wish the wine pours were more generous. The beer selection is ample. You like their Rotating Taps.
In the manner of most Oregon coastal restaurants, this restaurant is remarkably versatile. You could come here with sullen adolescents, rascal tweens, pals, parents, or by yourself. You can attest that it is wonderful for dates with a quality that provokes amour.
There's a charming market downstairs where you can buy the seafoods they use as well as a number of sauces and such.
Sure, you have a few criticisms but they're really quibbles compared to this restaurant's totality, almost inevitable in such a high-performance operation. This is an outstanding, chef-driven, imaginative, passionate restaurant that stands out like a beacon on the Oregon coast. It is good enough that it's well worth a trip from inland. It is good enough to return to repeatedly (as you have and will). You're highly impressed by the scope of the menu, the virtuoso specials, the range and pristine quality of the ingredients, the kitchen's technical mastery and consistency, the artistry of the plating.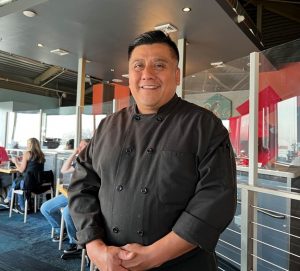 Chef Sanchez's cooking style is vivid, festive, assertive, colorful. He exalts seafood plucked from our waters, putting its delicate taste foremost, not masking it, no easy thing to do. He started his career as a dishwasher and worked his way up through determination (and, obviously, enormous talent).  You're highly impressed by his willingness to take risks, by his imagination, his technique, his wide-ranging knowledge of different cuisines, and how, like a geneticist, he dexterously pulls from them — French, Italian, Mexican, Thai, Jewish deli (of all things) — to graft into his creations.
More and more the Oregon coast is mining its culinary genius. Local Ocean Seafoods is a gem. Shine on you crazy diamond!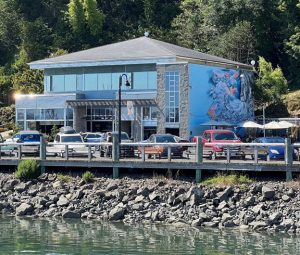 The Ardent Gourmet highly recommends Local Ocean Seafoods
You can see this review and other reviews by the Ardent Gourmet at www.ardentgourmet.com
If you have comments or would like to be on The Ardent Gourmet's mailing list, contact us at authilus@teleport.com