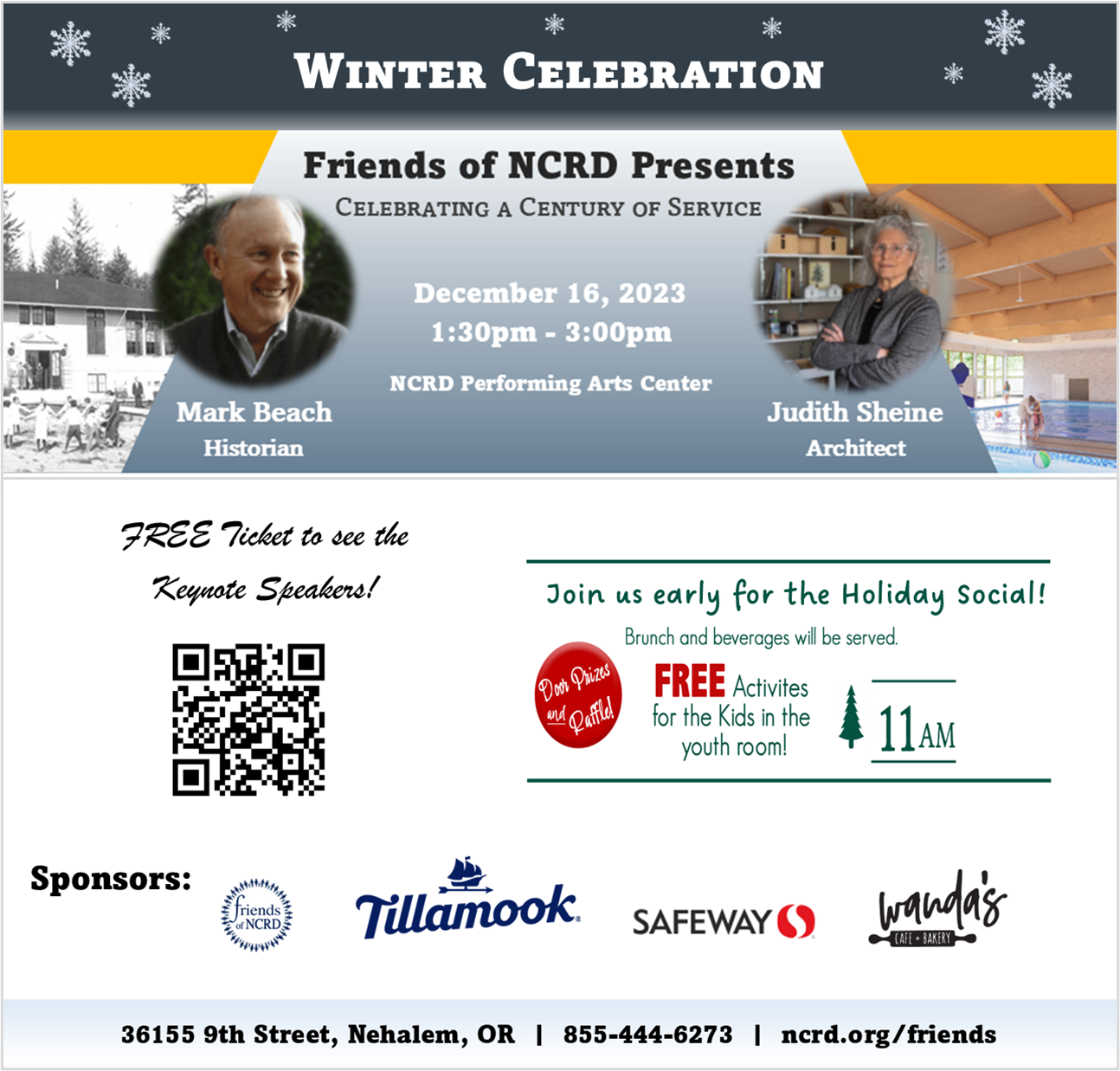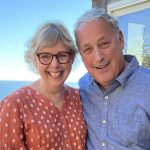 By David & Susan Greenberg
Both Google Maps and Waze were flummoxed by Riverhouse Nestucca's location. So we called them and a server talked us in for a landing.  With this particularly warm greeting we anticipated an excellent meal overlooking the Nestucca River. It was 5 PM and the restaurant was already buzzing.
Feeling a bit coiled, margaritas were in order. However, wise old hands, we inquired whether they were made with fresh lime juice which obviously is mandatory and sadly they were not. They use some kind of mix. So we each ordered a lovely Viognier with a gentle pulse of sweetness and all was well. Most restaurants serve chintzy pours measured out by eyedropper. By contrast, theirs were generous, which we appreciated.
The menu is not looking to set the culinary world on fire with innovative dishes. In fact, it is almost entirely standards, some gussied-up a bit, from clam chowder to steak to burger to deep-fried calamari to fish and chips to (the now ubiquitous) shrimp with grits. But standards are standards for a reason. People love them. They can be deeply satisfying dishes.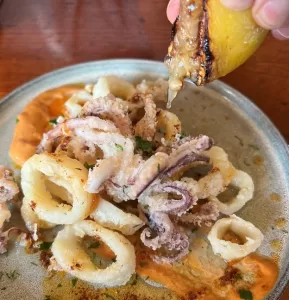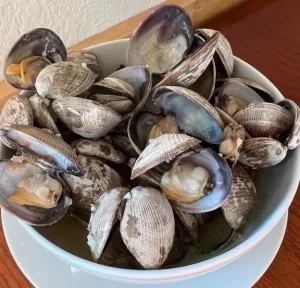 We started with two appetizers, deep-fried calamari with pimento aioli, and steamed clams. The calamari was tasty enough but slightly undercooked as though the oil wasn't quite hot enough to crisp the coating. The lemon we squeezed over had been roasted which was not only handsome but helped the juices to release. The aioli was terrific.
The broth for the steamed clams seemed somewhat bland as though it needed more butter and vermouth (and a bit of salt) and more reduction. We had to ask for lemon to squeeze over. Had they been batch cooked ahead of time? The dipping bread was good but we wish it had been great (from an excellent artisanal bakery such as Wolf Moon in Nehalem). The dish fell short of its potential which at $25 was a shame.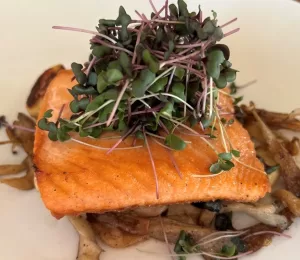 The gnocchi – in the coho over smoked gnocchi with horseradish cream, brown butter with sage, and wild mushrooms – were bland and neither of us could detect smoke. The horseradish cream was delicious but there wasn't enough of it. It went well though with the sage browned butter. The wild mushrooms were great. But the coho's texture was perplexingly dense. The meat didn't flake (had it been frozen for a long time?). This was a complex dish that didn't quite congeal.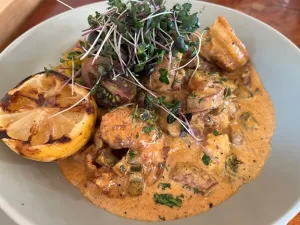 Farm-raised shrimp have become the norm but wild ones are radically better. The wild shrimp in Seared Shrimp with Peppercorn Grits were perfectly seared, intensely oceanic, scrumptious. The snips of Spanish chorizo were a wonderful counterpoint, not only their flavor but their meaty texture. The grits were exemplary. And we liked the smoky sauce which reminded us a great deal of the calamari's aioli although maybe it could have been applied with a lighter hand.
The conception of the dishes at Riverhouse Nestucca was fine but their execution for the most part not quite as much. It's as though whatever flummoxed our GPS affected the accuracy of their kitchen as well. And though standard dishes are fine, we do wish there had been some menu specials to demonstrate that the kitchen can shoot sparks.
Making a margarita with anything but fresh lime juice puts you at risk of provoking the tempestuous gods who live atop Mt. Mixos, known to hurl lightning when they encounter pre-made cocktails. Beware.
We wonder if simpler dishes – such as fish and chips or burgers – might be a surer bet here. Next time we're nearby at mealtime we'll check them out.
The Riverhouse Nestucca is located at 34450 Brooten Rd., Pacific City, OR – open Thursdays through Sundays – 4 to 9 pm.
If you'd like to read other reviews by David & Susan Greenberg or be included on their mailing list, you can contact them at authilus@teleport.com  Their restaurant review website is www.ardentgourmet.com