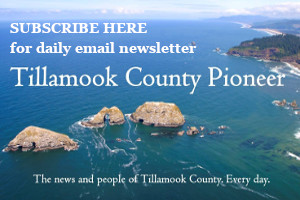 Coordinators from The Rainy Day Village Network will give a presentation for the Art of Aging/of Dying series at the Hoffman Center for the Arts in Manzanita on Wednesday, September 12, 2018, from 3 to 5 pm. Fee is $5.
The Rainy Day Village Network is a local, all volunteer organization based on the concept of "neighbors helping neighbors," from the national Village movement formed to allow seniors to confidently age in their homes. Though the emphasis may be on seniors, the local group will offer support to people of all ages in North Tillamook County and is currently working to become a program of Villages NW, a regional, Portland-based organization.
Members will pay a small monthly fee which covers insurance, phone, website, vetting of volunteers and membership in Villages NW. Volunteers provide the services. Because everyone has something to offer, members may be both providers and/or receivers of services as their needs change.
Depending on availability of volunteers, services may include help around the house and yard, companionship, check in by phone or email, short term pet care, running errands, transportation to appointments, simple tech help, and assistance with medical appointments and follow ups.
The group is in the process of establishing annual fees for membership and anticipates that initially they will be $240 for an individual and $375 per household. In order to keep fees low and to make membership available regardless of ability to pay, they are seeking additional financial support through sponsors and founding contributors. Donations from sponsors/founding contributors are tax deductible as Rainy Day Village Network is currently under the umbrella of local Fulcrum Community Resources, a 501c3 tax exempt organization. Membership fees for services are not tax deductible.
The local group has been meeting and planning for over a year to establish a local village by researching, visiting and learning from successful village models around the country, and they are being mentored by members of Villages NW in Portland.
"Warehousing elderly people, whether in beautiful rural settings or in urban towers, not only consigns them to a life of isolation and inactivity, but also bankrupts the community they came from. If we can stay in our own communities as we age, everyone gains."
Member, Beacon Hill Village, Boston, MA
"The Beacon Hill Village founders all wanted to remain at home, even after transportation and household chores became difficult or dangerous, the point at which many older people quit familiar surroundings. They also wanted to avoid dependence on adult children. And they were unwilling to be herded by developers into cookie-cutter senior housing and told what to do and when to do it by social workers half their age.
'I don't want a so-called expert determining how I should be treated or what should be available to me,' said 72-year-old Susan McWhinney-Morse, one of the founders. 'The thing I most cherish here is that it's we, the older people, who are creating our own universe.'"NY Times, February 9, 2009
"Community-based models for aging in place designed by the people who use them are the wave of the future, experts say, an alternative to nursing homes and assisted living centers run by large service providers." NY Times, February 9, 2009
More info at https://rainydayvillage.org. Contact info: info@rainydayvillage.org; PO Box 384, Nehalem, Oregon 97131; (503) 764-1413
The event will be held at Hoffman Center for the Arts; 594 Laneda Avenue, Manzanita, OR from 3-5 pm on Wednesday, September 12, 2018. There is a $5 fee to attend.
If you'd like to be on an email list for the Art of Aging/of Dying announcements, email Tela Skinner at telaskinner@gmail.com.
The Art of Aging/of Dying Series is a program of the Hoffman Center of the Arts and will be held at the Hoffman Center (across from Manzanita Library at 594 Laneda Ave). For more information contact Tela Skinner at telaskinner@gmail.com.