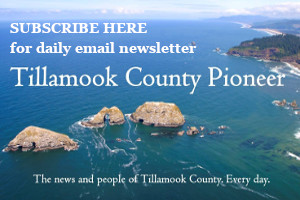 ASTORIA, Ore. — Lt. Cmdr. Jason Haag assumed the duties and responsibilities as commanding officer of Coast Guard Cutter Fir relieving Cmdr. Kristen Serumgard, during a ceremony at the Fir's mooring at Base Tongue Point in Astoria, Friday.
Haag, a native of Elmira, Oregon, and a 2002 graduate of the Coast Guard Academy is reporting from Coast Guard Headquarters in Washington, D.C. where he was the financial manager in the Office of Resources, Organizational Analysis, and Workforce Management.
Serumgard was awarded the Meritorious Service Medal during the ceremony ending her stint as the sixth commanding officer of the Fir and first woman to command a cutter in Astoria. She will be transferring to New London, Conn., to take command of the International Ice Patrol.
Under Serumgard's command, from July 2014 through July 2017, the crew of the Fir serviced aids to navigation buoys that marked safe channels for vessels to transit assisting 44 million tons of foreign trade worth $24 billion to enter and exit ports within the Pacific Northwest. The crew under Serumgard's direction initiated an extensive analysis of the machinery space fire doctrine that resulted in revisions of service-wide policy, increasing safety for the entire 225-foot Juniper Class seagoing buoy tenders.
The primary mission of the Fir's crew is to service aids to navigation along the coasts of Oregon and Washington, but its other missions include fisheries law enforcement, and search and rescue. The cutter is also outfitted with a Spilled Oil Recovery System to respond in the event of an oil spill. Seven officers and 41 enlisted members are billeted aboard the cutter.
The change-of-command ceremony is a time-honored tradition which formally restates to the officers and crew of the command the continuity of the authority vested in the commanding officer. This unique military ritual represents a total transfer of responsibility, authority, and accountability from one leader to the next.