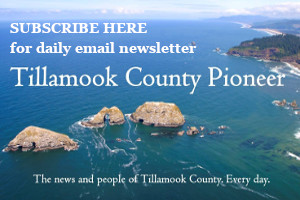 It's no surprise that the award-winning Tillamook Transitions program would produce an award-winning student. Recognized with the Oregon Statewide Transition Conference Exceptional Program Award in 2019 as an innovative transition program that has made a major contribution to the development and/or growth of vocational success for transition aged students. The Tillamook Transitions program exemplifies the best of philosophy of education as it relates to successful transition from school to competitive integrated employment and that implements predictors of post school success.
"We are so proud of Chris, and as you can see from the video, he has touched so many people," said teacher Cynthia Tuel.
Chris Fowler is the 2020 recipient of the Oregon Statewide Transition Conference (OSTC) Matt Bailey Student award that recognizes an exceptional student with special learning needs who are involved in education or work experiences at the secondary or post-secondary level. Nominee should exemplify positive contributions in the workplace and/or community, showing growth and improvement, and demonstrating integrity and respect.
Here is the nomination statement THS special education teacher Cynthia Tuel submitted for Chris Fowler in 2019:
Chris Fowler is a young man who has an Intellectual Disability who has been with the program for 8 years with Tillamook High School. Chris began his workplace contributions at THS with the Blooming Buddy Business and Green team. He did on campus work with recycling and custodial work. Then he was referred to YTP, and started gaining work experience with copy room, vending machines and weight room cleaning. He attended general education courses with full integration. During his years he was a team manager for Football, Basketball and Baseball. He coordinated with the coaches and handled the needs of a team manager. This position was one he needed to communicate, Chris has a barrier of communication and is shy to talk. Working within the school and sports programs Chris was able to build his vocabulary and communication skills in an environment he was comfortable in. He has taken the OSAA Coaches training and passed the courses to be an official coach. Over his years with THS Transition we continued to see progress and growth in his abilities. Chris has transferred these skills learned over to the community to work at the YMCA, cleaning the weight rooms. Chris participated in YTP in the summers by working at Cape Lookout park and Tillamook Fairgrounds. The cleaning jobs lead Chris to work at the McRae Paintbrush Factory cleaning, but he was laid off. When learning a new job Chris listens, is respectful, and courteous. In the fall of 2019 Chris applied to work at the Tillamook Cheese Factory in the packaging department. Chris was hired and is now working 28 hours a week and still continues his roll as a Team Manager for sports. His goal is to be a coach himself, he participated in the Unified Champion Basketball Game and will be a referee for the THS Basketball tournament. Chris is a young man who has shown exceptional growth through determination, dedication and hard work despite the barriers he had.
Since then he has moved to full time work with TCAA.
Congratulations to Chris Fowler and the Tillamook Transitions program!