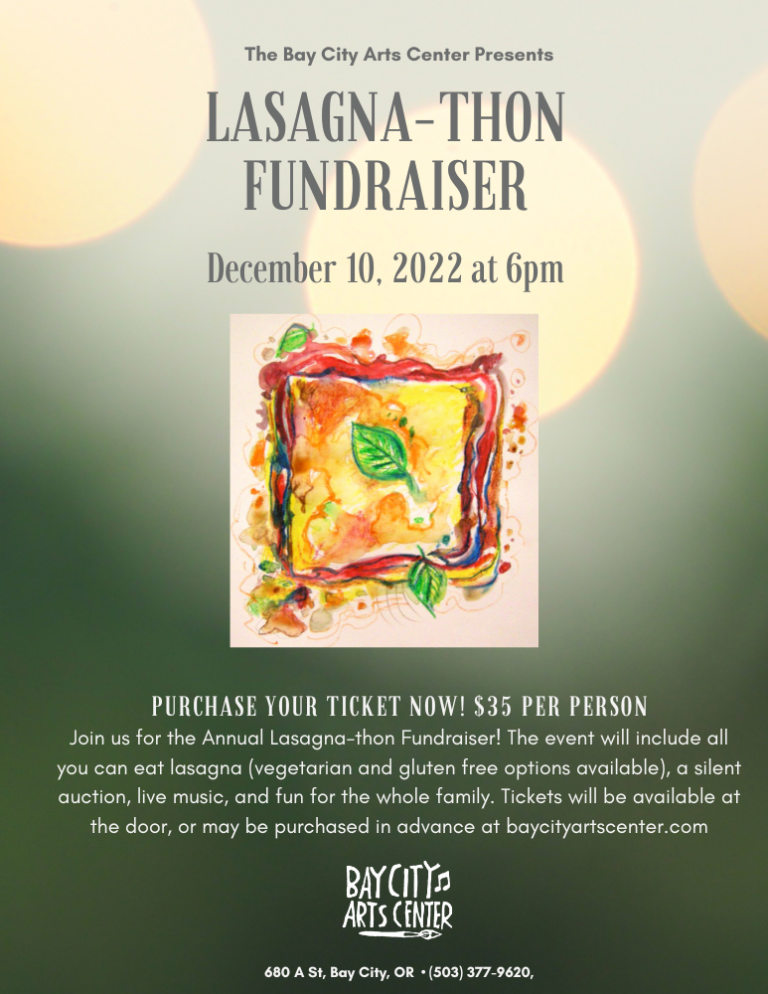 Story & Photos by Don Backman (some photos provided)
"We hauled out 127 bags of garbage," Sara McClendon, local resident and the Northwest Region Director for the Oregon chapter of Back Country Hunters and Anglers, explained during an interview discussing the highly successful cleanup of Eckloff Road held on Saturday, September 25th, 2021, National Hunting and Fishing Day. This was also the same day as Oregon Solv's fall cleanup. "We started at just after 11:00 (AM) and finished about 3:45 (PM) and got to Averill's just before they closed. We even needed a third trailer so I had to call my husband to bring ours."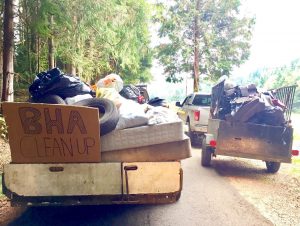 "In honor of National Public Lands and National Hunting and Fishing Day, I organized a Clean Up Event with Backcountry Hunters & Anglers (BHA) to help clean up one of the worst roads in Tillamook County, Eckloff Road off Hwy 131 towards Netarts," McClendon stated in a FaceBook post, along with impressive photos of trailers filled with the garbage they had collected.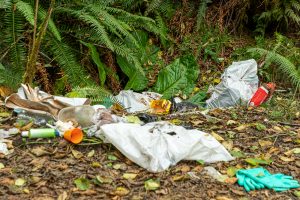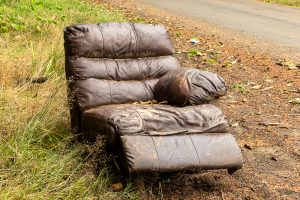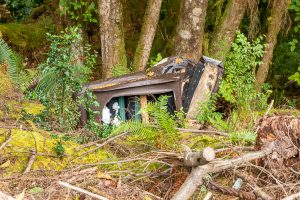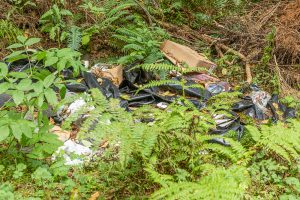 A quick drive ahead of the cleanup group to take photos right before the cleanup had found garbage scattered all along the road in the timbered sections, much of it back in the trees. Signs along the road told people not to dump garbage. "We cleaned the entire road," she added. "We found microwaves, furniture sets, TVs, all kinds of stuff. It was worse than I thought."
McClendon picked Eckloff Road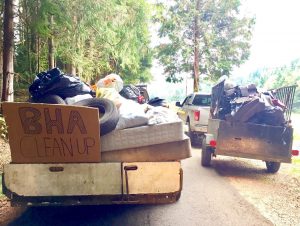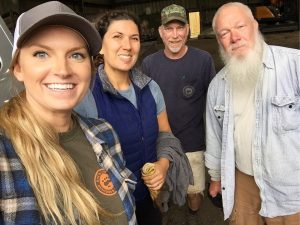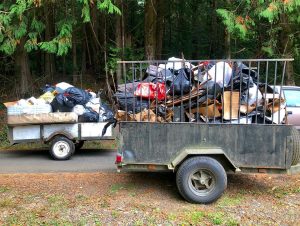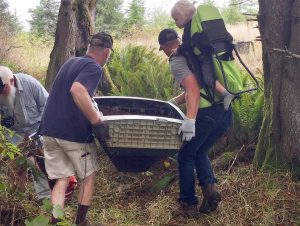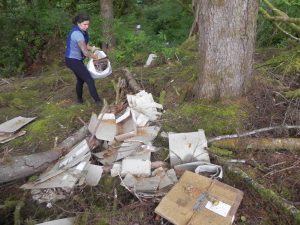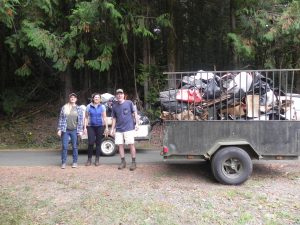 because it is public land traversing through private forest lands. She is concerned that the garbage dumping is forcing landowners to gate and block roads and close off access. Eckloff was a good location for the first cleanup and it was also one of the worst places around. "I looked at other areas where there has been garbage dumped," she explained, "but they were already gated."
Northwest Regional Director for Backcountry Hunters and Anglers (BHA) since 2019, and a 2010 graduate of Tillamook High School, Sara McClendon (Sara Welle) quickly turned attention to the volunteers and cooperators. "This is the first BHA event that has been held along the coast," she explained. "I wanted to do an activity just before COVID, but had to cancel it until now," she added. "We partnered with Rocky Mountain Elk Foundation. Mark Allard, RMEF's Western Oregon Project Coordinator, drove over 70 miles to attend." She also pointed out that Carla Brauer, BHA's Northwest Regional Director IV, was also present and helping.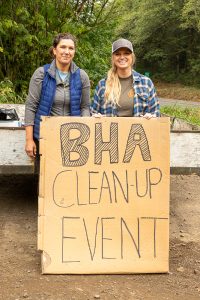 Backcountry Hunters and Anglers is a national organization that was born in 1994 around a campfire outside of Eagle Point, in Southern Oregon. Since then, the organization has grown to have chapters in almost every state in the US and three Canadian Provinces. The national website states that "Backcountry Hunters & Anglers is the voice for our wild public lands, waters, and wildlife." The mission statement goes on to say that "Backcountry Hunters & Anglers seeks to ensure North America's outdoor heritage of hunting and fishing in a natural setting, through education and work on behalf of wild public lands, waters, and wildlife." The Oregon Chapter of BHA recently donated $10,000 as part of a partnership with the Rocky Mountain Elk Foundation, organizations such as the Oregon Hunters Association and the Oregon Chapter of FNAWS among others, to purchase property along the Minam River in Eastern Oregon. Nationally, BHA had numerous events scheduled to honor National Hunting and Fishing Day.
"I want to thank Aaron Averill for working with Tillamook County to pay for our dump fees," McClendon added. "Also, First Lite, a national hunting clothing brand, is donating three dollars for every bag of garbage we collect and turn in." She also pointed out and thanked Paul Welle, her father, and Jeremy and Kitty Coon who attended with their two young children. Another Northwest Oregon BHA event was happening at the same time out in the Valley and many members attended that one, she explained, contributing to a smaller yet just right-sized turnout.
When asked about the future, McClendon became excited by all the possibilities. "I want to do more activities in the future, and maybe hold a pint night somewhere local where we can have a beer and talk about volunteer activities. It would be great to hold more local events and get youth involved, maybe a bow shoot or a skeet shoot."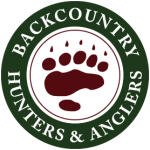 The Oregon Chapter of Backcountry Hunters and Anglers has a social media presence in a similarly named group on FaceBook. The national organization website can be found at https://www.backcountryhunters.org/ Look for more from McClendon and Backcountry Hunters & Anglers in the future.