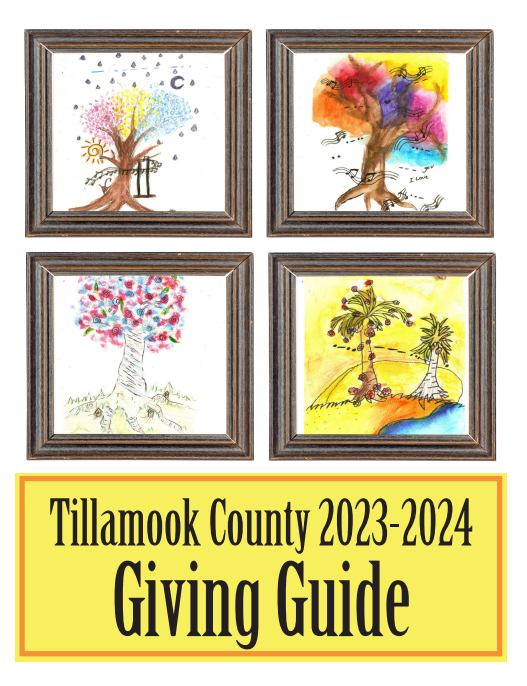 The Bay City Arts Center (BCAC) has announced public auditions for its fall/winter production of Narnia The Musical. Auditions are scheduled for October 23rd and 24th, with performances happening December 16th, 17th and 18th, 2022. Narnia is a musical play in two acts based on C.S. Lewis' iconic first book, The Lion, The Witch and The Wardrobe. It tells the story of four English school children who are sent away from London during World War II to stay in the manor house of their uncle, and who stumble upon–and through–an enchanted wardrobe into the magical kingdom of Narnia. The musical was created by Jules Tasca, Thomas Tierney & Ted Drachman in 1986. Its first production was at PCPA Theaterfest in Santa Maria, California, and there have been more than 1000 productions world-wide since, including a critically acclaimed Off-Broadway run in the late 1980s.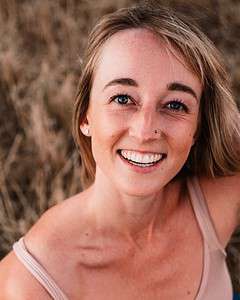 "We are very excited to bring this classic piece of musical theater to our community, and Narnia is the perfect show for the holidays," says Dana Reynolds, Theater Director at the BCAC. "It was the first show I was ever in, and I fell in love with the fantasy and the magic of the story. It really casts a spell on the players, the crew, and the audience."
Reynolds has been developing a musical theater program at the BCAC since the lifting of COVID restrictions in early 2022. She started by leading a Musical Theater Summer Camp for kids in July and August, and she followed that with a production of Jason Robert Brown's The Last Five Years in which she also starred and sang. Both programs were big hits with the community, and they inspired Reynolds to keep going.
"It was incredible seeing the way our community responded," Reynolds says. "We filled almost every seat in our performance hall, and I think we proved that there is an audience here for musical theater."
Audition Form, either in advance or upon arrival (Link:  https://www.baycityartscenter.com/uploads/6/0/1/1/60112877/narnia_audition_form.pdf).
"We're asking that people be prepared to sing approximately one minute of a song from any show they choose," says Reynolds. "You may also choose to sing with a karaoke track or a cappella. The BCAC will provide a speaker with an auxiliary cord, just be sure to have your own karaoke track selected and on your device to plug into the aux cord. In addition to singing, you may be asked to read from the script."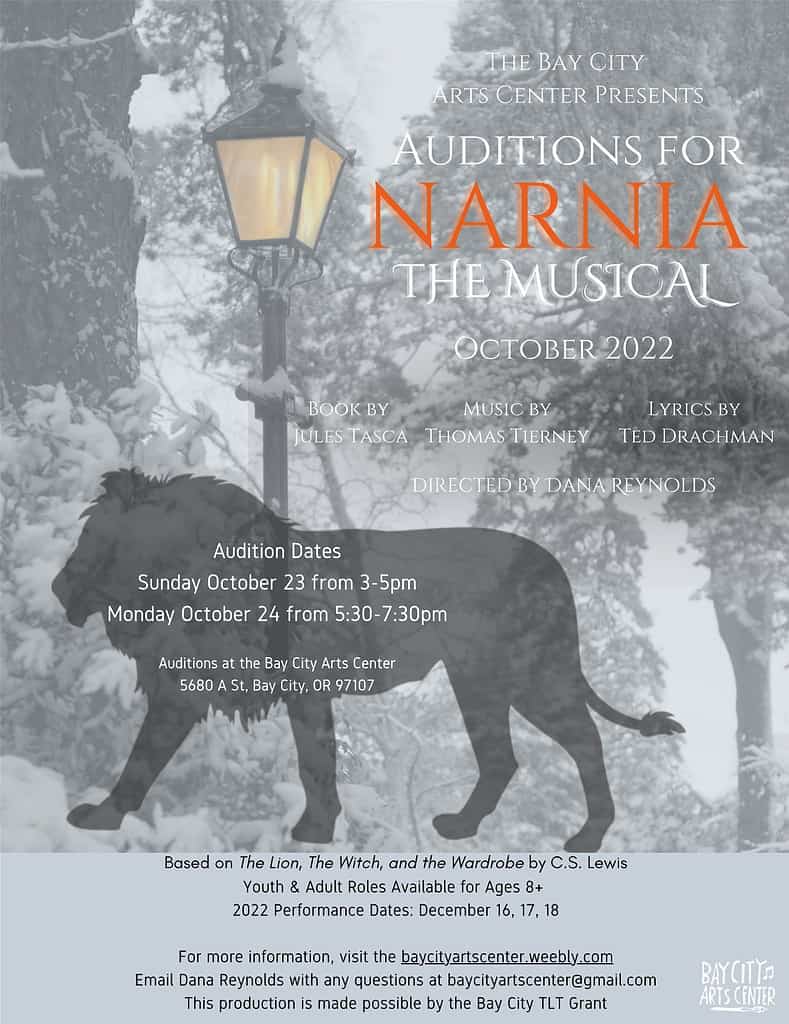 Callbacks may be needed and will be by invitation only. If needed, they will be held on Tuesday, October 25th from 6-8pm. Roles will be offered by phone call on Wednesday, October 26. All roles are volunteer, unpaid, and offered at the discretion of the Directors.
Important Dates (times to be announced):
First read through – Tuesday November 1

Rehearsal Schedule TBD – expect 2 weeknights and Saturday or Sunday

*Technical Rehearsal Week – December 11-14*

*Performances: December 16, 7PM; December 17, 7PM, December 18, 2PM*
 No rehearsals on Halloween and Thanksgiving (Wed–Sun)
*No conflicts allowed during tech week or for any performance dates*
Cast of Characters:
ASLAN: the Great Lion of Narnia – Baritone/Tenor
THE WHITE WITCH– Evil Queen of Narnia– strong Alto/Mezzo – belt OK
PETER: child about 13-15, the oldest sibling– Baritone/Tenor
SUSAN: child about 12-14, the second oldest sibling– Soprano
EDMOND: child about 10-12, the second youngest sibling- unchanged voice or Baritone
LUCY: child about 9-11, the youngest sibling – Soprano
TUMNUS: a fawn– Tenor
FENRIS ULF: Head of the White Witch's Secret Police — a wolf Baritone/Tenor DWARF: One of the White Witch's minions—Character voice medium range
MR. BEAVER: cockney beaver – Baritone/Tenor
MRS. BEAVER: cockney beaver – Mezzo
PROFESSOR DIGORY KIRKE: the children's uncle– Baritone/Tenor
FATHER CHRISTMAS: Santa –Baritone
MRS. MACREADY: housekeeper in the professor's house (can be non-singing)
THE WHITE STAG: a dance role only–the harbinger of change in NARNIA
Note: The parts of Aslan, the Professor, and Father Christmas can be played by the same actor. Mrs. Macready and The White Witch can also be played by the same actor.
In addition to casting, Reynolds is looking for stage crew, hair and make-up stylists, set and prop designers/builders, and ushers for the performances.
This special production of Narnia The Musical is made possible by the generous support of the City of Bay City, and by the volunteers who keep the Bay City Arts Center going. Thank you!
For more information, contact Dana Reynolds by phone at 231-675-7314 or by email at baycityartscenter@gmail.com