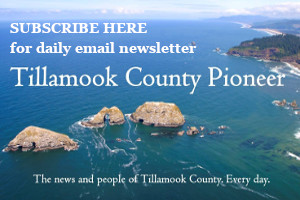 Artist of the Month: Join us TOMORROW NIGHT, Friday, September 2 from 5pm-7pm for the Bay City Arts Center Artist of the Month.  We will hold a Gallery Reception celebrating the work of local Batik Artists and Phil Rheiner. This monthly event is free and open to the public. Batik Artists of the Month includes the work of a collection of artists who have attended the Arts Center Batik Workshops in 2021 and 2022.  A wax-resist fabric-dyeing process, Batik combines bold colors with delicate designs for eye-catching and unique pieces.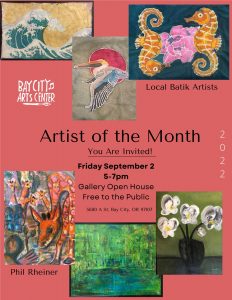 Phil Rheiner is an artist. He creates his art using oils, oil pastels, watercolor, pen and pencil, digital, etc. He enjoys creating art and sharing it. Phil has a degree in Forestry with a concentration in Parks and Recreation from Cal Poly San Luis Obispo.  He worked a career in natural resource management with an emphasis on resource and public protection. He retired in 2018 (at the age of 50) after a 30 year career. He is now pursuing his passions; art, photography, and travel. If you are interested in contacting Phil about his art or photography please email him at mrrheiner1art@gmail.com.
THIS MONTH
Hoquarton House Interpretive Center Painting & Planting Work Party: Saturday September 10th from 9am-5pm, stop by and support the Hoquarton House Interpretive Center with painting and planting! No prior experience is needed, just your willingness to volunteer your time to support this incredible community project and make it come to life. If you have any questions, call Charlie at 503-842-7013.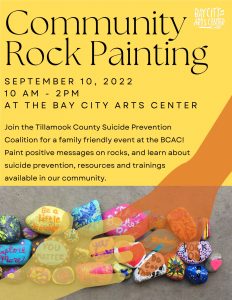 Rock Painting Community Event: Join the Tillamook County Suicide Prevention Coalition on Saturday September 10th from 10am-2pm at the Bay City Arts Center for a family friendly event! Paint positive messages on rocks donated by Averill Landscaping Materials, and learn about suicide prevention, resources and trainings available in our community.
John Stowell & Anandi Concert: Join us on Friday, September 16th at 7pm with master jazz guitarist John Stowell and legendary Portland jazz singer Anandi Gefroh. John Stowell is one of the world's true jazz masters, specializing in the intricate "chord-melody" style of jazz guitar. He has performed and taught in over 20 countries in his 45-year career (www.johnstowell.com), and has been hosting and performing jazz concerts at the BCAC for over 20 years. Anandi Gefroh is one of the most gifted jazz singers to come out of Portland's jazz scene, and is a regular collaborator with Stowell. This special concert will also be broadcast live over the local radio waves on KAYN, 92.9FM, and live-streamed via Live365. Doors open at 6:30PM, with the concert starting at 7:00PM. Tickets are $20 in advance, $25 at the door. Purchase your tickets in advance here: John Stowell & Anandi Jazz