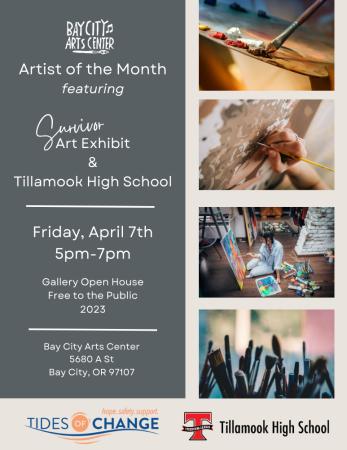 In case you haven't heard,
 the 
Bay
City
 Arts Center is resuming its legendary all-you-can-eat 
Pancake Breakfast
this Sunday
, 
May 15th
, from 9:00AM to 12:00 Noon. This very special Pancake Breakfast coincides with two art shows: Tam Hulbert's vibrant "C-O-N-N-C-T-I-O-N" in the main gallery; and Andy Kennedy's stunning "Upwelling" in the upstairs gallery. After a 2-year hiatus, the Pancake Breakfast makes its return with a couple of modifications. Tickets have gone from the decades-old price of $5 to $10 ($9 for members). The new price reflects an increase in hard-costs, and the fact that the ticket price had not been adjusted since the breakfasts started 22 years ago. The start time has moved from 8:00AM to 9:00AM, due to the fact that a majority of board members like sleeping in on Sundays 🙂  Also, for the time being, the BCAC will be holding Pancake Breakfasts on a quarterly basis, rather than monthly. The BCAC Board is hoping to purchase a new kitchen hood and complete its commercial kitchen application in the coming year, both of which are required to resume monthly food-related events. The summer breakfast has been set for Sunday, 
August 21st
.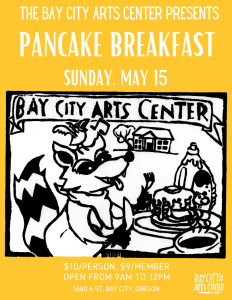 (Yes, that is a raccoon eating pancakes.
It's a long story. Engraving by El Presidente)
The 
Bay
City
 Arts Center's Pancake Breakfast is known far and wide for providing hearty breakfast fare including pancakes, eggs and sausage (veggie option available) well as Charlie's signature additions including ranch-style pinto beans, fresh-made salsa, fruit compote, and a multi-grain pancake that sticks firmly to a person's ribs. So if you need to stick some food to your ribs while dazzling your eyes with art, come on by the 
Bay
City
 Arts Center 
this Sunday
.
Pancake Breakfasts are made possible by you–our members and friends–and your generous support for the BCAC and for the arts in our community. You are why we do this!
The next concert is the always amazing
Amanda Stanaway and Friends
 on 
June 11th
. Tickets available at Mana's Kitchen or the BCAC.
503-523-8387
On the corner of 5th & A Streets in downtown 
Bay
City
.
Broadcasting on KAYN, 92.9FM, live-streaming on Live365