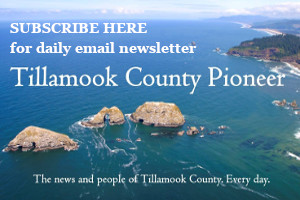 Bay City Arts Center Artists of the Month Gallery Reception & Open House, the first Friday of the month, Friday June 2nd from 5 to 7 pm, All ages, no charge. 
June 2nd from 5pm-7pm, the main floor gallery will feature local artist, Becky Chappell. The upstairs gallery will display student artwork from Neah-Kah-Nie High School. This monthly event is free and open to the public.
Becky Chappell 
has been drawing and painting most of her life. Currently she works mostly in oil and cold wax abstracts and also in pastel landscapes and abstracts.
For her abstracts, Becky loves the history that is created using layer upon layer with paint. Her process involves adding elements (collage, texture) and scraping away, creating light, interest, luminosity and history. Abstracts are so freeing and this is such a necessary part of her life as an artist. Pastel landscapes are also a love of Becky's. She loves the immediacy and vibrancy of painting with pastel, also how careful layering adds luminosity to this medium as well. Becky currently lives and works on the north coast of Oregon. For more information, visit Becky's website at  
www.beckychappellart.com
.