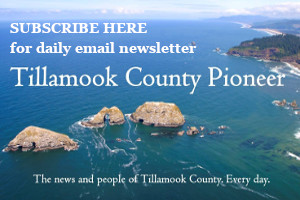 Did you know that many invasive plant species have taken hold in this area changing the plant communities along our coastline?
Chrissy Smith with the Friends of Netarts Bay WEBS said these invaders, often introduced as ornamental plants, can take over an area making it hard for other plants to grow and impacting the ecosystem.
"These plants have the ability to shift soil composition, change the available food source for local animals and create less than desirable habitats," Smith said.
Under normal circumstances, WEBS would be hosting an in-person event this July in conjunction with the Explore Nature Series to help people identify invasive plants and map out areas of the coastline where invasive plants exist.
"Last year we piloted an effort to map invasive plants with a small group of volunteers," Smith said. "This year, we launched a larger program in February but it never truly had time to get off the ground before the pandemic hit."
Due to restrictions with COVID-19, WEBS is hosting a virtual presentation on July 25th instead.
"While we can't go out on the trails and actually look for these plants, we still wanted to give people an opportunity to learn about local invasive plants, their impacts, how to identify them and what you can do to help – including volunteering in the future with the new Weed Detectives community mapping effort," said Smith.
Smith added that if you have participated in past Weed Detectives volunteer training events, this is a great opportunity to review and learn about new plants as they emerge during different seasons.
This virtual presentation on July 25th at 10 a.m. is a part of the Explore Nature Series. Explore Nature Series events are hosted by a consortium of volunteer community and non-profit organizations, and are meaningful nature-based experiences highlight the unique beauty of Tillamook County and the work being done to preserve and conserve the area's natural resources and natural resource-based economy. They are partially funded through the Tillamook Coast Visitors Association and the Travel Oregon Forever Fund.
To learn more or register for Weed Detectives, visit www.netartsbaywebs.eventbrite.com. And be sure to follow the Friends of Netarts Bay WEBS and the Explore Nature Series on Facebook and Instagram.
Date: July 25, 2020
Location: VIRTUAL – Register online at explorenaturetillamookcoast.com
Time: 10am
Questions: Contact Director @ NetartsBayWEBS.org or call 541-231-8041.
Register: www.netartsbaywebs.eventbrite.com