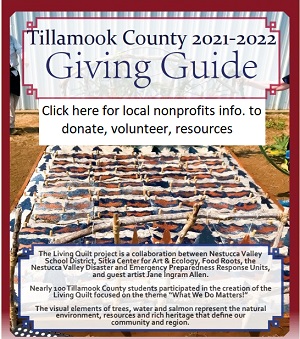 Watch out for slick and icy roads in Western Oregon over the Christmas holiday weekend and into next week according to the weather forecasts.
Oregon Department of Transportation (ODOT) maintenance crews are working around the clock checking the roads through the night and will use appropriate winter maintenance tools as needed. These include plows, deicer, salt and sand. Of those, only deicer can be applied in advance of snow or ice but not when there's rain that washes it off the road.
Travelers need to be extra wary during the late night and early morning hours especially in the Cascades and the Coast Range. Colder temperatures at the upper elevations may mean more snow and ice.
Here are some suggestions for safe travels.
Travel smart. Consider waiting until a storm passes to get on your bike or in your car.
Look out for each other. If you must drive, remember cyclists and pedestrians are harder to see in a storm. If you're biking or walking remember that cars don't stop quickly in wintery conditions.
Leave early. It's smart to allow plenty of time to get where you're going. In severe weather, closures and crashes can cause long delays.
Know before you go. Plan your route. Visit tripcheck.com in advance to look at ODOT cameras and check conditions.
Beware of outages. If a storm knocks out power to traffic signals, treat intersections like an all-way stop. The driver who stops first goes first.
Remember that when the weather becomes dangerous, the safest move may be to stay home.
Are you #WeatherReady for winter driving? Always check the weather for your route and use Tripcheck.com for road conditions. Keep a winter emergency kit in your vehicle. Suggested items include:

 Phone charger, warm clothes, blankets

 First aid kit, bottled water and non-perishable snacks

 Jumper cables, flashlight with batteries, road flares

 Ice scraper, shovel, tire chains if needed

 Winterize your vehicle, keep a full tank of gas and a spare tire

 Visit ready.gov/car for more tips
Visit our Strategic Action Plan to learn more about how ODOT makes a priority of maintaining safe and modern roads.
ODOT works year around to maintain and improve our transportation system to connect people and help Oregon's communities thrive. We are looking for people to join us. Go to ODOTjobs.com to apply.