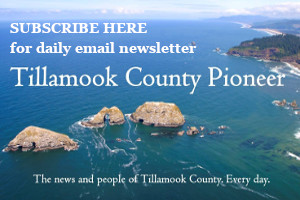 What is one of the most asked questions on local community social media pages? "Can we have a fire on the beach?" And the answer is "Yes, but …" Please listen to the advice from Nehalem Bay Fire & Rescue Lieutenant Leisha Mizee-Riggert about enjoying a beach fire safely.  She met our videographer Don Backman for a trip to the beach on a very windy day to provide some simple reminders about beach fire safety.
Be sure to follow these beach fire safety tips:
Find an open area far from beach grasses, driftwood piles and anything flammable – at least 50 feet.
Bring your own campfire wood. While using some driftwood pieces in your fire might be okay, most driftwood is waterlogged and won't burn well. DO NOT START YOUR FIRE in piles of driftwood.
Contain the flame! Keep your fire small – 2 feet x 2 feet x 2 feet – Make sure the fire stays below knee height. And, assign a responsible adult to tend the fire—someone who won't get distracted collecting seashells.
Put your fire out before you leave by slowly pouring water on the flames. Pouring to quickly may cause hot sand to fly and injure family and friends. Don't cover the fire with sand. Doing so can insulate the coals, keeping them hot enough to burn bare feet hours or even days later.
Pack it in and pack it out.
Always check local fire restrictions. In most areas, beach fires and fires in approved campgrounds with fire rings are allowed.  For more information about fire restrictions, check Nehalem Bay Fire & Rescue's website https://nehalembayfirerescue.org or go to the Oregon Department of Forestry's Public Restrictions Website: https://www.oregon.gov/odf/fire/pages/restrictions.aspx