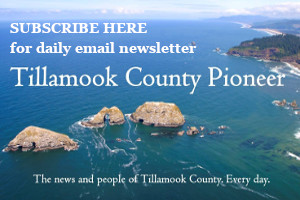 By Laura Swanson
According to Tillamook County Board of Commissioners, "Our email boxes are overflowing with photos, statements and stories about trash, parking, illegal camping, human waste, and more." We are having an impact, and action is being taken. Signage on highways to alert visitors to limited facilities, full parking lots and respecting our "backyards"; more port-a-potties and solid waste dumpsters, but these are only short term fixes.
We continue to receive reports about people behaving badly, and one social media comment had this analysis, "Since most bars are closed, it seems like people are bringing their bad bar room attitudes to the beach." We couldn't agree more. Reports of litter, human waste and graffiti on the upper Nehalem River, a newly designated scenic waterway defy any sensible explanation and blaming COVID is no longer a valid argument. We are all left to wonder "Why are people treating these sensitive outdoor environments, that provide so much healing and rejuvenation like dumps and toilets?"
"There's an erosion of our social structures and a lawlessness that has overtaken the coast since everyone's been cooped up from COVID," said Senator Betsy Johnson. "But that's no excuse for treating our natural resource treasures with careless disregard. They are loving our coast to death, and I'm hearing about it from all the coastal communities." Senator Johnson continued, "No one wants to drive away the 'traditional' tourist, but the groups now have an attitude problem, treating our beaches and parks like their own private playground and assuming that someone will pick up after them. There is an obvious lack of responsibility and education about how to respectfully recreate in our outdoors. They just don't get it."
We have multiple groups, organizations and individuals that volunteer at beach cleanups or have "adopted" sections of highway. Nehalem Bay Winery has been involved in the "adopt-a-highway" program for 25 years. Here's what Melissa Stetzel just shared with the Pioneer: "Holy hell! We have two sections of adopt a highway (Highway 101, mileposts 47-49; and Highway 53.) We are responsible to clean up quarterly…yesterday August 20th our guy Richard went out to do the 101 section. There's usually around 2-4 bags by the time all is said and done. This time there are 8 bags and around 80% of those bags are filled with used tp, napkins, diapers and discarded masks and gloves!! He found numerous plastic bags filled with human poop and tp. So I guess those people get a prize for putting their shit and paper in a container at least. So disgusting. Well if it remains a health hazard to our worker we may have to drop from the program which we have participated in for around 25 years without any big health hazards until this year."
Reader boards are being positioned at key points throughout the county from Neskowin to Oswald West and along major highways with a variety of messages. Along with enforcement efforts, including tickets and towing, cars will no longer be allowed to park along Highway 101 from Oswald West to Arcadia. And everyone's seen the photos of the hundreds of cars parked throughout Pacific City. Tillamook County Sheriff Jim Horton reports that his department has been "extremely busy, inundated with the numbers of visitors in south county, Pacific City and Sandlake at levels we've never experienced." He continued, "We are being pro-active now, instead of reactive. We issued 150 citations over the weekend, 50 of those in PC for parking violations. Our deputies are frustrated and facing increased incidences of selfish behavior. People are disregarding law enforcement actions. There's a defiance and disrespectful interactions." People are bringing their police biases fueled by all the racial injustice protests, to the beach and treating our law enforcement officers with rudeness and disdain. "Our deputies are literally going from call to call to call – from search and rescues to accidents to illegal activities – multiple callouts that all involve visitors, we are occupied taking care of issues caused by folks from outside the area," comment Sheriff Horton.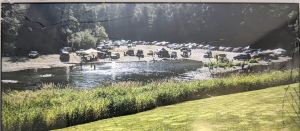 The situation in the Tillamook State Forest has also reached a critical point as Sheriff Horton continued, relaying information shared from forest deputies, "Behind every shady spot, every tree there's a pile of toilet paper and human waste, there's just no excuse for that." He continued, and his voice filled with emotion and frustration, " It's only 40-50 miles, go before you go. There are open bathrooms. They are polluting a pristine environment and it's being ruined. The forest is not your toilet, and it's creating a health hazard, and that will lead to closures because of the health hazards." Water testing is showing an increased level of human waste in the Wilson River, which just last year was touted as one of the safest and cleanest watersheds. It all runs downhill and that human waste will be washed into our rivers and streams and end up in our bays and oceans. Then we will see closures because of unsafe levels of bacteria.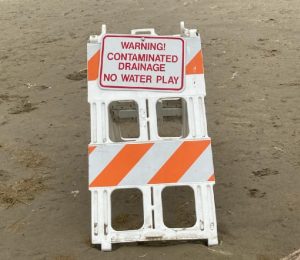 Many of the comments, photos and stories the Pioneer has received report these same scenarios, and many locals are advocating for closing our parks. This is what we've heard, "We are willing to forego access to our favorite places to protect them from the masses. These people with their disregard for our natural environments do not deserve to have access to these places."
The tourism tsunami is going to continue, and whether it's COVID driven or simply the price of popularity, our local leaders and state leaders are aware of the issues and working on some quick fixes, immediate solutions and also looking at long-term measures. This isn't going away, and to ensure that local residents and visitors alike can continue to receive the respite and rejuvenation provided by our outdoor recreational opportunities limited entry to some areas, fees for parking and other options are being considered. We must continue to be diligent and outspoken advocates for our backyards – using opportunities when we witness poor behavior or mis-use of our environment as a learning moment.
Please continue to send us your stories, photos, and videos of these issues, and share your stories with local and state leaders. We are taking back our parks and focused on protecting our backyards.
Send email letters (and photos) to:
Travel Oregon – Director Todd Davidson – todd@traveloregon.com; Kristin Dahl – North Coast Studios – kristin@traveloregon.com,
industry@traveloregon.com, kayla@traveloregon.com; Andrew Grossman: andrew@traveloregon.com; David Beurle: david@future-iq.com
Oregon Coast Visitors Association – Marcus Hinz, director – director@thepeoplescoast.com; Arica Sears, Communication Manager, icom@thepeoplescoast.com
Visit Tillamook Coast – Nan Devlin, director – nan@tillamookcoast.com
Governor's Office – Regional Solutions team – Jennifer Purcell, jennifer.purcell@state.or.us
Oregon Parks & Recreation Department contacts:
Lisa Sumption, Director
Lisa.Sumption@oregon.gov
Chris Havel, Associate Director
Chris.Havel@oregon.gov
Tillamook County Commissioners – Mary Faith Bell – mfbell@co.tillamook.or.us; Bill Baertlein – bbaertle@co.tillamook.or.us; David Yamamoto – dyamamoto@co.tillamook.or.us
State representative – Senator Betsy Johnson (sen.bjohnson@state.or.us)
Oregon Trails Coalition, Stephanie Noll: steph.noll@oregontrailscoalition.org
Trailkeepers of Oregon: Steve.Kruger@trailkeepersoforegon.com
Outdoor Rec. Oregon: Calin O'Brien: Cailin.OBrienFeeney@oregon.gov