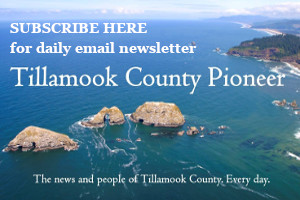 Oh, ocean … waves and winds combined on Monday January 15th for some pretty spectacular wave viewing.
Don Best captured it at Twin Rocks, and as he said, "I was so impressed with the wind swept breakers I took 135 images of them… Twin Rocks, Rockaway Beach.. a green ocean with pure white breakers. Breath taking every time."
There were also videos from folks visiting the beach and being "chased" up the beach by the high waves.
Use caution when on the beach this week as high seas and high tides are expected. Never turn your back on the ocean and be sure to check tides.