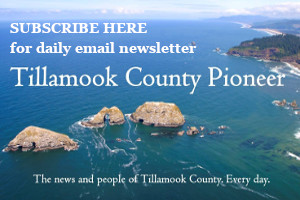 By Laura Swanson
A favorite local lunch spot for decades has been Blue Heron Cheese & Wine Company's deli and especially for their various made-fresh-daily salads, soups and specials. Through the years, numerous chefs have provided recipes and guidance, Jim Fletcher took over the apron in the kitchen about 18 months ago. A Brooklyn native, Jim found his place in the kitchen at an early age with a love for baking beginning at age 5. He's worked "both sides of the house" – as a waiter and chef in kitchens from the Biltmore Estate and five-star dining establishments in North Carolina to Florida, and finally finding a fit here on the West Coast at Blue Heron.
"Healthy eating is all about balance – eat the veggies, so you can eat some cake, too," explains Jim. Over his 40+ years in food service, he's "done it all", describing his style as a "mish-mash, all-over" from Italian to Mexican, Thai, even sushi, to classic fine dining.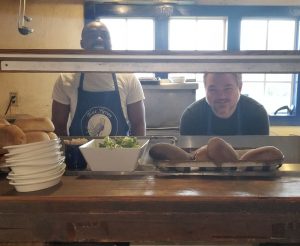 "The style here at Blue Heron is all about fun and really good food," said Jim. "Local, organic, seasonal, that's how I cook. There are simple ways to 'lighten up" recipes, for example, try a vegetable spinach soup with reduced sodium broth, and just enough olive oil or butter for a little flavor. There are many variations on Blue Heron salads, based on seasonality of ingredients and dietary options that can be utilized in your home kitchen.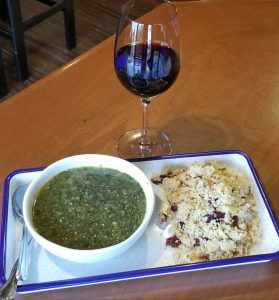 The spinach vegetable soup is packed with nutrition; and the quinoa pilaf salad can be made with or without chicken, dried cranberries and with a vinaigrette.
Then let them eat cake, said Jim, as he continues to indulge his first love of baking with his wholesale bakery, Sweeet Tooth. Yes, that's an extra "e" because it's extra Sweeet, and as Jim explains, "The three E's in Sweeet describe my cooking/baking philosophy — Elevated Ingredients, Elegant Design, and Exceptional Quality."
You'll find Jim's creations regularly at Blue Heron from banana bread, cakes, cheesecake, brownies and more. You can enjoy treats like these as part of your overall eating well plan, as long as you remember the balance – calories count and food groups matter. Plan for those occasional sweets by:
•Eating a balanced diet (Myplate is an excellent resource!)
•Choosing lower calorie options
•Eating smaller portion sizes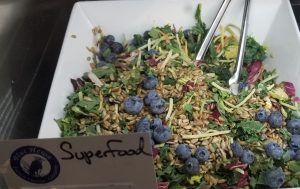 Blue Heron's SUPERFOODS Salad w/Raspberry Vinaigrette
One of the Tillamook County Wellness Blue Heron favorites is the "Superfoods" salad – it's a power-packed "meal" in a salad, and Jim has shared the recipe with us! And it's easy, flexible, and the best part is – you use ALL parts of vegetables as it incorporates shredded broccoli or cauliflower stalks.
Makes 6-8 servings
SUPERFOODS Salad
Select 3 vegetables from the list – 1 cup of each, shredded:
-broccoli, cabbage, kale, Brussels sprouts, cauliflower
Jim's tip – Use what's on sale, and seasonal. Use the broccoli or cauliflower florets in one recipe, then use the stems in Superfoods Salad. Reduce food waste by using all of the vegetable!
-Add ½ cup of nuts – sunflower seeds and/or almonds (or nut of choice)
-Select one or two fresh or dried fruits, 1 cup each
– blueberries, strawberries (when in season), dried cranberries, etc. – or again, what's fresh, or on sale.
Lightly toss together all ingredients
Serve with raspberry vinaigrette (or dressing of choice.)
NOTE: You can mix the berries and nuts in separately and use any of the leftover veggie mix as the vegetable base in a soup, another great tip from Jim to reduce food waste and creatively use your vegetables.
Raspberry Vinaigrette
•1 1/2 cups raspberries, fresh or frozen
•1/4 cup red wine vinegar
•1 tsp red onion (optional)
•1 tsp Dijon mustard
•1/2 cup olive oil
•Salt, pepper, and honey to taste
Blend the first 4 ingredients with a stick blender or in a food processor, then while running slowly pour in the olive oil. Use salt, pepper, and honey to taste.
There are already-made options, such as Newman's Own and Annies both make great Raspberry vinaigrettes as well, and using other dressings are just as acceptable.
This is a great salad to have mixed up in the fridge as an easy side dish to add veggies to your meal! Don't forget to check out https://www.choosemyplate.gov; this is a great resource to help you get the recommended amounts of each food group so that you can continue or start to eat well!
Watch for "Wellness-Approved" menu items at restaurants throughout Tillamook County as our community is "Making Healthy Happen."
For more local health and wellness information, visit tillamookcountyhealthmatters.org or follow Tillamook County Wellness on Facebook, Instagram and Twitter.