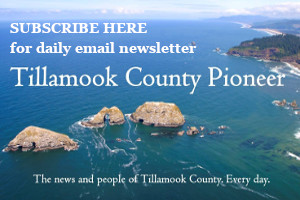 By Jim Heffernan
"For all of us, becoming indigenous to a place means living as if your children's future mattered, to take care of the land as if our lives, both material and spiritual, depend on it."
Robin Wall Kimmerer is a professor and a citizen of the Potawatomi* nation. In college, she wasn't sure if she wanted to study plant science or poetry. She opted for plant science and earned bachelors and masters degrees in botany and a PhD in plant ecology. Her writing reveals that she never lost her love of poetry.
The book is a collection of 32 well-crafted essays. It's 410 page book, but don't let that put you off. Each essay stands on its own. Throughout the book, she manages to braid together indigenous spirituality and history with botanical science and ecology. Each essay is a little like a delightful nature walk in a different place and time. One of them is a tour of our county's Cascade Head and its Salmon River estuary.
Not all of the walks are sweetness and light. The author is very clear-eyed about the wounds inflicted on our planet and on our indigenous peoples. I learned a lot from the light she shines into some dark corners. I think you will too.
I thought it was a wonderful book. She writes with a style that could easily be disguised as poetry. In its pages, she conveys messages which we would do well to heed and carry always in our hearts.
It's been a long time since a book made me pause so often to hold my breath and re-read a passage, just for the sheer beauty of the prose. I know it's a book I will go back to again and again.
Here are some excerpts I enjoyed. I could have included many more.
Page 9 "For all of us, becoming indigenous to a place means living as if your children's future mattered, to take care of the land as if our lives, both material and spiritual, depended on it."
Page 125 "Knowing that you love the earth changes you, activates you to defend and protect and celebrate. But when you feel that the earth loves you in return, that feeling transforms the relationship from a one-way street into a sacred bond."
Page 214 "Being naturalized to place means to live as if this is the land that feeds you, as if these are the streams from which you drink, that build your body and fill your spirit. To become naturalized is to know that your ancestors lie in this ground. Here you will give your gifts and meet your responsibilities. To become naturalized is to live as if your children's future matters, to take care of the land as if our lives and the lives of all our relatives depend on it. Because they do."
Page 242 "The dance of renewal, the dance that made the world, was always danced here at the edge of things, on the brink of the foggy coast"
URSALA K. LE GUIN
"Far out beyond the surf they felt it. Beyond the reach of any canoe, half a sea away, something stirred inside them, an ancient clock of bone and blood that said, "It's time." Silver-scaled body its own sort of compass needle spinning in the sea, the floating arrow turned toward home. From all directions they came, the sea a funnel of fish, narrowing their path as they gathered closer and closer, until their silver bodies lit up the water, redd-mates sent to sea, prodigal salmon coming home.
Page 375 "modern capitalist societies, however richly endowed, dedicate themselves to the proposition of scarcity. Inadequacy of economic means is the first principle of the world's wealthiest peoples." The shortage is due not to how much material wealth there actually is, but to the way in which it is exchanged or circulated. The market system artificially creates scarcity by blocking the flow between the source and the consumer. Grain may rot in the warehouse while hungry people starve because they cannot pay for it. The result is famine for some and diseases of excess for others. The very earth that sustains us is being destroyed to fuel injustice. An economy that grants personhood to corporations but denies it to the more-than-human beings: this is a Windigo** economy."
.
*A tribe closely allied with the Ojibway and Odawa. They were originally "canoe people" who lived in the lower Great Lakes area. In mid nineteenth century they were moved first to Kansas and then Oklahoma. When trickery did not suffice, force was used. See links below.
https://en.wikipedia.org/wiki/Potawatomi_Trail_of_Death
https://en.wikipedia.org/wiki/Potawatomi
** Windigo is a mythological creature or evil spirit in indigenous folklore.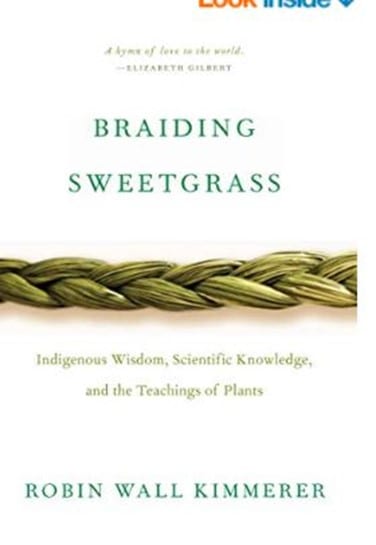 410 Pages Published September 16, 2013 Available at Tillamook Public Library and at Cloud and Leaf Bookstore in Manzanita and most other booksellers.